New process for EPF E Nomination online is presented, Check the steps to complete online nomination for Spouse or Children and Find the solution if error occurs…
Usually, whenever an employee joins an organization, the employer asks the employee to fill form 2 revised which has the details of the nominated member and in case of premature death of the EPF member is asked to fill form 11 which states whether the employee is already a member of EPF account or not.
The employee can change his nomination at any point of time and can change this nomination any number of times during the tenure, and this can be done by simply filling the form and changing the nomination as required, and the newer form 2 submitted by the employee will make the previous nomination null and void.
The form needs to be filled by the EPF member and send to the EPFO head office or the regional EPF office for amendments while nominating the nomination for the PF account, the person should abide by the rules stated by the PF organization such as the nominations can be more than one person by specifying the percentage for each person.
Where all these should be identified as offline, but now Employees Provident Fund Organisation has introduced a new online process as EPF E Nomination which is allowed the member of EPF to complete the nomination process from home, and the rules are applicable as usually, so check the steps now
EPF Nomination Online Process
Open your browser with the UAN login portal at https://unifiedportal-mem.epfindia.gov.in/memberinterface/
Enter UAN number > Password > Captcha Code
Go to Manage
Click E-Nomination

Please complete the profile photo upload at View > Profile

Click Add Family Details
Click Add Row

Enter Spouse Details (Aadhaar, Name, Date of Birth, Gender, Relation, Address, Bank Account Details, Upload Photograph)
Click Add Row and Follow the above step to add another family member details

Drag down and Enter the Total amount of Share in % to receive the amount
Click Save EPF Nomination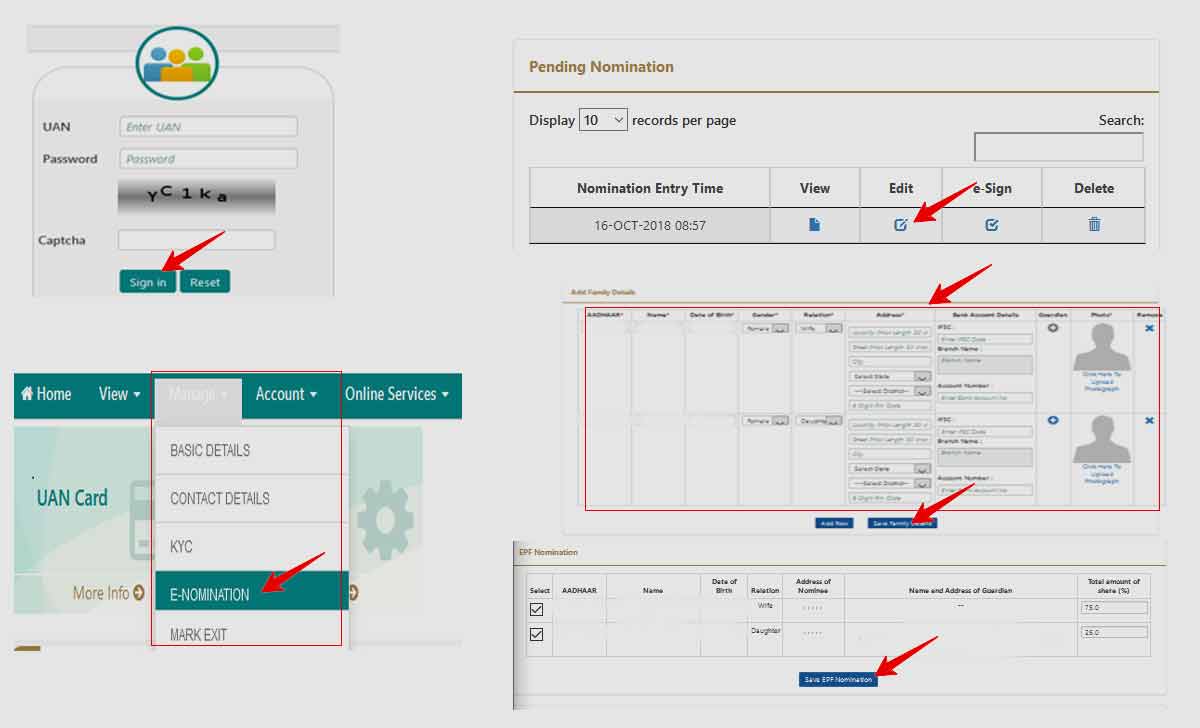 Frequently Asked Questions
Whether the Bank Details of Nominee is Mandatory?
Of course, you may submit at in later time also, but it shows as an incomplete transaction because it is one of the important factors that a member should specify the spouse details through nomination.
Is it mandatory to provide bank details if children is minor?
No, it is not mandatory, as per the entry of Date of Birth, the member is allowed the enter the bank details of a minor child after 18+.
Any limit for member to change EPF nomination?
There is no limit and the nominations can be changed any number of times by following the rules for the nomination, where the member can submit the request through an offline application form to EPF regional office or through online UAN login mode.