Must know your UAN number without login and UAN status at the unified portal to find multiple EPF benefits which must be activated as early as possible to keep on record…
Employee Provident Fund Account of an employee does have a unique authentication number which does allow them to track and keep a record of their entire PF details, and each employee does Know your UAN number which must be active by them to enjoy its services.
Once a UAN number is linked with a mobile number or email address, you will timely receive the update along with other information related to your account, and having a UAN number does help employees to easily track the records and know how much fund is being allocated in their accounts by both the parties.
The simple method described online is as mentioned below for your ready reference to check UAN status from the official website of the Employee Provident Fund, and thus make sure you have that particular details and use any of them to process your request.
If you have linked your Aadhaar with mobile number and EPF account member ID, then you can easily check UAN number activated, so track with the below steps
Know Your UAN
Visit the Employee Provident Fund Official UAN status link https://unifiedportal-mem.epfindia.gov.in/memberinterface/
Hover to Important Links > Click Know Your UAN
Enter your Registered Mobile Number > Captcha Code
Click Request OTP
Get the authorized PIN or OTP to your mobile number > Click Validate OTP
Enter your Name as per EPFO records
Select your Date of Birth from drop-down
Enter Aadhaar number associated > Enter Captcha code
Click Show My UAN to display your UAN status and also will get by SMS

If the details entered not matched, then you will get an error as UAN not available, then you may try the same with exact details.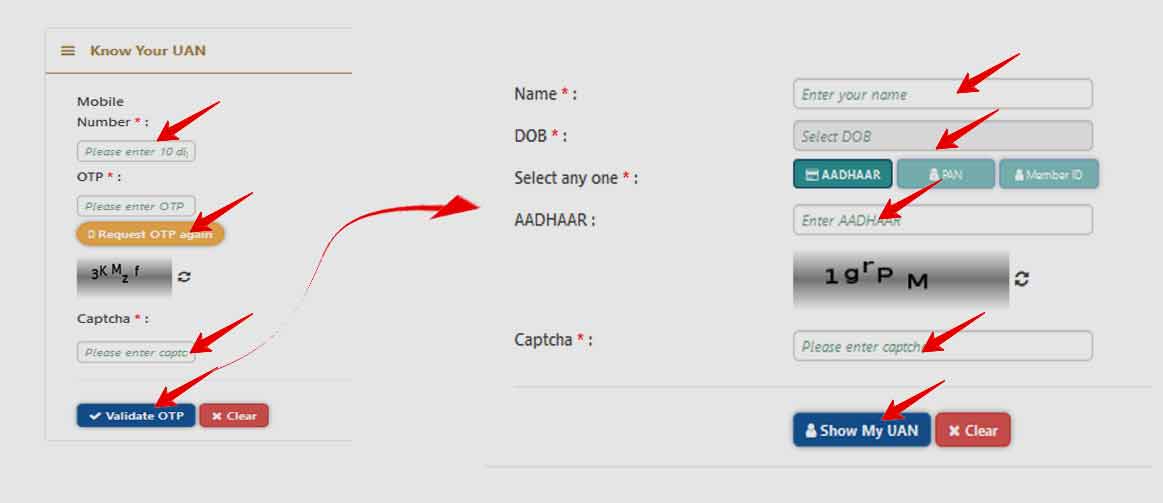 Why is an UAN number required for an EPF account?
UAN number check option is given to every active member to get all their PF accounts linked to one simple number, and this will allow you to get multiple benefits and as well various options of withdrawal online without requiring any approval or manual official revision.
Does an UAN mandatory to Online Claim?
Yes, as UAN is treated as a primary source of connection with EPF accounts of an employee, and every employee must have their UAN activated and as well linked with their bank account to get easy online claims without many difficulties, and this will also not require any approval to withdraw the advance money with UAN.
Where to find Employee Provident Fund UAN number?
In case you have lost your UAN number linked with your EPFO account, and you can take it down from your Payslip sent by the employer, as every employer does mention the UAN number linked with the employee account as their share also needs to be sent to your EPF account.