We will walk you through the EPF date of birth correction online process and make you under why this is such an important task to maintain the date of birth as per the records…
Employee Provident Fund Organization has been providing EPF Pension and retirement funds to millions of Indians and it is necessary for the information we provide and make available on the account to be accurate and similar to our Government information.
In this article, we will be showing you the simple steps that you can follow in order to revise your DOB from EPF and then correct it online with the UAN login activated by each member of EPFO.
EPF Date of Birth Correction Online Process
Open the EPFO unified member portal using unifiedportal-mem.epfindia.gov.in/memberinterface/
Hover to the Manage option from the top menu section
Click on the Modify Basic Details option to continue
On the next page, Enter correct information for Name, Date of Birth as per your Aadhaar card
Click on the Update Details button
On the next page, you will be able to see that the status of the request date and the new change shown as "Pending at Employer / Accepted by Field Office" which means your company has to approve these changes now and then by EPFO connected field / Regional office.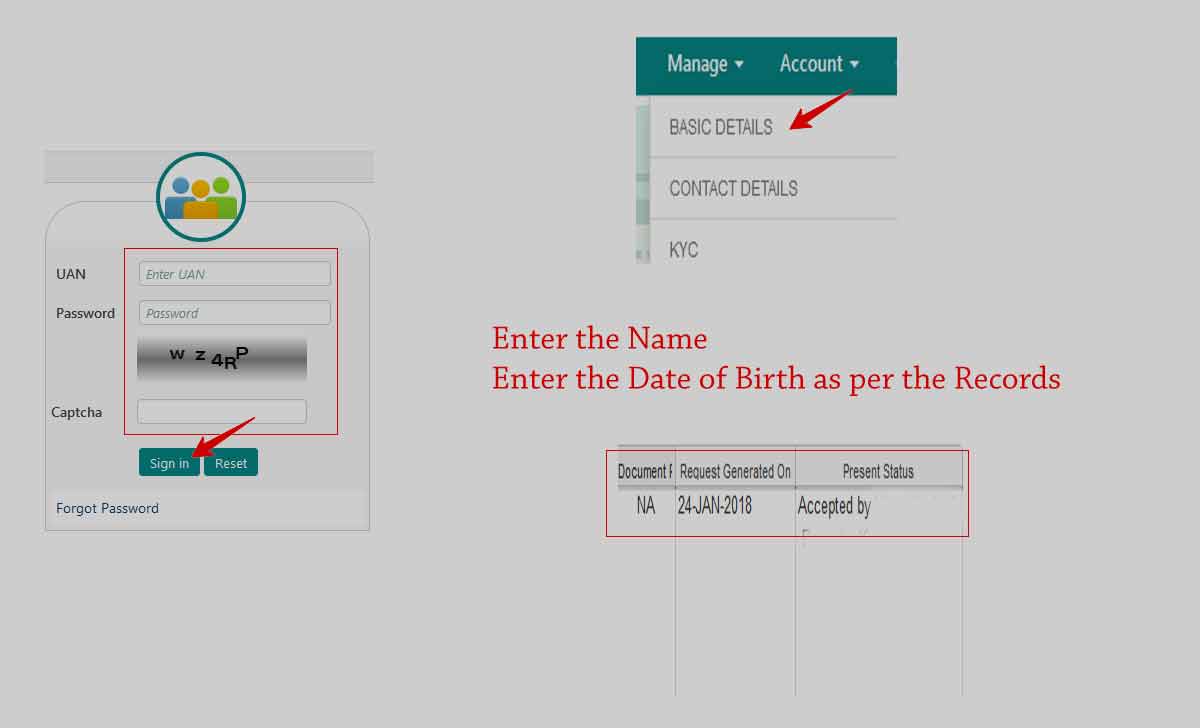 EPF DOB change still shows Pending at Employer, What to do?
Simply wait for 7 working days or a week for your employer or the company to approve the change, and in case if the status does not change then you basically need to reach out to your company HR and then ask them to approve them manually.
Is it mandatory to link an Aadhaar card and complete KYC for EPF Account for DOB correction online?
Yes, the EPFO organization has strict laws to only settle the claims for the members if EPF KYC is 100% perfect with the UAN, with PAN, Aadhaar and other government proofs they have submitted, and this is the main reason in EPF account why you should ensure that your date of birth correction in online or offline and all necessary information is accurate as per your government ID details.
Why do I have to change my DOB on EPF for money withdrawal and claim approval?
In most cases, if the date of birth is wrong on your EPF account then it will not match the KYC details submitted during the EPF money withdrawal which will cause your claim to be rejected.