Every EPFO subscriber now allowed to check EPF balance in 4 different ways in online (UMANG, UAN Portal) and Offline (SMS, Missed Call), Check your EPF balance at any time without charges, find the process for accurate result…
EPF Balance Check
Employee Provident Fund is a basic service that an employee is being provided under the EPF act by the Government, and every employee is curious for EPF balance check left in their PF account and as well having timely updates on the same will help them plan as well during the emergency.
There are multiple ways that have been provided by the Employee Provident Fund Office to check the PF balance associated with their account, and earlier every employee needed to wait until their EPF statement had been furnished by the end of every year and get their PF balance check.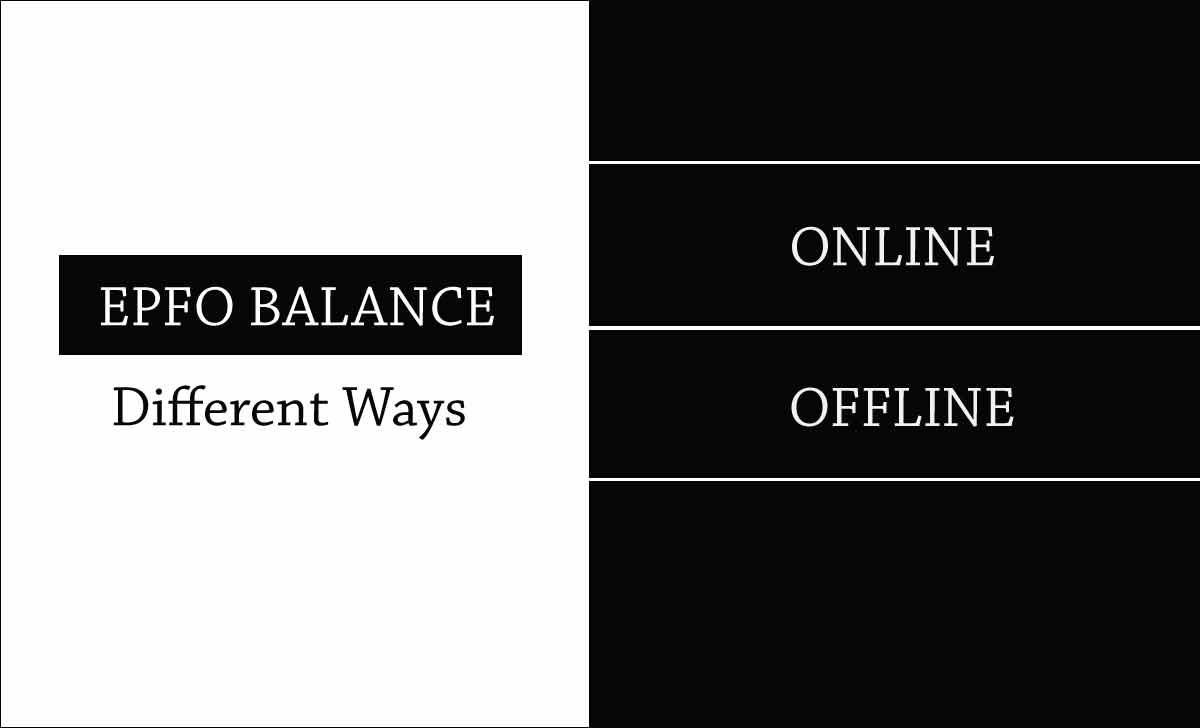 Now, as the online process has come up the process for EPF Balance Check has been quite easier, and If you're an employee who needs to know their PF account balance, then you must have checked the below-given points, else you will not be able to check your balance by any of the mentioned processes.
Points to Verify for EPF Balance
UAN number to be activated form the UAN Member e-Sewa portal
Passbook will be available after 6 hours of UAN activation
Any Change in UAN portal will reflect in Passbook after 6 hours
Settled members, Exempted members of inoperative account cannot view PF balance
If PF continuation has been stopped form 3 years, your account will be inoperative
How to Check EPF Balance
We 99employee.com provide two online methods and two offline methods, that can be used to check PF balance with your credential and details provided, where employees can use any of this message and get the PF balance within QuickTime, and this service is only applicable if your UAN is active and has registered with a mobile number and other KYC verified.
EPF Balance Check on Mobile
In this process, we will be using an SMS option provided by Employee Provident Fund Office, which needs to send from the registered mobile number, where only registered numbers can send this SMS and get the updated PF balance status.
Send SMS as EPFOHO UAN to 7738299899
The reply will be sent just after you press the send button in English, as this is treated as the default language, and If you want EPF balance check on SMS in a specific language then you need to use the below format as specified.
EPF Balance in Hindi: EPFOHO UAN HIN to 7738299899
Punjabi: EPFOHO UAN PUN to 7738299899
Kannada: EPFOHO UAN KAN to 7738299899
Tamil: EPFOHO UAN TAM to 7738299899
Bengali: EPFOHO UAN BEN to 7738299899
EPFO Balance on Missed Call
Get EPF balance on missed call as a text message on your registered mobile number, so just simply dial this number which will automatically discount after 2 rings and will give you the EPFO balance amount as an SMS.
Missed Call Number: 011 2290 1406
UAN must be active and verified with all KYC documents
EPF Balance Check on Umang App
The online process does have Umang App which can be easily used to access your various PF account details, and do follow these steps and get the PF balance amount known from the Umang App.
Visit the Google play store or Apple Store to download Umang App
Once download, click on Install and then select language as preferred
Click on the checkbox to confirm and then enter your mobile number
Tap on the register after agreeing with the Terms & Conditions shown
Click on All Services from the bottom form the Umang App home page
Click on EPF form list and select view Password under it
Here enter your UAN number and then click on Get OTP
Enter OTP received and click on the Submit button to view the balance
That's it, the total EPF Balance will be on your screen and you can also view the share contributed by the employee as well employer on the same page every month.
Check PF Balance on UAN Portal
The official website EPF UAN Member Portal provides EPF Passbook does also give an option to get the balance sheet checked by the employee, and have a look at the below-given process and know your EPFO balance from the official EPFO website.
Go to EPFO official website for your browser page
Click on the Our Services form menu and select For Employees under it
On the new page loaded, click om Member passbook and wait for a new page
Here enter your UAN Number along with Password set for the same
Enter the verification code and click on the Login button to continue
On the next page, select the Member ID and view your details below
Click on View Password Full and wait for details to get loaded
That's it, here you can view the total EPF balance along with the details of how much continued by Employee along with the employer.
Frequently Asked Questions
Can I know my EPF balance with an inactive UAN Number?
As to use the various offline or online services, employees should get their UAN number active first, and this will enable you to use the services through which you can view your PF balance, EPF Withdrawal status, and more provided by EPFO, and if you have not used the account for quite more time, then you might not be able to use any services as well.
What to do if I don't receive a reverse SMS from the EPF office?
If you have sent an SMS to check EPFO balance and do not get any reply, then you must visit the EPFO official website and check your registered mobile number, and this might also be because of network issues, which might be resolved soon, and you can try the same SMS process after your mobile network is fully available.
Why does EPF missed call number do not connect?
As the same number is being used by multiple individuals it might take time to connect and process your missed call, and it is requested to try giving the call if at least one ring has been connected to this number which will connect to your PF number and fetch your details as a reply to your mobile number.