Lodge your JKEPFO grievance online | Resolve JKEPF issue at an early | Check Complaint status online if delayed…
Every employee can check the JKPaySys payslip for EPF details. Most of the time, when you find some issues or problems with Jammu and Kashmir employee provident fund functioning then it would be a wise decision to submit your issue as a grievance to the official website.
If you are an employee working either in the private or Government sector in Jammu Kashmir state, then you might already register as an EPFO member and this comes up with a lot of tasks and follow-ups.
The simple reason why you should submit your JK EPFO grievance issues is to get a quick resolution rather than visiting their offline office.
Other than that the issues you might face may not be so huge that you need that to solve right away which is why submitting your issue online and waiting for a response from the authorities is a great option.
As an EPFO member of Jammu and Kashmir state, you might already know that you have a separate online portal through which you can freely submit your grievance, and below is the process to it.
How to Submit JKEPFO Grievance Online
Open JKEPFO Grievance submission page from jkepfo.gov.in/English/frmGrievance.aspx
Enter your EPF details
Provide your personal information asked
Under "Enter Grievance Details" you will have to explain the issue further. Also upload, if you have any image or file associated.
Click on Submit to upload it
Select check box and cross-check all
Click on the submit button
Now you have filed your JK EPFO grievance online. On the next page, you will receive an acknowledgment that the grievance has been submitted.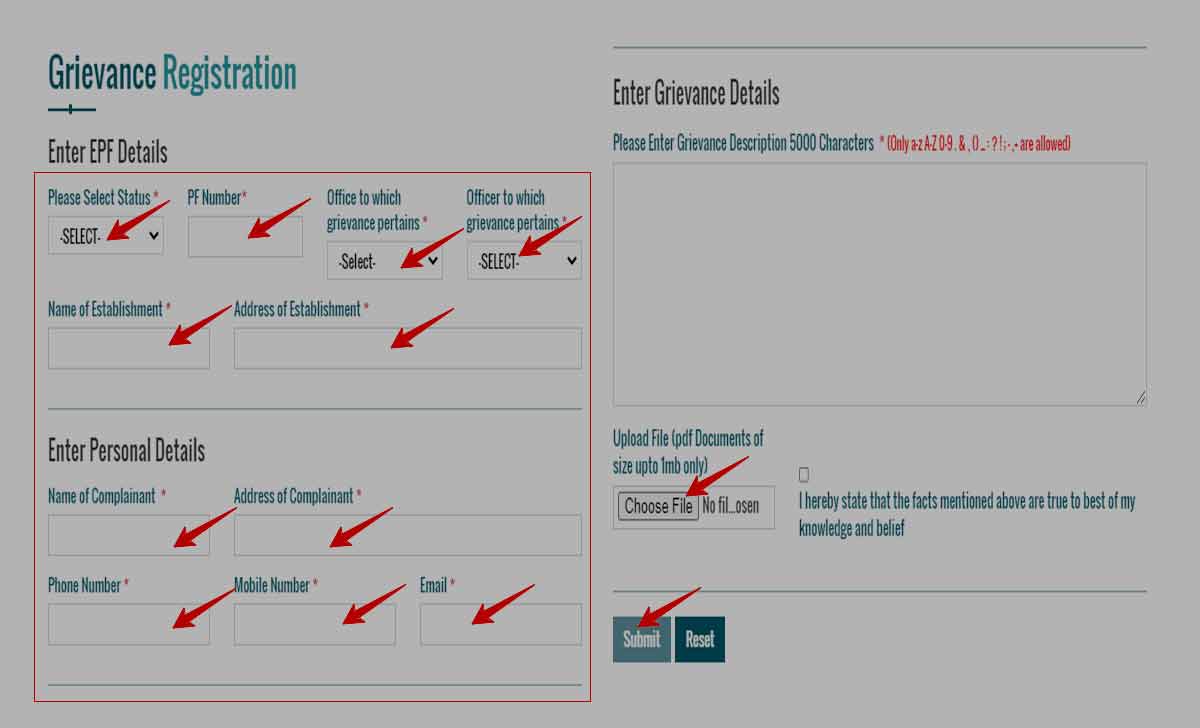 JKEPFO Grievance Status Check
Once you submit a grievance, it is important that you check your status, so as to know if your issue resolved. You can learn to check your Jammu and Kashmir EPFO grievance status from the below steps.
Open the grievance status checking page from the given link here https://jkepfo.gov.in/English/frmViewGrStatus.aspx
Then simply enter your application number and click on the submit button which will show the status.
JKEPFO Grievance status timeline
In most cases, it takes 7 working days for the JK EPFO portal to revert back with a resolution. In some cases, if the issue is a big one then it may take more time. But in those cases, you will either receive an SMS or email stating the delay.
Where can I raise my PF grievance for Jammu & Kashmir?

In order for you to submit any issue or complaint in the form of a grievance you can go to the JKEPFO official website and then click on the grievance option from the menu and submit your grievance.

How can I check my PF grievance status for JKEPFO?

If you have already submitted your JKEPFO grievance then you can go to the JKEPFO website and then under the grievance sub menu click on check status and enter your grievance number here.

How can I check my PF balance in JK?

If you are an employee from Jammu and Kashmir, then you can easily go to the JKEPFO official website and login with your account username and password. Then simply go to the passbook and through this you can check your pf balance in JK.

JKEPFO customer care number?

Most of the times when you submit a grievance it might take a few days to get an update which is why I would suggest you to contact their customer care through 0191-2598724 or 0194-2474215.