MIS Portal as Saksham Haryana Education Portal login is now live for Schools, Employees, and Online Applicants at hryedumis.gov.in…
The Government of Haryana State has designed the School Management Information System for the welfare of Schools in the state. The school staff, teachers, and students have got direct access to the portal through which most of the services are easily processed.
The MIS Portal also referred to as Saksham Haryana Education Portal which is a one-stop website for every need of Schools in Haryana. The New aspirants can utilize this option to apply for their selected school form online by submitting the application form.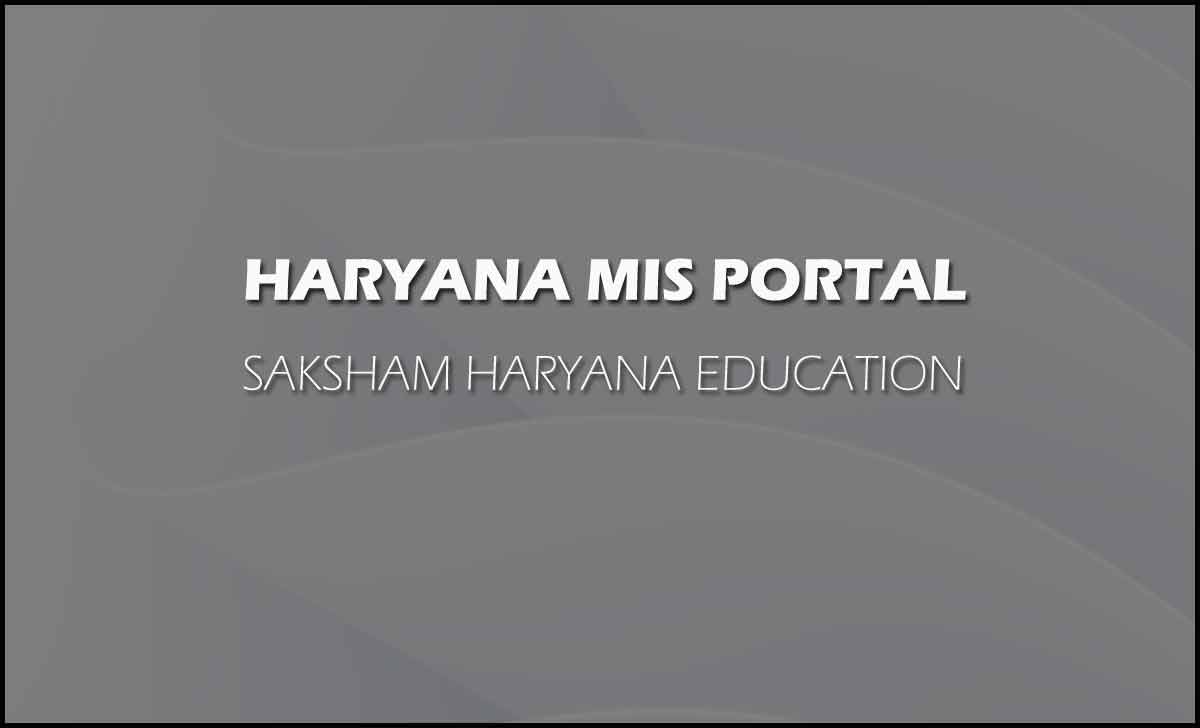 Haryana MIS Portal has the academic monitoring system and student assessment test portal direct link with their unique credentials. This portal is under the control of the education department of Haryana, which allows everyone to access the technology systems online.
| | |
| --- | --- |
| Name of the MIS Portal | Saksham Haryana Education Portal |
| State | Haryana, India |
| Objective | Providing access to access all technology systems for Education Officers, Teachers, and Students at one common platform on one single login |
| Technical Support on MIS & SAT Portal | 01725049801 |
| Web portal | hryedumis.gov.in |
MIS Portal Services
This is a one-stop portal for teachers and students to check their details online. As well the updates from school staff uploaded in a portal to regularly update everyone. Here is the process that you can get from an online MIS Portal.
Access to Students' personal login page, where students can check their results, academic details, and more information about their other education.
Access to teachers to check their leaves, new opportunities, salary information, and other details of tehri employment. Every teacher does have their details update in Haryana MIS Portal, to check whenever required
Access to School staff to update the details of schools and teachers as required. As they are the ones who can edit the details and update any news regarding school. Applicants who are willing to apply to school as a freshman can get a direct link to upload the details. This allows new aspirants to apply for their selected school online and update their application forms.
The school Admins provide specific login credentials which allow them to update the details and view by everyone. The access restricted to a few authorized persons of schools, who are from the Administration office.
MIS Portal Haryana Login as DSC
Students, teachers, and staff can login into the portal using their officially registered details. Here are easy steps that will let you login to MIS Portal Haryana.
Go to the official portal Saksham Haryana Education Portal at hryedumis.gov.in
Now tap on Schools & Employees Login from the home page
Enter your login details
Verify the details and open login page
That's it, The MIS Portal Haryana login with your respective login credentials of Student or Teacher or staff has been successful.
How to register for a School in MIS Portal Haryana
If you want to apply for a school in Haryana state then you can use the MIS Portal to get that processed. The process is quick and easily online, whose step-wise process is provided below.
Go to the official website of MIS Portal at hryedumis.gov.in
Now click on Online Applicants login from the main home page
Tap on Register and then update your details as requested
Make sure your details are correct as your academic details
Register yourself with your details and create your registration ID
That's it, This is how an applicant can get the registration ID on Haryana MIS, which they can use to apply for any selected school in Haryana state.
How to Apply for School in MIS Portal Haryana
To apply for schools through the MIS Portal, the applicant must have registered from the login link provided. Once you have created your details, you can proceed with the below steps to Apply for schools.
Go to the Haryana MIS Portal at hryedumis.gov.in
Click on Applicant login
Now provide your details and go to the Applicant website page
Fill your details and then select schools form list provided
Get the applicant fills and print for respective schools
That's it, you can get the applicants print for any number of schools as per your choice and get that submitted offline for the admission process. As per the selection process, applicants may send a confirmation for joining.
MIS Haryana Login for Admin
The school authority and corresponding will be provided with Admin authority in the MIS Haryana Login page. They will have the highest authority on the page to update and record information about schools' employees and students.
Go to the Saksham Haryana education portal using hryedumis.gov.in
Now tap on Admin Login which is third in the home page for logins
Provide your credentials here and tap on login button to verify
That's it, Once your credentials checked, you will be provided access to the admin page in MIS Haryana Login. Here you can utilize your authority and make necessary changes as guided from school administration.
Documents Required for MIS Portal Haryana
Here is the list of documents require, when you're going to apply for Haryana MIS Portal online.
Aadhar card of the Applicant
Passport Size photograph
Applicant to be form BPL family
Caste certificate
Bank Account Passbook page
Disability Certificate if Any
Can I reset my Haryana MIS Portal Password online?
The Student, Teacher or Staff who have access to the Haryana MIS Portal, can use the forgotten password link to reset their password. They must have their registered mobile number with them to receive OTP for verification and set the new password.
Can I apply for multiple schools from Haryana MIS Portal?
Haryana MIS Portal for applicants will provide a list of schools from your selection. Applicants can get the application forms for any schools to apply to them individually. There is no restriction to apply for schools online for students.
Can a guardian register as an Applicant in the Haryana MIS Portal?
In place of the student, the guardian or parent asked to register their details. Upon successful registration with the portal, the applicant allows to visit their selected schools for further admission. The details of the guardian along with perfect relation with the student must fillin correctly.
Is the MIS Portal for only Haryana State Students?
The Saksham portal for education restricted for the students of Haryana state who are seeking for further education in the state. This portal filled with details of schools from Haryana State, which make it easier for students to apply in quick steps.
Do I have to pay an admission fee through an online portal?
Saksham MIS Portal will ask you to update your details in the application form and get the details of fee structure. The payment of the admission fee done through school only and there is no online mode of payment.
Does MIS Haryana Portal send email notifications?
Yes, the applicant or school employee will have to provide their email address during registration. They will provide with regular email updates about the school and new curriculum to ensure everyone in school with updated latest information.
Does a student have a specific login in MIS Haryana Portal?
The login restricted to the school employee and admin, as they are the only one who can upload the data. The parent or guardian of the student only authorized to view the details from quick links and able to access the download option provided in the home page.
What to do if I don't receive OTP for MIS Haryana Portal password reset?
The OTP will sent to the registered mobile number linked with the MIS Haryana Portal login account. As well the OTP may sent to your email address which you can use during the password reset option.
Why MIS Haryana Portal invited?
The Saksham Haryana education portal, also refers as MIS Portal Haryana, It is an online portal form the education department of Haryana state. This website provides an access link to the education officers, teachers, and students of schools in Haryana to access the technology systems.
How to reach for grievances in MIS Haryana Portal?
Teachers or students who are using MIS Portal can anytime use the contact us link to reach out for any grievances. The number provided in the portal will be reachable to record your grievance and the executive will update details as required. Else you can write a letter and post it to the address provided to contact us page.
How to raise concerns with MS in MIS Portal Haryana?
Visit the official website of MIS Portal Haryana and click on contact Us option for the home menu links. Now click on 'for AMS, fill issue here to receive a call back' fill your details and upon receiving your update an executive will call back to you with best possible resolutions. Ensure to provide proper mobile numbers, as executives we try to reach with numbers provided in AMS form.