Beti Bachao Beti Padhao scheme for girl child | जानिए क्या है बेटी बचाओ बेटी पढाओ योजना| बेटी बचाओ बेटी पढाओ योजना के लिए आवेदन कैसे करे…
The article clearly explains what is Beti Bachao Beti Padhao scheme, and why it is launched and the motto of the scheme, Just go through the details
प्रधानमंत्री बेटी बचाओ बेटी पढाओ योजना क्या है
The Indian government has brought the Beti Bachao Beti Padhao scheme by considering the declining girl child ratio in India. This is a module for survival, education, and empowering of a girl child under the Ministry of women and child development.
The points as women empowerment, girl child-killing, and other scenarios have brought the BBBP scheme for implementation.
Through this Government scheme, the discrimination of girl child and their protection from the initial stage taken on priority.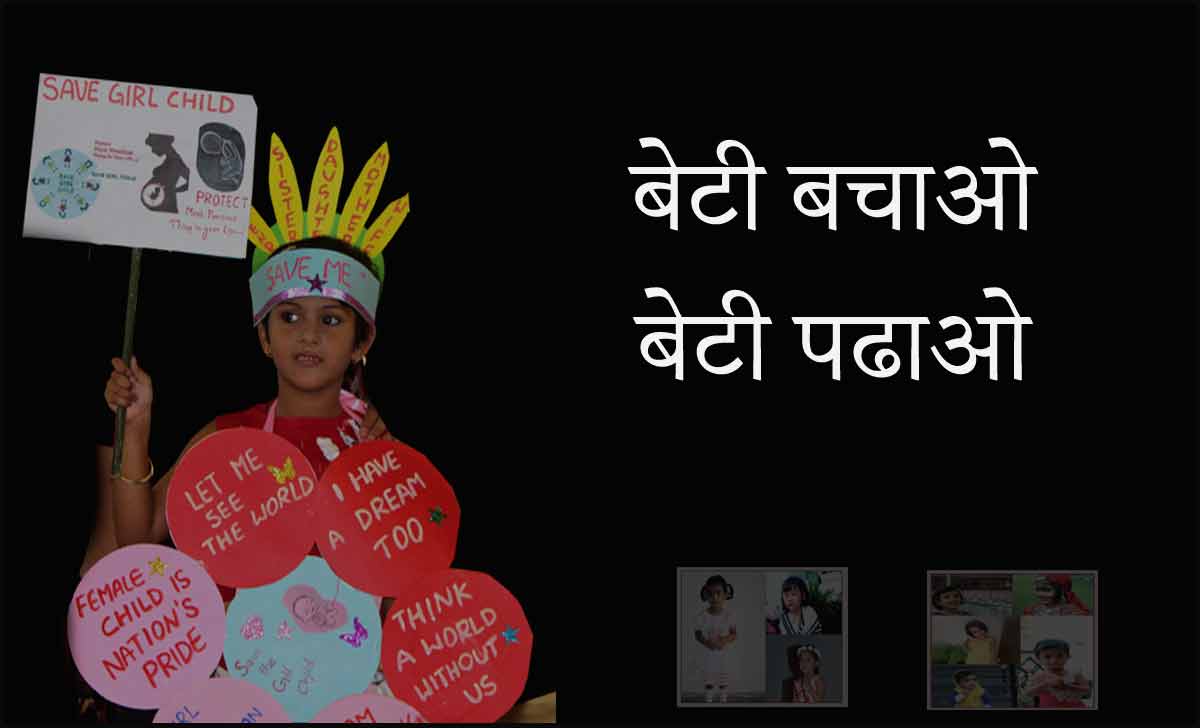 The Government of India allocates a fixed budget every year for BBBP. Every mother of a girl does get the benefits in terms of amount and other facilities since the girl childbirth.
There are a lot of benefits that the scheme investigates and referred to as the most useful scheme to enrich the reputation of girls.
| | |
| --- | --- |
| Name of the Scheme | Beti Bachao Beti Padhao (बेटी बचाओ बेटी पढाओ) |
| Objective | Survival, Education, and Empowering of Girl |
| Under the Ministry of | Ministry of Women and Child Development |
| Eligible for | Girl Child in the family below 10 years |
| Date of launch of the scheme | 22nd January 2015 |
| BBBP Web Portal | wcd.nic.in/bbbp-schemes |
| Youtube channel | youtube.com/user/BetiBachaoBetiPadhao |
Beti Bachao Beti Padhao
To describe in detail the BBBP scheme can easily understood through some of the below-written points, and this few benefits bring you to light on the concept of the scheme.
Remove gender discrimination
Protect Girl at every stage of life
Remove elimination of Girl child
Ensure better education for Girl
Participation of Girls in all aspects
Beti Bachao Beti Padhao Objective
Here are major strategies on which the BBBP program objective brought up into consideration.
Focus on gender discrimination in districts where critical actions have taken place
Prioritizing the places where a low child sex ratio observed
An aim to disclose the sex ratio and bring public awareness about girl child
Bring new techniques for BBBP as per every local sensibility
Asking to develop community by subjecting to giving birth to girl child
Have initiated the campaigns to develop and promote the education of girls
Evil social and gender stereotypes challenged under the project
Training the local bodies to bring a social change and improvement
Scope of Beti Bachao Beti Padhao
BBBP is a project that starts nationwide and implements in over 100 districts. As per the census of 2011, these districts selected, and the program of BBBP implemented over them.
87 districts form 23 states has below the national average
8 districts of 8 states have a declining trend ratio
5 districts of 5 states have average trends
As well the additional 61 districts added under BBBP, who have got the child sex ratio to 918
In every stage, around 700 districts in PAN India benefited from this project
Target of Beti Bachao Beti Padhao
Every project does look for a certain area of people. The same has been divided into three different categories which make comfortable with BBBP.
Primary Groups: They primarily consider the married and young couples along with parents
Secondary Groups: in this criteria they consider doctors, in laws, private hospitals and diagnostics centres
Tertiary Groups: In this group the places as official, religious leaders, frontline workers, media, and women health care organizations considered.
Eligibility of Beti Bachao Beti Padhao
If you're trying in part of the BBBP scheme, then here are some points which you must pass as eligibility criteria.
Family having a girl child below the age of 10 years
A savings account may open on girl's name in the bank
The applicant should be Indian by domicile
Beti Bachao Beti Padhao Campaigns
There are wide initiatives and campaigns been taken by the Indian Government with the collaboration of State Governments to bring up the project. There were many training sessions held in remote areas for better education on BBBP scheme.
Campaign in Pithoragarh District: In this district and district office and block force allocated to work together for organising Clark road maps for the development of child sex ratio.
Plans made to reach out to everyone for better reach with wide options. Street pays, signature campaigns and other groups of people have promoted the BBBP project.
Campaign in Mansa District: This is a district of Punjab, where initiatives to encourage girls and educate them to go ahead for further education.
A scheme under Beti Bachao Beti Padhao has brought the twitch name 'Udaan Supneya Di Duniya De Rubaru' to educate girls for class VI to XII to reach their expected professions in the future.
National Media Campaigns: An initiative to celebrate the girl's birthday and bring options for education. This campaign has the majority lead their promotions on girl childbirth, proper education, and health forms.
The media has provided round-the-clock approval to create awareness by different initiatives methods.
How to Apply for Beti Bachao Beti Padhao Scheme
Here are the steps which will guide you to apply for the BBBP scheme with all your required documents in hand.
Go to your nearest bank or post office with all documents
Fill the BBBP Application form provided there
Manually fill the application form and attach the documents
Once done, verify the details and submit an application
That's it, Your BBBP application may send for verification. Upon verification, this may send for further approval phase of Government consideration.
Documents for Beti Bachao Beti Padhao
Make note of this BBBP document, which might be useful if you're going to add your girl child name under this project scheme.
Birth certificate or Girl
Proof of Identity of parents as Aadhar card or Ration card
Address Proof from any government identity
Photograph of Girl
Sub Schemes under Beti Bachao Beti Padhao
There are few schemes under BBBP introduced to focus on empowerment, upliftment, and welfare of girl children.
Ladli Laxmi Yojana
Ladli Scheme
Kanya Shree Prakalpa Yojana
Sukanya Smaridhi Yojana
Balika Samridihi Yojana
Dhanalakshmi Scheme
There are more sub-schemes related to Beti Bachao Beti Padhao brought for each state to provide a good view to everyone around.
What is Beti Bachao Beti Padhao Scheme?
The main object of the Beti Bachao Beti Padhao scheme to equal the child sex ratio and stop the girl child-killing. To show the importance of girls by providing options for removal of gender inequality, women empowerment, and plans to protect girl children.
Which State launched Beti Bachao Beti Padhao Scheme?
To be more precise, the Beti Bachao Beti Padhao scheme launched by the Indian Prime Minister on 22nd January of 2015. It is a national-wide scheme that came into existence due to the decline in the child sex ratio and to bring women empowerment into the picture.
Does a Girl Mother get an amount from Beti Bachao Beti Padhao?
Yes, the mother of a newly born girl child will get the Tremont money along with their medicinal charges. The BBBP scheme gives money to girls' mothers at every stage of their education and gives better options to celebrate the existence of girls.
Which scheme is better for Girl Child?
In Beti Bachao Beti Padhao project, the scheme Sukanya Samithi Yojana proffered to be the most beneficial scheme. The savings scheme which ensures that girls parents do get enough amount for higher education of girls and as well during their marriage functions.
Why is it important to Save a Girl under BBBP?
It's better to know that girls play an equal role in society along with boys. The equal rights to women and unbiased reputation must be provided to every girl for their work. To maintain the better child sex ration, savings a girl child is very much important.
Is Beti Bachao Beti Padhao Scheme different in all States?
Yes, the BBBP scheme has got different sub-schemes create based on the considerations of states. The BBBP is the main object which has different sub objectives based on the locality. As the situations of protecting girls and empowerment is different in every state.
Do savings accounts of girls get money under Beti Bachao Beti Padhao?
As per the recent scheme under BBBP, a nominal amount may associate to a deposit on girls' savings account for their every stage of life. During their first schooling, higher education, and different criteria, a nominal amount does get add to three accounts for future purposes.
Under which ministry does Beti Bachao Beti Padhao launched?
Under the Ministry of women and child development, the scheme is launched in collaboration with the Ministry of Human Resource Development and the Ministry of Health and Family welfare which focuses mainly on girl child education to meet their aspirations.