Find the list of EPFO holiday homes available in India and check each home or guest house address / contact details to book, Verify the new process about how to book a holiday home of any state and know who are eligible to book EPFO Guest house…
Hope that you have your name enrolled with Employee Provident Fund Organisation if you a working employee of any private or government firm, and the facilities provided by EPFO are far better than any private schemes, as fund raised under EPFO are secured and monitoring by Government of India.
There are lot of facilities which are been listed under EPFO portal and thus one of such kind is their Holiday Homes, To server employees and officers in best manner by providing them guest houses in all corner of Indian territory, this concept of Holiday Homes or so call Guest Houses has been taken up by Office of EPFO commissioner, New Delhi.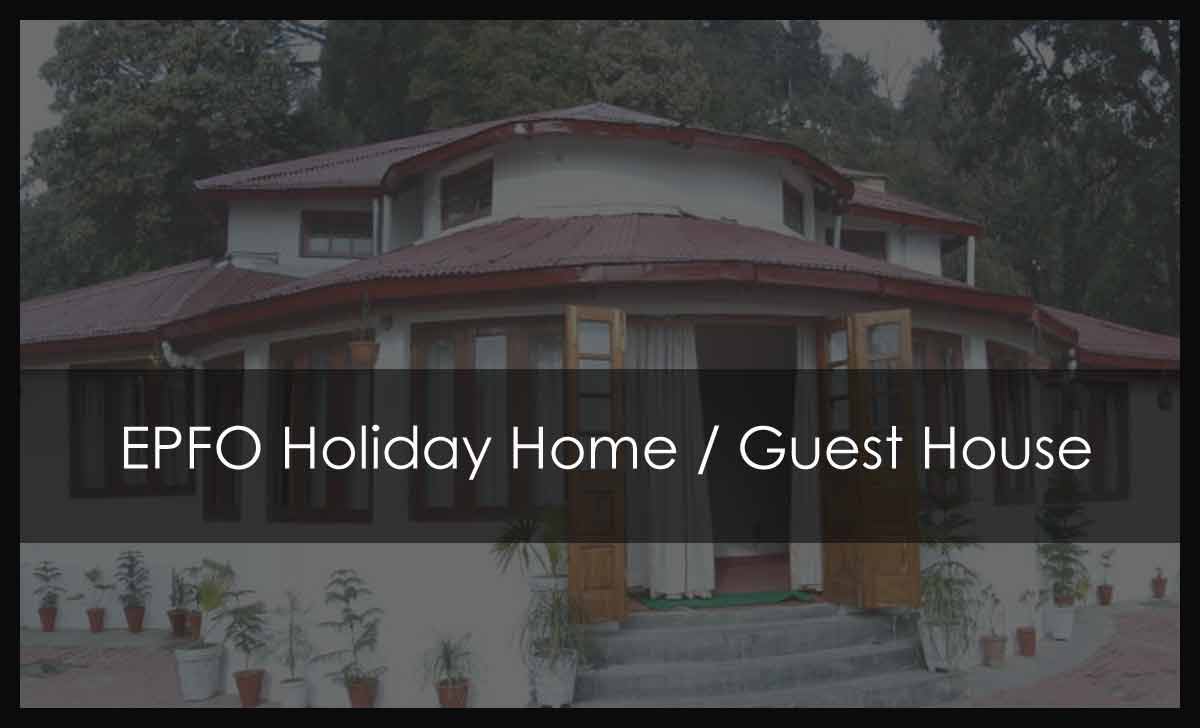 EPF Holiday Home
A letter from All regional provident Fund Commissioner has been issued, which has clearly stated about the opening of Guest Houses/ Holiday Homes for EPFO employees. This was the 23rd meeting of Employee Provident Fund Central Staff Welfare Committee which was held in the year of 2013.
Meeting had taken place in head office on grounds to open Holiday Homes to the nearest possible local of EPFO regional office, and the guest houses are been built to provide rooms for employee and offices based on their entitlements and eligibility.
It was also declared in meeting that this rooms will only be acting as Holiday Homes and no one under authority will earmark them, and the funding for the same is going to be under Ministry of Home Affairs Department working with EPFO.
Employee Provident Fund Organization has come with clear points to make rooms available for their permanent employee who can access them whenever required, and It was also order to reginal EPFO officers to acquire a list of Lodges and Hotels nearby which can be taken for Official purpose for EPFO employees.
The list of EPFO Holiday Homes are mentioned below and the information (contact details) can be known by going to the respective link, and EPFO is widely spread across INDIA, which is providing a well-mannered service to all employees, where in the same manner employee under EPFO are eligible to access this Holiday Homes during their visits of the following.
EPFO Holiday Home List
Bangalore
Chandigarh
Chennai
Coimbatore
Cuddapah
Goa
Fairadabad
Hyderabad
Indore
Jaipur
Madhurai
Kanyakumari
Kanpur
Kolkata
Kochi
Kozhikode
Mangalore
Nizamabad
Puri
Shimla
Thiruvananthapuram
Kolkata (West Bengal)
State
City
Holiday Home Address
Contact at
Odisha
Puri
E.P.F Holiday Home, Hotel Samundra (P) Limited, P.N. 927, Balukhand Sea Beach, Puri, Odisha – 752202
222705
Goa
Goa
E.P.F Holiday Home, Laxmi Niwas, Villa No. 264/108, Goan Paradise, Next to Hotel Gautam, Chogam Road, Porvorim – Goa – 403501
9049010224
ro.goa@epfindia.gov.in
Himachal Pradesh
Shimla
E.P.F Holiday Home Cliff-End Estate, Rajiv & Brothers Building, (Near Marina Hotel) (Below Chief Minister's Official Residence) Shimla, (Himachal Pradesh) – 171001
2624732
Tamilnadu
KanyaKumari
E.P.F Holiday Home, Hotel Tamilnadu, Sea Beach, Kanyakumari, TamilNadu- 609702
EPFO Holiday Home Contact Details
To your records, you can note the Letter No. Welfare/ 23rd Annual meeting/ CSWC/ 2013/ 6844 which has been officially signed and been forwarded to All members of EPF central Staff Welfare Committee, Central Sports Promotion Board, All Officers in-Charge, SROs, Director, Deputy Directory, All Zonal training institutes, Audit Parties, EPF Staff Federation, Officers Association, Chief Vigilance Officer EPFO.
EPF Guest House Contact Details
| State | City | Address of EPF Guest House | Contact Number |
| --- | --- | --- | --- |
| Andhra Pradesh | Cuddapah | EPF staff Quarters, P.F. Office Quarters No. 1/30, Railway Station Road, Yerra Mukkapalle, Cuddapah – 516004. | |
| Andhra Pradesh | Guntur | EPF Oficers Guest House, Bhavishyanidhi Bhawan, 3rd Lane, Krishnanagar, Guntur – 522006 | |
| Haryana | Faridabad | Q. No. 95, Type V, Bhavishya Nidhi Enclave, Sector – 29, Faridabad | |
| Karnataka | Bangalore | EPF Staff Guest House, Bhavishya Nidhi Bhavan, HMT Factory Main Road, Jalahalli, Bangalore – 560 013 | 080 23450177 |
| Karnataka | Mangalore | Bhavishyanidhi Enclave, Quarter No. 8 & 9, Block-I, Vamanjoor, Mangalore – 575028 | 2262930 |
| Kerala | Thiruvananthapuram | EPF Staff Quarters, Pattom (PO), Thiruvananthapuram – 695004 | 2446286, Fax: 2441750 |
| Kerala | Kochi | EPF Enclave, Salim Rajan Road, Gandhi Nagar, Kochi – 682020 | 2207104 |
| Kerala | Kozikode | EPF Staff Quarters, Eranhipalam P.O, Kozhikode – 673006 | |
| Madhya Pradesh | Indore | Nidhi Vihar, Keshar Bagh Road, Indore | 2468296 |
| Punjab | Chandigarh | House No. 342, Sector 30-A, Chandigarh – 160017 | 2637302 |
| Punjab | Amritsar | EPF Guest House, F-5, Bhavishyanidhi Enclave, Rattan Singh Chowk, Near Baba Jiwan Singh Gurdwara, Amritsar – 143001. | 2500335 |
| Rajasthan | Jaipur | Qr.No.2, Nidhi Vihar Colony, Jyoti Nagar, Jaipur – 302005 | 2740662 |
| Tamilnadu | Chennai | EPF Staff quarters, Dr.Thirumurthy Nagar, Nungambakkam, Chennai – 600034 | 28269444 |
| Tamilnadu | Coimbatore | EPF Staff quarters, Bhavishyanidhi Nagar, Peelamedu, Coimbatore – 641004 | 2240045, 2240046 ro.coimbatore@epfindia.gov.in |
| Tamilnadu | Madurai | Bhavishyanidhi Bhavan, Lady Doak College Road, Chokkikulam, Madurai – 625002. | 2530310, 2530032 |
| Telangana | Nizamabad | Bhavishyanidhi Bhawan, Nyalkal Road, Nizamabad – 503001 | 245157 |
| Uttar Pradesh | Kanpur | Bhavishanidhi Colony Quarter No.2, Sarvodaya Nagar, Kanpur – 208005 | |
| West Bengal | Kolkata | Bhavishyanidhi Guest House, AF-Block, Sector-1, Salt Lake City, Near Vaisaphi Island, Kolkata – 700064. | 23587407 |
EPF Guest House List / Contact Details