Have you create PNB net banking login, if not just complete your registration to access Punjab National Bank online internet banking services for your retail or corporate account and avail all the banking facilities of PNB through online web portal itself…
PNB Net Banking
Punjab National bank well known in India due to its vast banking services and millions of customers who have their trust in the bank, and they don't just have branches across India but well known all across the world with thousands of bank branches, customers across overseas as well.
In this article, we will be talking about the requirements for customers to get PNB net banking and then show you how easy it is to register for the Internet banking service right away, and at the same time we will also discuss the way in which you can log into your PNB net banking account and we also have a guide to help you reset PNB login password which forgotten as well.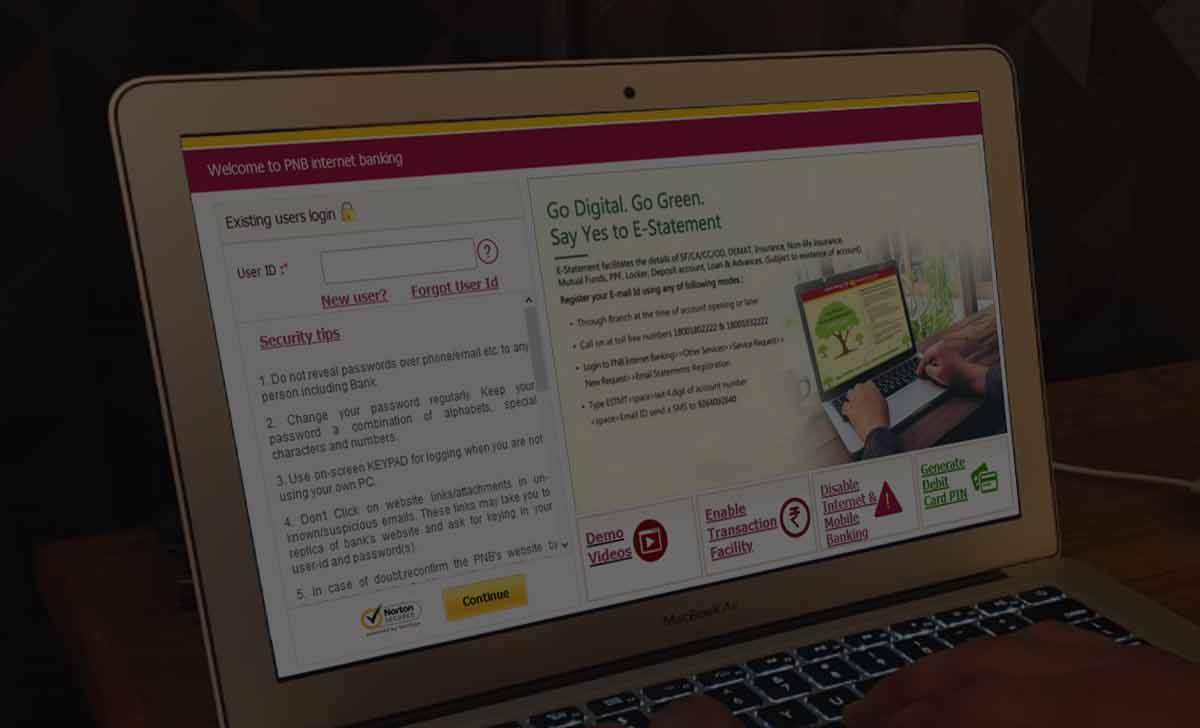 Requirements for Punjab National Bank Internet Banking Usage
These are basic points that a user must have to start using the services of Punjab National Bank Internet Banking, and these are must to meet requirements and if you don't have this, you can't complete your registration request for INB, so of not please approach your PNB branch to avail online banking services.
A bank account in Punjab National Bank (irrespective of branch)
Mobile number registered with bank Account
Debit Card issued by PNB Bank branch and activated
If already having an existing PNB Bank account, then you must get yourself register with Internet banking to avail its online features, Here is a detailed guide which will let you register with Punjab National Bank Internet banking features.
Also read>>> PNB Net Banking Password Reset
PNB Net Banking Registration
Visit the official website of Punjab National Bank using pnbibanking.in
Selects Internet banking option from Top right corner
Click on PNB bank option and wait for new tab to be loaded
Click on Retail Banking and then click on New User option
Enter your Account number of PNB bank in first column
Next select Internet Baking/Mobile Banking or Both options form screen
Select type of Facility as View only or View & Transaction
An OTP will be sent to registered mobile number, enter it and click on Next button
Here enter your Debit Card Number followed by PIN to confirm your access
Set your Login ID and Password for transaction
Click on Submit button
A successful registration message will be sent to mobile number and as well displayed on screen.
Those who have registered with Punjab National Bank Internet banking facility, they can start using the Retail Internet Banking service by using their User ID and Password.
Also read>>> How to Block PNB Net Banking
PNB Net Banking Login
Go to official PNB website pnbibanking.in and click on Internet baking option
Now select PNB from list and then select Retail Internet Banking
Next enter your registered User ID and click on enter button to proceed
Here enter your Password and select preferred Language from list
Selects Default Login Page and then click Login button
Once your Password is verified with your User ID, you will be allowed to access your PNB net banking page.
Also read>>> Bank Lunch Time
What is Retail Internet Banking in PNB?
Retail Banking of PNB provides services of anywhere and anytime banking. It is a simple, convenient and quick way of Internet banking and the same services are also available for NRIs as well.
Also read>>> PNB SMS Banking
What will be User ID in PNB Internet Banking?
The customer ID assigned to your bank Account will be your User ID for PNB Internet Banking, and the same ID can be found in your Bank Passbook or Cheque book.
How to activate Net Banking in PNB?
The process of registration to Internet Banking services by PNB will automatically activate your Net Banking Services, once registered, customers will be able to login to Netbanking using their Customer ID and password set.
What to do if I lost both my PNB user id and password for net banking?
This case rarely happens but the first thing you need to do is retrieve the user id or the login id for which you will essentially need your registered phone number, email address and the debit or PNB credit card associated with your account, and then once the account user id or the login id is retrieved then you can follow the login retrieval process guide to get your password as well.