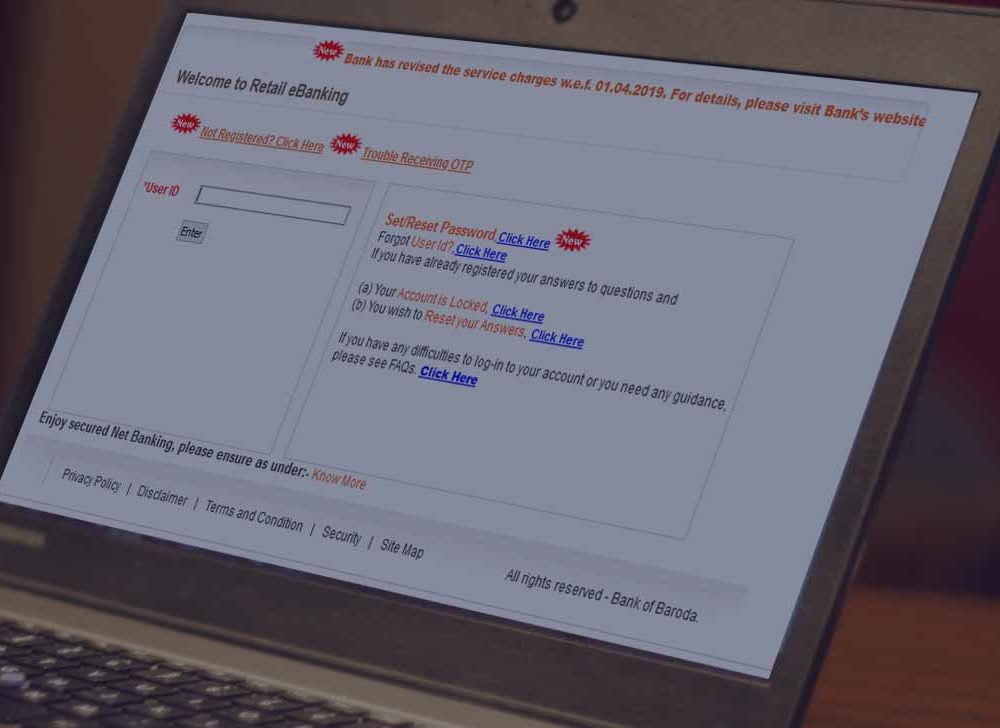 Create the new login user id for Bank of Baroda Net Banking facility which is very easy to access International banking facilities, Register with required as BOB retail user for corporate banking, Check the login facilities of BOB Internet banking and use the online system to pay the credit card bill and more services…
Bank of Baroda Net Banking
Bank of Baroda is a multinational Indian bank with best online banking services which is known to be one among the top public sector banking services all across the world, and there are very few and simple browser requirements for Bank of Baroda Internet Banking (BOB Net Banking) usage, for that the retailer or corporate user need to follow in order to login to the online net banking facility, they are
RAM : Minimum of 16/32 MB RAM is required
Hard Disk Capacity : 10-20 MB free space
Operating System : Operating System like Windows 2000, XP or latest version
Browser Version : Any browser that can run on above said Operating System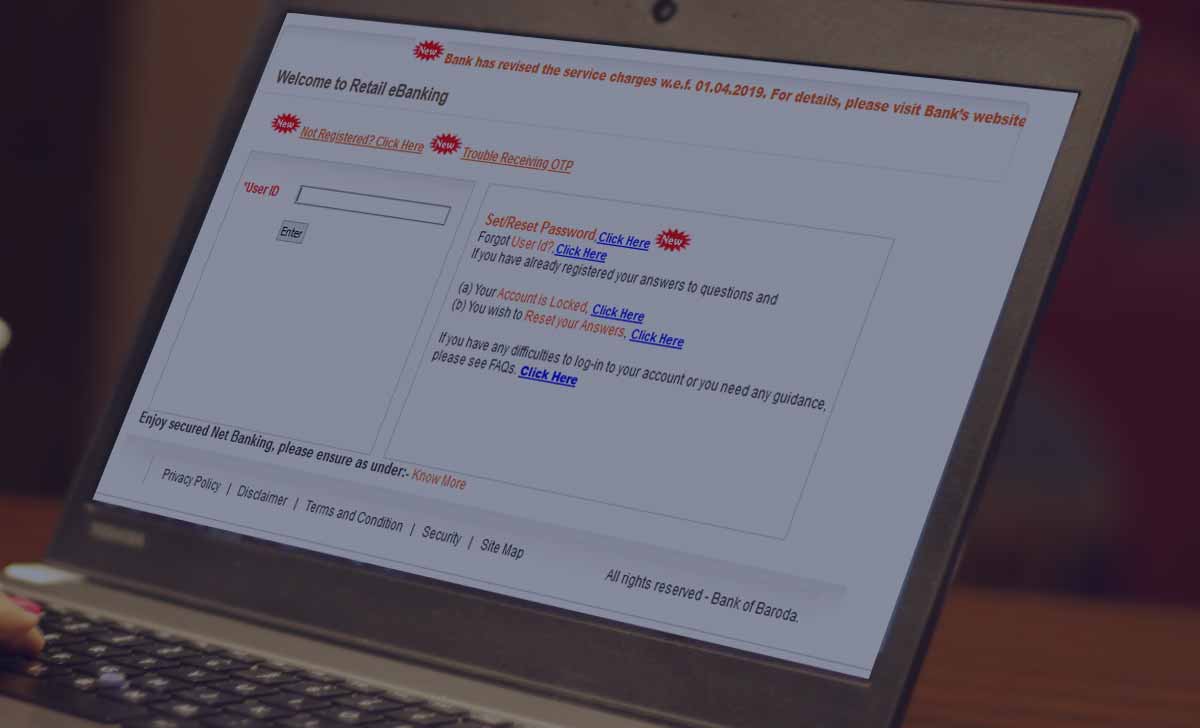 Some cases users might not receive their login confirmation details with the debit card and cheque books by BOB. At such times, if you have your debit or credit card then you can create new net banking and activate it directly as shown below.
BOB Net Banking Activation
Go to Bank of Baroda Homepage from here or visit https://www.bobibanking.com
Click on Not Registered (Retail user) Click Here option
Enter the Captcha Code

On the next page you have to enter the number in the given box

After that in the next page you have to enter your debit card details first
Click on the validate button at the bottom of the page
Once you have clicked on the button, the Bank of Baroda service will send you the login details or the user id to your registered mobile number and email address.
The, you will also receive a link to create a new password by clicking on which you have to make a new password for this internet banking account, and by this way you can register for a new net banking account from Bank of Baroda Savings or Corporate Bank Account.
Bank of Baroda Net Banking Login
Once you have an eligible browser with a perfect screen resolution at your hand, then follow the instructions shown below which will guide you to log into your Bank of Baroda net banking service which is called BarodaConnect.
First open a browser and then click on this link from here or else you can open BarodaConnect homepage from this link https://www.bobibanking.com/
After that under Login to Net Banking section, click on "Retail User" and this will redirect you to a new page
In this new page for Retail eBanking you will have to enter your User ID in the given box and then click on Enter button
After that this page will load another page, where you have to enter your Bank of Baroda Internet banking password and then click on the Submit button
Once done, this will load and give you access to the BarodaConnect Net banking service online directly
What is the length of Bank of Baroda Net Banking Password and Requirements?
It should be a combination of both alphabets and characters and can also have special characters. But make sure that the minimum password is 8 characters long and maximum can be 16 characters as well.
What is Password Validity Time and OTP Validity Time?
Both the terms are different and Password validity for Net banking is 1 year which is 365 days. While the OTP validity is only 3 minutes from the time of OTP is generated.
What is the cooling period of BarodaConnect New Registration?
The Bank of Baroda (BOB) Net banking cooling period of a new registration is 24 hours only after which transaction and more features will be completely available.
Bank of Baroda Internet Banking Activation Process?
Every new Bank of Baroda user will get activated Internet Banking facility but it is to be noted that the transactions are not allowed in the first 24 hours due to activation time. After that, you can either login with your user ID and password or login via app to access the Internet banking.
Are there any charges for Bank of Baroda or Barodaconnect?
No, there are no charges for any registration when you activate for net banking as well. But in case if you wish to go for some debit card or credit card with pictures or different plans then it will cost you based on the plan of the card you might select. But there are no prior charges that will occur when you just register.