Find the gateway of eGyanshala SBI for SBI employee e Learning on login to the new portal at https://egyanshala.sbi.co.in/ on registration and check the answers for your questions on the relevant page…
SBI e Learning
Here we provide detailed information about the SBI e Learning portal, so use your user-id and password for successful login for elearning page and to access the features.
State Bank of India provide a new platform for learning about new changes and updates by calling as eGyanshala SBI which is Mandatory e Learning Portal and previously called Gyanodaya eLearning allows free to access to any SBI employee.
Previously it was mandatory for all the employees to complete certification but now the certification of SBI e Learning platform has been made to maximum of one for every employee.
Every employee of State Bank of India has their own access to HRMS which stands for Human Resource Management System for SBI, and in world of rapid changes and Internet development banking system goes under constant changes every now and then which might seem like a fast-paced environment.
Also Read: My HRMS Salary Slip Download for SBI employee
So, the State Bank of India has made it necessary for all employees to have basic knowledge and understanding of the changes in HRMS, banking and more services through their eGyanshala SBI Gyanodaya portal.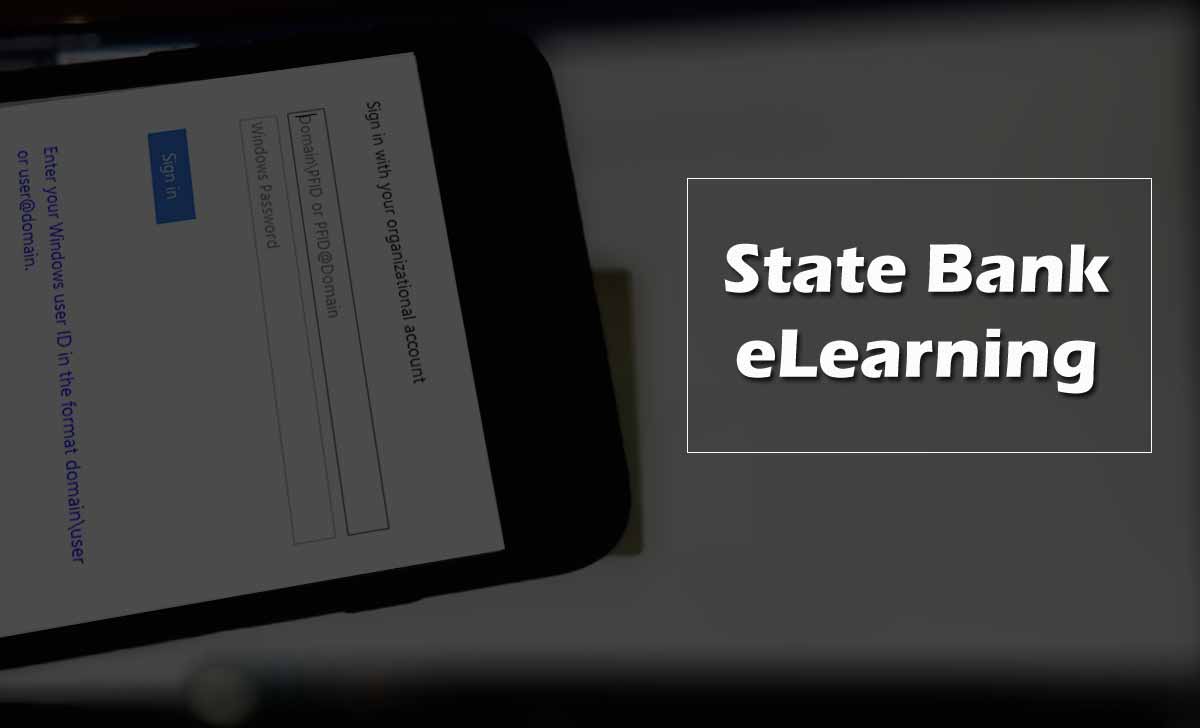 State Bank of India has made some big changes such as linking the certification to the criteria for promotion eligibility, and if an employee wants to apply for a job promotion then they must have a related certification at hand, but rest assured because you only have to complete 1 certificate from your role-based profession which is a very simple task.
State Bank of India will provide you with your own username and password after joining to access the eGyanshala SBI Gyanodaya e-Learning platform, and If you do not have one or might have forgotten then you can request HR through an email to get those details in a day or two.
So, considering that you have your login information, and let me guide you the steps on how you can access the SBI eLearning portal right away.
eGyanshala SBI
The first step to get access at eGyanshala SBI page is registration, which provides as free for an employee of SBI and it is mandatory e learning SBI portal with the below steps
Open eLearning SBI registration page at https://egyanshala.sbi.co.in/lms_registration
Select Batch from dropdown as per the course schedule
Enter Your Roll Number
Select Date of Birth
Click on Get Registration OTP on email address
Enter desired password and retype the same
Click Create Account and Set Password for successful account creation at eGyanshala SBI mandatory elearning platform.
SBI eLearning
After registration to eGyanshala SBI elearning platform, just follow the below steps to login and access prejoining learning page of Gyanodaya portal to complete the course
Open SBI eLearning Gyanodaya login gateway https://egyanshala.sbi.co.in/lms_login
Select the Batch from dropdown
Enter your Roll Number
Provide the regiseted password
Enter Security Captcha shown
Click Submit
Follow the onscreen instructions and Select the elearning subjects
Complete the courses in time from eLearning SBI
What is the use of SBI eLearning
The overall question might arise on the emphasis of eLearning platform that every SBI employee has to make use of and how it can really help the employee, So, we are going to explore some of the reasons and benefits of using the State bank of India eLearning platform to learn about new changes.
Certifications : Every course or new policy which is updated comes with a new module in the eLearning platform, and when you complete one whole module, you will receive a certification in that particular module after going through a series of questions regarding the same module.
Promotion : It has become a mandatory criterion for all the employees to have at least one role based certificate when they are applying for promotion.
Promotion Types and Certificates linked : It is very important for all employees to have a basic necessity and understanding of the promotion they are seeking at the same time must have related role-based certification, and we are listing out the type of certificates required for promotion level.
| SBI Employee Level | Promotional Level | Certification Required |
| --- | --- | --- |
| Award Staff | Officer Cadre | CP – Associate Certification |
| Officers in Scale 1 | Scale 2 | RBI Mandated and External |
| Officers in Scale 2 | Scale 3 | RBI Mandated and External |
| Officers in Scale – 3 / 4 / 5 | Scale 4 & 5, Deputy Manager | RBI Mandated and External |
Types of Certification : There are Internal and External type of certification allowed by State bank of India, Out of which Internal certification is handled by the staff of SBI directly, but while the external certification is regulated by the RBI.
Exemption from Certification : Any of who wants to be exempted from certification process should be talking to the DMD which is the HR for SBI directly.
Revalidation : Once you have acquired your certificates it will be valid for a tenure of time that is given or listed over the certificate you have received, So, it is mandatory and necessary for all SBI employees to keep in mind to revalidate the certificates by going through the same training and acquiring the certificates again.
How to Get SBI e Learning Certificates
Now the big question would after applying for a certificate and training session through the SBI eLearning platform, how can the employees really get the training?
Award Staff : The employees who are not in the office level and are called cash in charge are under the category Award staff, and the employees under this category will have to apply for the certification and training from online first, and then they will have to attend offline workshops and seminars to receive information and knowledge related to applied role-based certificate.
Officers : All the officers who are in the scale 1-5 are under this category, and all the employees have to apply for the role-based certification from the SBI eLearning portal first and then they will also be received training through offline workshops, and once training is done, online certification exam will take place and once you score the passing marks, the certificate will be awarded to you.
SBI e Learning Helpdesk
99employee presents the new helpdesk details, so please check, If you are new to State bank of India then it is true that you might have a lot of questions regarding the eLearning platform and how you can get your certification done correctly, but do not worry because you can always drop an email to SBI eLearning certification team who will be ready to help you with any questions, you can email them at support.el@sbi.co.in.
State Bank of India is an initiative taker when it comes to help clients, customer and even their own employees, and we've seen them build HRMS platform for better employee relation and now to develop their employee skills and level they have come up with SBI eLearning portal which is really great to see.
SBI eLearning portal gives equal chance to all the employees from cash in charge scale or officer scale level, and the process of receiving training through offline workshops, seminars and then certification being awarded by online test bring real value to the job to each employee.