Presenting the detailed steps about how to download Rajasthan employee salary slip through IFMS PayManager portal, check the monthly wise gross / net pay particulars which you have drawn…
Rajasthan Pay Slip
Rajasthan Government has brought Integrated Finance Management System for its State Government Employees to serve their services, and the Pay Manager is an exclusive portal designed for Rajasthan Government employees for their bill preparation.
This portal does manage the DA Arrear, Bonus, Arrear, Leave Encashment Bill and other employee billing information, and the disburse of salaries to all state government employees with generation of Pay Slip will be done using PayManager portal.
Employee do have access to the portal as well using their unique login username and password, and the employees of Rajasthan state have limited access to the portal to view their payslip details from the employee page which is managed by DDO officers.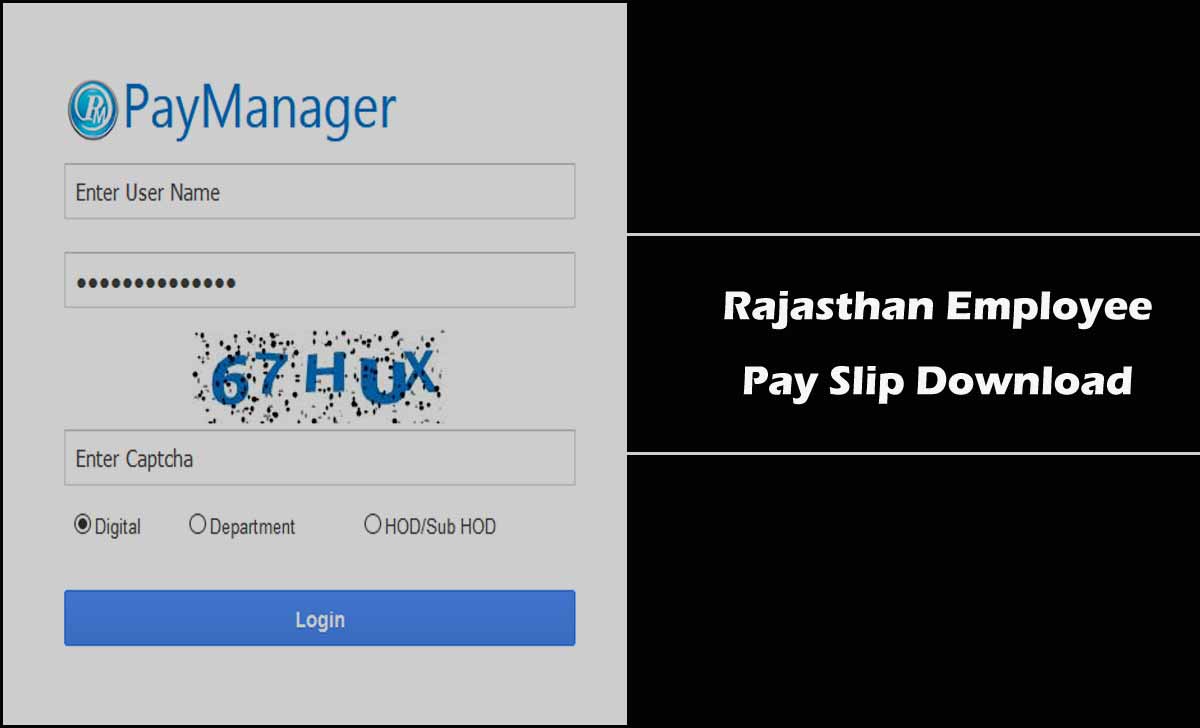 Rajasthan state government employees can download their Payslip of any month from PayManager portal using their login credentials, and here we have given the detailed step wise process to download the Rajasthan employee Pay Slip.
How to Download Rajasthan Employee Salary Slip
Visit the PayManager official website using your browser URL paymanager.raj.nic.in
Select DDO/Employee Login link shown below login option
Enter User Name and Password of your employee account
Type the Captcha code as shown in above box
Select Employee from List of option
Click on Login button
See your Login ID with your Name at top of the page
Select Employee Corner
Click on Pay Slip option
Select the Month and Year of Slip from drop down
Click on Submit
A file will be download and will be saved in your downloads folder
Visit the Download folder and click on file to explore your Pay Slip
By this above way you can get your Rajasthan employee salary slip downloaded and can verify to check your pay details and status.
Can we download Rajasthan Employee Payslip multiple types?

Yes, the Rajasthan state government employees are given access to download their pay slip of any month from Rajasthan Employee Page, where the employees can access this page with their login credentials and download the Pay Slip any number of times of the respective month.

Who can Login to Pay Manager Employee Portal?

The PayManager portal is designed for Rajasthan state government employees and their respective accounts being created in it, and thus only state government employees of departments under the State of Rajasthan can use the PayManager portal to access the employee services.

Can we use the Rajasthan Employee Payslip as Proof of Salary?

The Pay Slip generated from Rajasthan PayManager portal for any employee is valid with their official confirmation, and this salary slip is a proof of payment being received to employees for the days they have worked with their department information, and thus Pay Slip loaded form PayManager can be referred as an official proof of state government employment.

Can Private employees of Rajasthan State have a login in paymanager?

Private Employee working under state government will not be having their details and login activation in PayManager portal.