OLTAS Challan Status available online, Find challan status enquiry through CIN based view and TAN based View and with banks section…
OLTAS stands for Online Tax Accounting System. This provides tax payers a chance to pay for all their taxes, income taxes. This may also be able to have an account of payments made through their platform, receipts and use their network of payment services to pay for the direct taxes.
The Government has started this new platform with the help of Income Tax Department & Tax Information Network to create OLTAS. If you have recently paid for any direct tax using OLTAS platform, then you would receive an acknowledgment, but no confirmation.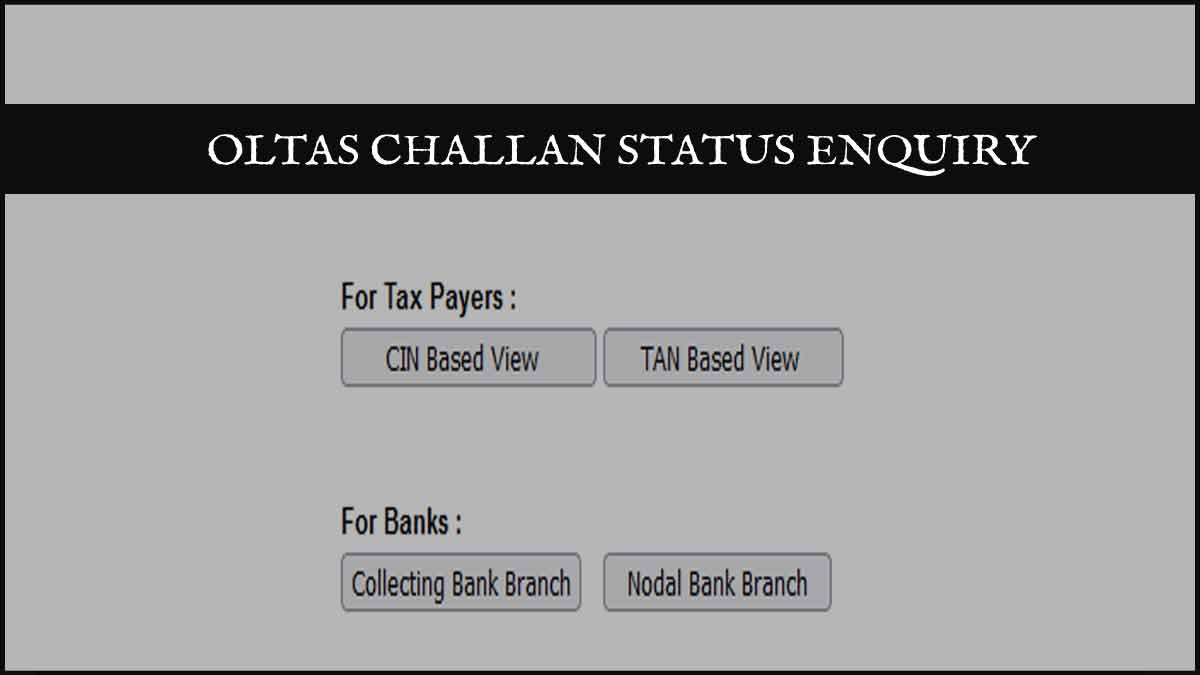 In order for you to understand, if the OLTAS payment completed, you need to check status for it. OLTAS challan is not only for taxpayers, but also for banks which we will be discussing further in this guide.
How to Check OLTAS Challan Status
The Income Tax Department created a separate page to check challan status directly for both taxpayers and banks as well.
Method 1 – OLTAS Challan Status using CIN Based View
In first method, we can use the Challan Identification Number (CIN) along with other details. It is all to check the challan status as shown in the below steps.
Open the OLTAS challan status checking page from here https://tin.tin.nsdl.com/oltas/
Under for tax payers click on CIN Based View
On the next page you will have to enter the details such as BSR code of the collecting branch, Challan tender date which can be cash or Cheque deposit date, Challan serial number and the amount
Enter the captcha code shown in the image
Click on the view button which will show you the status of the OLTAS challan
Method 2 – Challan Status by TAN Based View
TAN number which is Tax Account Number which may use to check your challan status that may follow from the below steps.
Open the OLTAS official website from tin.tin.nsdl.com/oltas/
Click on TAN Based View under for tax payers section
Enter the Tax deduction/ collection account number (TAN), Challan tender date/ date of deposit (period)
Enter the captcha code from the image
Once all details confirmed, Click on View Challan Details or Download Challan File option. This will allow you to get your challan status using TAN number.
OLTAS Challan Status for Banks
Both the collecting bank branch or nodal bank branch, you are able to check their OLTAS challan status. It is all by simply going to the OLTAS status checking page. Under this page, you will find for banks section. Under this, you can select between collecting bank branch or nodal bank branch option to check status.
How to check TIN OLTAS Challan Status Online?
If you are a taxpayer who has made a direct tax through online then you are able to use Income Tax Department OLTAS challan official website. It is all to check for the challan status by either using the CIN or TAN number.
TIN OLTAS Challan Payment Process
Under Income Tax Department official website, Follow the below process
Go to Services option
Click on the ePayment
Tap on Pay Taxes Online option
Enter your challan number and amount to pay to complete the OLTAS challan payment online.
How to Check OLTAS Challan Refund Status
If your payment deducted, and the OLTAS challan refund status shown as refunded or in progress, then the amount will appear in your bank account within 7-14 working days.
What to do if TDS Challan now showing up in OLTAS
In case if you have tried to search for your challan in OLTAS, but it does not shown means the payment not done or else this may refunded to you.