Register your credentials for Income Tax login to submit IT return for the assessment year and to check the income tax refund if applicable, Find how to reset Income tax india login password with forgot option at incometaxindiaefiling.gov.in…
The Income Tax department of India is a centralized form of association where they keep track of tax redemption from people all across India, and we have seen people surrounding us talk about Income tax refund and the status of the application most of the times.
As you already know that the department makes a small deduction from your salaried account and sometime during December you are eligible to apply for tax refund application.
Once you have applied for the refund process then the Income Tax department takes around 3-4 months and releases the status of every application basing on their calculation, but in order for all the steps to happen that we've mentioned it is necessary for you to apply for the tax refund in the first place.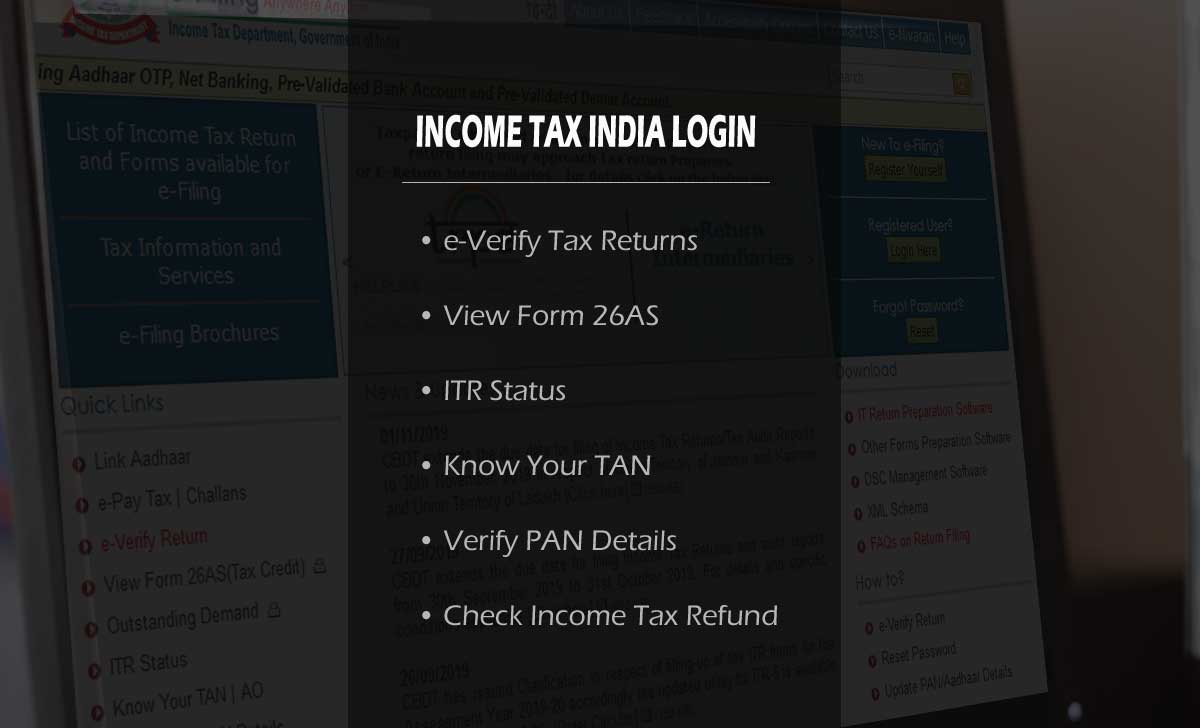 You should understand that account registration before the whole process is necessary and beware of fake Income tax filing websites.
Income Tax Login
Requirments
User ID – After registration you will receive the login ID
Password – You can setup your own password while registration
Phone Number – If forgot password to receive OTP
PAN – This is necessary while completing KYC
So, in this article we will be discussing about the simple steps that will help you to learn how to log into your Income tax account easily, and before you continue reading this article, I would advise you to first register your account from the Income tax department official website and then follow the below instructions.
Income Tax India Login
Open IT department web portal

The First step would be to go to the Income Tax department official website at https://www.incometaxindiaefiling.gov.in/home

Then on the right side, you can see the "Login Here" button in green colour, click on it
Enter the User ID and Password

You will land on the login page directly where you have entered

Make sure to enter the correct Captcha code from the image
Click on the Login button

Now you have successfully logged into your account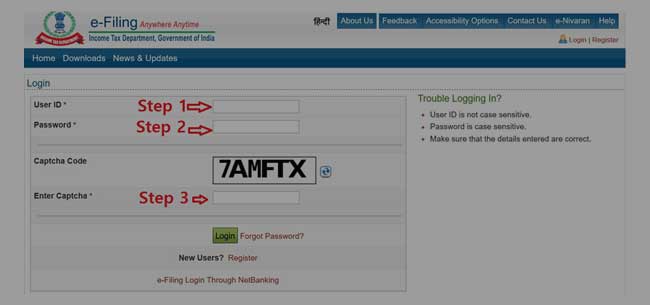 How to Reset Forgot Income Tax Login Password
It is quite common to forgot password, and the same might happen for the Income Tax account password as well. Here user don't have to worry a bit, because password resetting process is quite easy from the steps shown below.
When you are on the Income tax login page, then click on "Forgot Password?" button
Next password resetting page will appear, where you have to enter User ID and Captcha as shown in image
Then check the "Request OTP" button and click on continue button
Enter the OTP and reset the password to your preferred one
Once your password has been reset you can now login to your account via the same process as shown above.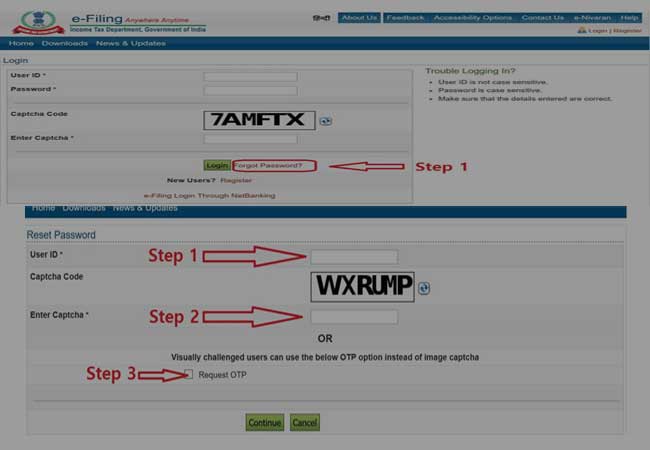 In this way you are able to access your Income tax login account to check refund status from there directly. You can use your account in many ways such as checking the refund, then filing of income tax application which is a major action item.