MP Treasury Department is under the supervision of the State Government of Madhya Pradesh, and they have got an online pay slip website for the convenience of their employees, thus the Treasuries and Account Department of Finance of Government of MP brings many online facilities to their employees.
Departments like Institutional Finance, Small Savings, State lotteries, Pension, Local Audits, Local Funds and more are managed under MP Treasury, and the employees belonging under this department can get their online payslip generated, and this will help them track their salary records with downloaded payment slip online.
MP is termed to be the largest State of India and thus MP Treasury departments hold data of large organizations., and the handling of Account preparation for all employees, Pension generation, Deposits, payments of bills comes under MP Treasury.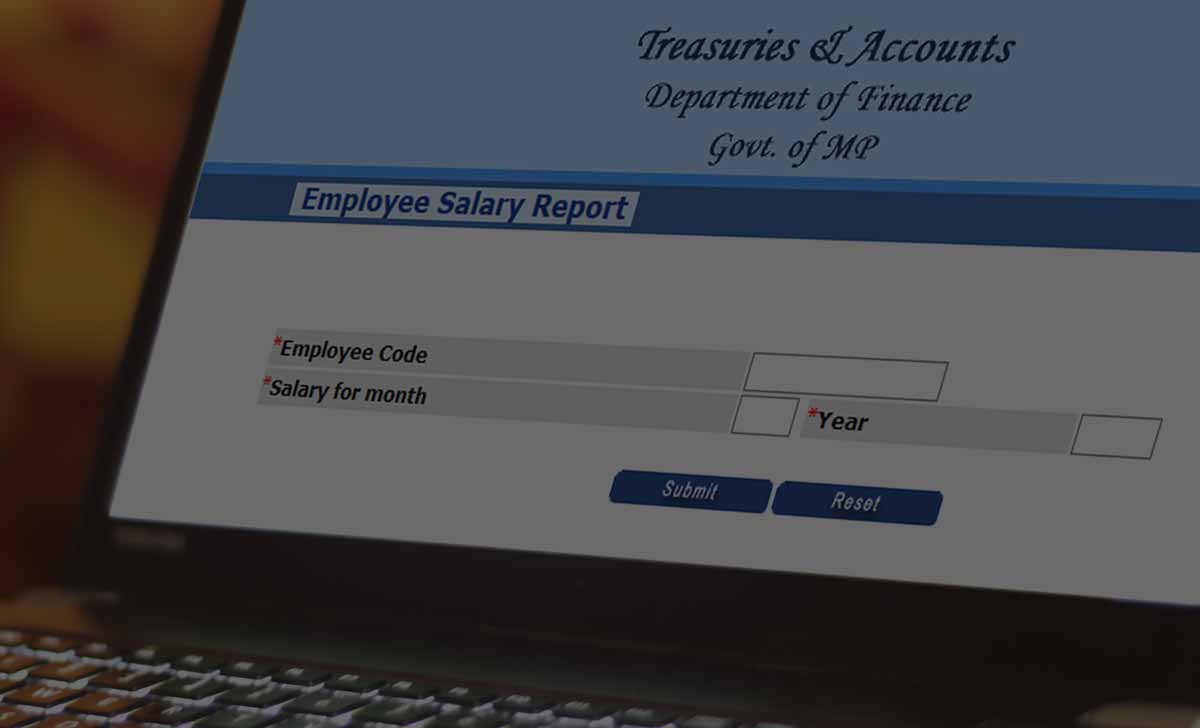 Pay Slips of MP Government employees are thoroughly prepared based on data of employee grade and their working time, and anyone who is working under this said department can get access to MP Treasury Pay Slip online website to avail the facilities, and this has been an important note for everyone who used to walk around the office to get their Payslip generated.
MP Treasury Pay Slip
The payment sheet of an employee who has been employed in government departments of Madhya Pradesh can be downloaded from this official website, where the Pay slip does include the details of their working hours along with deductions.
A Pay Slip of MP employee downloaded online is an official proof of payroll for an employee from their respective department, and one who has been aligned to any department can showcase this as proof of any official or government proof, Below is a detailed list of points that can be viewed under MP Treasury Pay Slip.
Basic Salary which is an inciting amount as per Grade of an employee
House Rental Allowance added as extra benefits based on location of Employee varying from Urban to Rural
Extra Allowance is amount added to total salary based on extra hours worked by an employee
PF contribution let you know the amount reduced from the total salary
Loan deduction describe the amount deducted regards of any Loan taken from department
Tax part in Salary let you know the tax applied on total income
Net Salary is part which is sum of addition and deduction by applying all above said terms
Pay Slip generate Link for Mp Government employees is available online under the MP Treasury Pay Slip Official website, and the link is not directly provided on the home page, it is necessary to know the steps to generate MP Treasury Pay Slip for the current month, where there are multiple services links provided, so don't get confused and opt for a proper link to generate pay Slip, Let's have a look at the exact procedure provided on this 99employee.com page
Download MP Treasury Pay Slip
Firstly, you need browser having access to internet data
Search for mptreasury.org in URL bar and go to MP Treasury Home Page
Click on Reports under My Area column (left side panel of page, )
New page will be loaded displaying your Web Reports of MP Treasury
Click on Employee Reports option and then select Employee Salary Report
Once you do that, New page (https://www.mptreasury.org/mpt/dynamic/myarea.htm) will be loaded with credentials to be filled
Enter your Employee Code and Month of Pay Slip to be generated
Enter the Month & Year,
Click on Submit button to generate
Pay Slip for selected Month will be loaded, which can now be downloaded or allowed to print using the available options on the same page.
How to Get MP Treasury Pay Slip Employee Code?

If you're a new employee under the respective department of Madhya Pradesh, then you must reach DDO to get employee code.

How to get MP Treasury Pay Slip Forgotten Password?

There is no direct link to change the password from the web portal, thus employees need to raise a complaint using the Help Desk/ Grievances option from the homepage, and submit your respective employee details which will be monitored by MP Treasury Help Desk.

Can MP Treasury Pay Slip Downloaded Online be used for Loans?

Yes, MP Treasury Pay Slip which is generated from official website can be shown as official proof for Home Loans, personal Loan, Education Loans and for any government validation.

How many languages does MP Treasury Pay Slip is available?

MP Treasury official website is available in English and Hindi Version respectively, so one can select the Version from home page to display the details in selected language.