Make your Maruti Insurance renewal in online with out any assistance. Enter your policy number and complete Maruti Insurance renew with best company on selection from the list. Download your car insurance policy copy online…
Well even if you don't have one right now or if your old four-wheeler insurance has expired, then don't worry because we've got the detail process for you about Maruti Insurance Renew which is one of the most exceptional insurance services in India provides zero depreciation services.
At the same time, as a company they also have their own Insurance for every car they sell and put on the road for travel. Even if you don't have a car from their company you can still buy Insurance policy for your vehicle. It is towards Maruti Insurance Renewal in online from Brooking service providing no claim bonus on policies.
All good things come to an end at one point. It is the same for Insurance for any vehicle that you buy from any vendor or Insurance service provider. So, if you have bought the Insurance for your car previously from Maruti, then you should look ahead to Maruti Insurance renewal online. Because Insurance is mandatory for any vehicle to drive on the road as per the Government rules and regulations.
Maruti Insurance Renewal
Renew Maruti Insurance in Online immediately as per said process within due date and continue your car insurance without break
Open www.marutisuzukiinsurance.com/ on your browser in mobile / desktop
Tap Customer Zone and Click Renew Policy
Enter Car Registration Number or Policy Number or Registered Mobile number
Click Submit
Verify Your Customer details (Name, Address, Car details, Registration Number) shown
Click Continue (Make a correction in address if required)
Verify customer and vehicle details
Edit your Nominee if required
Select your Maruti Suzuki Insurance Renewal Company

New India Assurance, National Insurance, United India Insurance, Royal Sundaram, Universal Sompo, Bharati Axa, Kotak General, IFFCO Tokyo, ICICI Lombard, HDFC Ergo, SBI General, Bajaj Allianz and more) shown at the right side panel with premium amount for your yearly insurance

Click Make Payment (Check all the details including coverage and Nominee)
Select Payment Gateway
Select Payment Mode (Credit Card, Debit card, Net Banking, UPI Payment, Bharat QR or EMI Options)
Make Payment with your credentials
A Payment successful confirmation will be shown on the screen and the same will be received on registered mobile number and email.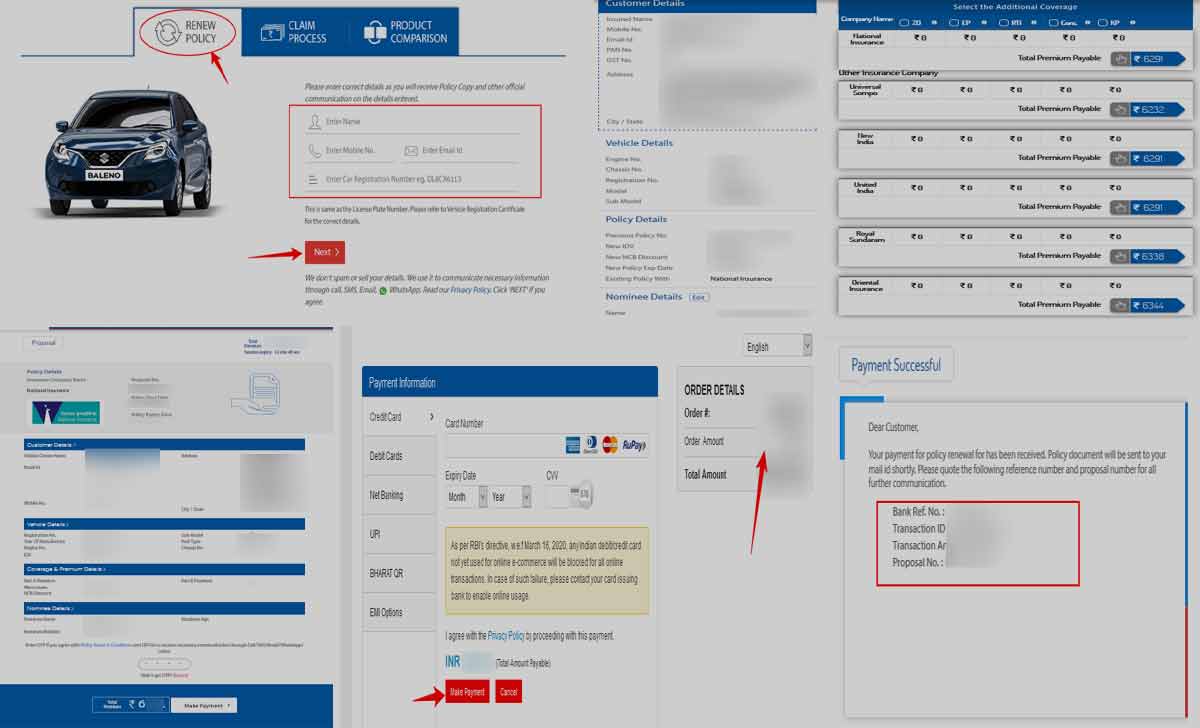 Now that you have made up your mind to purchase your Maruti insurance renew for your car, then you should also make sure to look into all the insurance options and policies that they have for you. There are two types of insurances for four wheeler actually, they are (1) Liability Only and (2) Comprehensive Policy.
Both the policies known for having distinctive policy features, where Liability is cheaper than Comprehensive Insurance cover. At the same time comprehensive covers all the qualities from liability though it is costlier. We would advise you to take your time while selecting the Insurance policy plan and then make the payment readily.
Can I buy both Liability and Comprehensive Insurance renewal?
No, you cannot renew or buy both the insurance policies from Maruti Suzuki insurance or any other service as well. If you are looking to buy both, then it recommends only to buy the Comprehensive policy as it has all the policy features from Liability as well.
Can I get the Maruti Insurance Renewal copy immediately in online?
After successful payment, your transaction details delivers immediately. But the original softcopy may deliver to your registered email id with in 48 hours of payment.
Will i get original policy document for my Maruti Insurance Renewal
You may get the original hard copy from the Maruti Suzuki Insurance broking service with in 7-10 business days to registered correspondence address.
Can we renew Insurance policy for Maruti four wheeler with website or any other?
If you want renew your Maruti car insurance then you can do it directly from their official website at marutisuzukiinsurance.com. Just enter all your details including registration number, then depending on the policy plan you have to make the correct payment as well as said in the process.
Can have Maruti Insurance Renewal Customer Support?
It is always advisable to reach out to the Maruti Suzuki Insurance Renewal customer care contact number with best car insurance support team at 33774477. You may contact this for any questions regarding the Insurance renewal process or for new policies.
May I select another Insurance company for this year renewal other than last year for my Maruti car?
You may allow to choose any company insurance as per your convenience. Also check with the premium amount shown offered by Maruti Suzuki Insurance Brooking service in online.