Open LIC ebiz portal and make LIC online payment for Renewal and Loan interest, Download LIC premium payment online receipt anytime towards quarterly, half yearly or annually payments…
Have you taken any Life Insurance Corporation term or investment policy, need to pay premium for quarterly, half yearly or annually? Here we deliberate you about how to pay the premium at LIC Login with or without registration for LIC online payment.
Most of the policy holders till now using old way to pay life insurance premium in cash by visiting branch. Let us discuss the process of making online for Life Insurance policy premium for renewal related to both registered and unregistered users of LIC payment online. We clearly mentioned the step by step process of LIC Premium payment online. This may done by registered users of ebiz.licindia.in using the customer portal as below
LIC Online Payment
Avail the opportunity of LIC Online payment to pay LIC premium payment online in advance or after through online secured portal at ebiz.licindia.in with enhanced features.
Login to licindia.in and Click the Customer portal button which is present headlined as Online Services
Click Pay Premium Online to pay premium for only active polocies
Click Through Customer portal if your are a registered user at ebiz.licindia.in
Provide registered username and password of LIC login portal and date of birth
Click Sign In to login into LIC ebiz payment portal
Click on Online Payments under My Apps to pay lic premium
Click Self Policies on left side to check all information related to the insurance policies
Find renewal or due date of the premium of the policy and click Pay Premium if due
Select Credit Card, Debit card, Net Banking, UPI, BHIM, PayTM or other payment gateway and complete payment
Upon successful LIC online payment, you will get receipt details on SMS and email ID
After payment, the user can download LIC premium payment receipt at anytime on login to LIC India.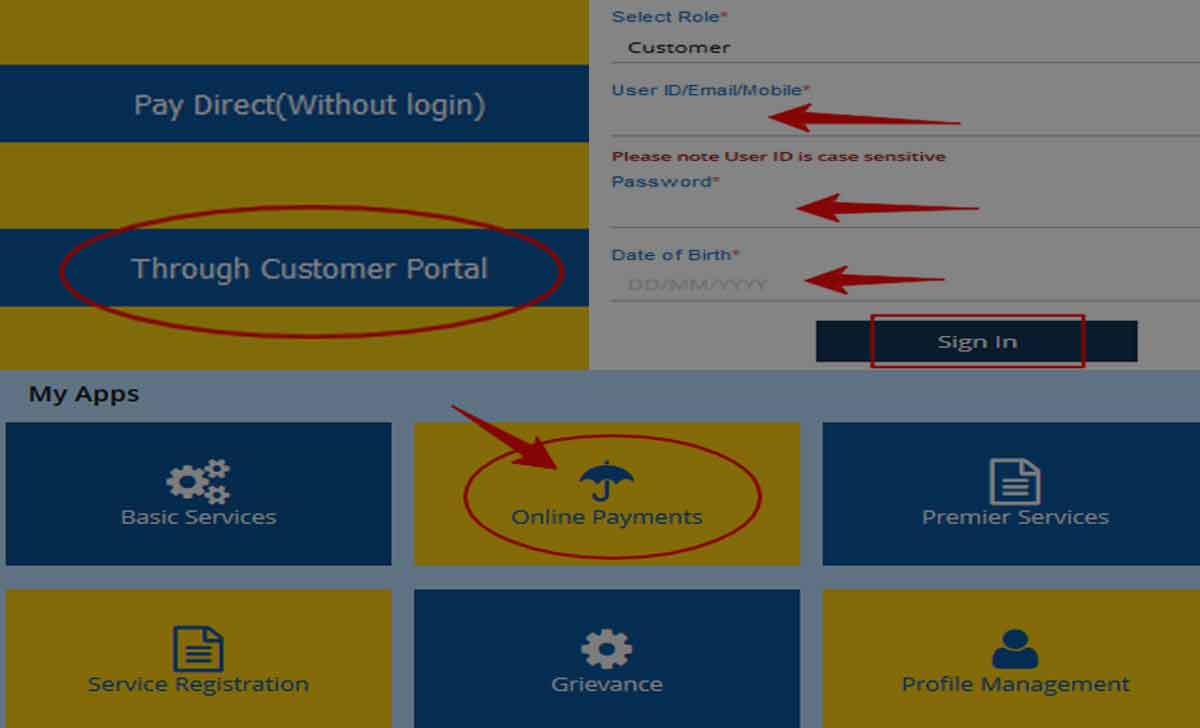 Here it recommends for register customers to choose 'Through Customer Portal' to make the payment with above process. If one makes the payment on login to LIC India ebiz.licindia.in portal, the transaction histories will save systematically and it is convenient too to download and check for at any time.
There is an alternate way to pay the LIC premium payment online without registration. Let's check the following for LIC quick pay process.
LIC online payment gateway allows the customers to make real time payment secured solution for the insurance due premiums for all. Where the registered customers allows to pay LIC Loan Interest and due in online which taken against for the insurance policy.
LIC Premium Payment Online – Quick Pay
Visit licindia.in portal
Click Pay Premium Online under Online Services
Select Pay Direct (Without Login)
Tap Renewal Premium/Revival option in the drop-down menu
Click Proceed
Enter Policy Number, Installment Premium (without tax), Mobile number, eMail, Date of Birth
Select I Agree
Click Submit
Verify details and Click Proceed
Choose Payment gateway
Complete the premium payment
Get the receipt on SMS or email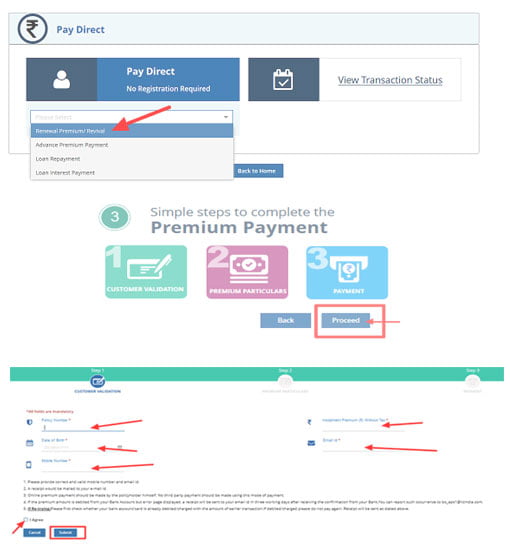 The most advantageous part of the online payment facility is policyholder needn't have to stand in the queue before the policy collection center of Life Insurance Corporation.
Can we get LIC premium receipt online after payment?
Online payment Gateway of LIC India is a step in this direction with the advancement of the digitalization. At any time, you can download LIC online payment receipts through login only.
Also read: LIC Merchant Login
Will LIC Premium payment online with PAYTM be accepted instantly?
In order to keep up with requirement of contemporary times, LIC has boosted the premium payment ways in different modes like PAYTM, PhonePe and other. If any payments made through other channel, it takes upto a maximum of 48 hours.
Also read: LIC Office Near Me
What to do if LIC payment online issues raised?
If any payment made with other channel, customer have to contact that payment vendor only. But if any errors occurred with ebiz.licindia.in, LIC India will address the issues, so LIC online payment equipped itself with the best possible solutions to its policyholders.
Also read: LIC Term Insurance
Can LIC registration reduces the online payment time?
If customer registers with LIC portal, the portal allows to check all the bonus and policy details online in one platform. It does not reduces the time of LIC payment, but reduces the hectic exercise of the policyholder. The distinguishing feature of this facility is the policyholder efficiently can pay his LIC premium without hassle.
Also read: LIC Maturity Claim
Can we check LIC policy status in payment portal?
Only the registered customers of LIC login can check the LIC policy status in online along with the payment details.
Whom can avail LIC online payment?
Now, each and every policyholder can opt for LIC online premium payment facility which completes the payment with only a few clicks.