Food Odisha portal allows to register Millers, Societies, and Wholesalers along with citizens ration card in Odisha state. Also, find how to supply dry ration card to migrant labour in Food Portal Odisha as per new scheme…
Food Supplies and Consumer Welfare Department of Odisha State does bring various benefits to its citizens through the Ration Card. The State Food Odisha Security Scheme and National Food Security Act are two different projects that may release through Odisha Government for the welfare of citizens.
Over lakhs of people in the state benefited from this scheme by spending over 500 crores every year to fulfill the requirements. The dealers can also use these official websites to locate the transportation vehicle and the delivery of vehicles which makes the government even track the distribution of rice and other essential commodities.
| | |
| --- | --- |
| Service | Food Odisha, India |
| Web Portal | www.foododisha.in |
| Objective | Ecosystem for food security guarantees entitlements to maximum risk of hunger |
| Tollfree Number | 1967 |
| Grievance Readdressel | grs.pdsodisha.gov.in/index.aspx |
| Consumer Advice Center | 18003456760 |
Under this scheme, they provide various services of providing free rotation along with other subsidies of food items to everyone. Every eligible candidate was provided 5Kg Rice with a cost of INR 1 only, which applied to the number of beneficiaries added in the food security card.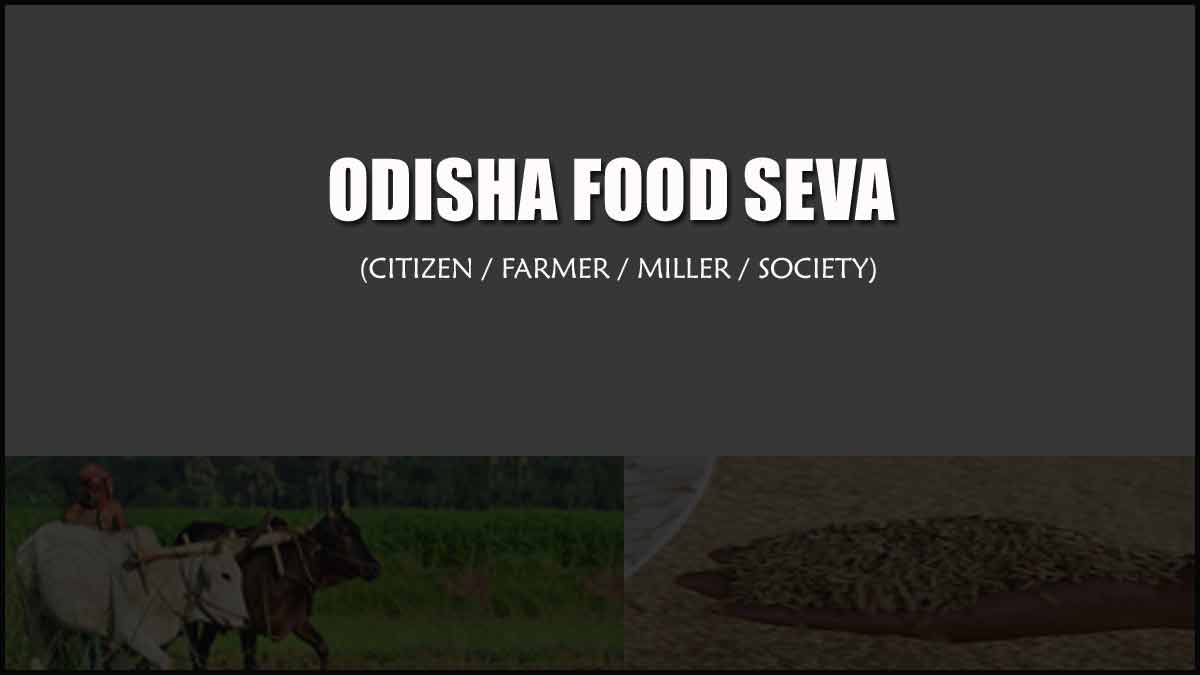 Food Odisha Portal Card Application Online
If you're a resident of Odisha state then based on the eligibility, one can proceed to apply for the Food Odisha portal security card to avail the benefits. Here are the steps that you can follow and get new card issue to avail benefits.
Go to the official website of Food Odisha using foododisha.in
Here you can scroll down and tap on Apply new Card from the link
Tap on click here to fill & submit application form to open the Application
Now fill the Address details as per your government Identity card
Click on Next button and then fill details required for Ration Card
Click on Next button to fill the details of family member with reactions
Now tap on submit button to submit the Food Odisha Application form
That's it, The Food Security Odisha Card with the details submitted and the application will go with verification to issue the card.
How to Add Member in Odisha Food Card
If the family who have a ration card missed a member or has a new baby in their family, then the beneficiary can use Add Member link to get the Food Security update.
Visit the official website from your browser
Now click on Addition of Member and Tap on Click Here to proceed
Enter your Ration Card number and then add the details of member
Mention their Aadhar card number along with other details as required
Click on Update button to submit the details to your Ration card
That's it, the Food Security Odisha card updated with the details of new members after a quick verification by the Ration Card department.
Features of Food Security Scheme Odisha
Here are some key features of the schemes that are being provided by the state government to their citizens through the FS card.
Rice through FS card will be provided at INR 1 only
Each beneficiary will be eligible to get 5 kgs rice per head
Scheme regulated under National Food Security Act 2013
Other food products to be provided under same FS scheme
Odisha Ration Card Eligibility
The families in Odisha state must get through the below eligibility criteria to get the benefits of the Ration Card.
Families who don't have their own RCC houses for their livelihood
Family with Widows or Single Widow with no support are eligible
Head of the family with 40 percent disability are eligible for scheme
Old age persons with age above 60 and no regular support
Families having no regular support in their livelihood.
Anyone suffering with HIV/ Leprosy or any other critical disease
Food Portal Odisha Food Security Card Download
If you're a beneficiary, then you can get your Ration Card downloaded, which is must to avail the benefits from Food Supply Shops.
Click on Download Ration Card from link of Odisha Page
Next tap on Click here to download the ration card and wait for the page to load
Enter the Acknowledgement number or mobile number used in Application
Click on Download Ration Card and wait for details to display below
Click on Download button to get Ration card print or download
That's it, these options will allow you to get soft copy of your Food Security Odisha card printed, which may shown while taking benefits from ration shop.
How to Apply Dry Ration to Migrant Labour / Worker in Odisha
The scheme is applicable for all migrants of Food security card already available in any state under NFSA, and also for those who have not available but those working in Odisha.
For those who do not have ration card may approach the following for Registration
PEO of Gram Panchayat at Rural Area
Community Organizer at Urban Area
The concerned supervising officer will perform and enquiry and upon justification Food Supplies and Consumer Welfare department will sanction and allocate the Food grains.
Food Portal Odisha Farmer Registration
Open foododisha.in
Click on Farmer Registration link available in the left side column
Read all the instructions given and tap on Farmer Registration Form
Download the Form and Fill all the details
Submit to the concerned authority along with relavant documents like Aadhaar card
After keen verification, the concerned authority will allot Farmer code to the eligible beneficiary.
How to Check Odisha Farmer Registration Status
Browse the direct link portal.pdsodisha.gov.in/farmers/FarmerRegistrationReportWeb.aspx
Tick Search by Farmer code and enter the alloted code
Select District, Block, Soceity, GP, Village and Farmer Name
Click Show to get the latest status report of the Odisha farmer
Food Security Odisha Important Links
The Food Security Odisha is one platform for both the beneficiary and food providers. Thus there are various direct links provided in the portal which can be used to avail the benefit and directly register with Food Security Odisha.
Get the list of the depot, current stock position, KMS wise stock position of Rice, Movement of Rice Stock, Movement of What Stock, Distribution Status under NFSA and other schemes.
For Dealers get list of dealer list, Search dealer, card position, wholesaler
Get monthly allocation details and allotment order status report
SMS transaction report and Report for AC notes through Transparency
Farmer Registration Status, Verified Farmer Registration, Procurement Status, Farmer Wise Payment wise and Societies engaged in procurement.
Millers get Rice delivery date and CMR report
EC and DC report along with VR status report
Whom can we add in Ration cards in the future?
The Food Security Odisha Ration card is provided to the families who are poor. In case, family has got new member through marriage or newborn baby, then individual has to use transfer member in ration card or add member in ration option to get new family details added.
Is the Food Odisha Security card valid for every family?
The Ration card through the Food Security Odisha scheme is only provided to poor families who don't have any particular returns for their livelihood. The family has to submit their income certificate and other documents during registration to get Ration card issued.
Can we delete the Food Security Odisha Card?
The ration card by Food Security Odisha scheme deleted anytime. This is a primary task of the family to delete the ration card if they don't fall in the eligibility criteria and don't require any further support from the Odisha Government.
For a family of 5 members, What quantity of rice given through a Ration card?
The Food Security Odisha makes every member of the family eligible to receive the benefits once a month. Thus for a 5-member family the beneficiary will get a total 25 Kgs of rice for just INR 25 through the Food Security Odisha benefit along with other essential commodities.