Complete TNEB mobile number registration or updation for your existing electricity service connection. Get updated SMS alerts on TNEB bill status…
Tamil Nadu Electricity Board is the company that provides electricity to every individual either from commercial or domestic lines in Tamilnadu. Everyone who uses the electricity from TNEB, will have to pay a service amount based on their usage.
Each consumer is provided with a separate service connection number for every meter installed in their houses. It requires having your mobile number links with this electric meter. This may time gives your updates on your due bill and other service-related information.
Consumers charged for using the electricity must pay before the due date to the Tamil Nadu Electricity Board. It is through their official portal as TNEB online payment or by visiting any customer service centers.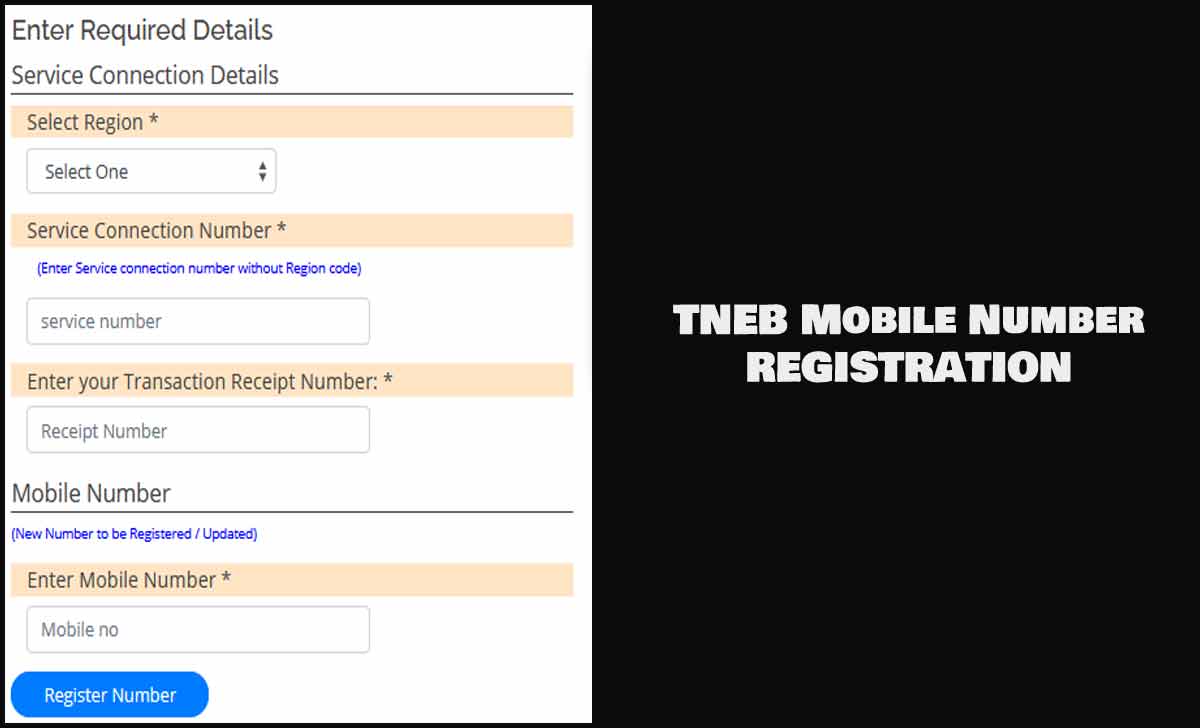 TNEB Mobile Number Registration
In the present days, every account either your bank account or your personal mail account, link with mobile number. It is all to give you a quick update on the account. In the same manner, Tamil Nadu Electricity Board also asked customers to register service connections with their personal mobile numbers.
Having done this will ensure that your connection updates sent to your mobile number. It is all as well as timely updating on your due bills.
The registration of mobile number with Tamil Nadu Electricity Board did at tangedco.gov.in using the below guide provided. The same may use for updating as well. If any number already registered to that service connection number already, then it may overridden.
How to Register Mobile Number with TNEB
It is mandatory to have your mobile number registered with the Tamil Nadu Electricity Board to get regular updates and here we bring you a simple guide to do so.
Open TANGEDCO web portal at www.tangedco.gov.in
Click on Billing Services
Tap Mobile Number Registration to open tnebltd.gov.in:8080/mobilenoentry
Selects your region, connection number and then receipt number
Enter the mobile number
click on Register number
Complete Registration.
Finally Tamil Nadu Electricity Board will save your number with the respective service connection number.
Benefits of TNEB Mobile Number Registration
There are a lot of benefits with having your mobile number registration with the Tamil Nadu Electricity Board. Here are some lists which might help you understand better. >Timely update on the Bill generation on your connection
>Due date updates, which help you not to miss any dues
>New changes in unit charges updated
>Allow you track multiple service number though one mobile number
>Fetch your details using mobile number form official site
Can I register multiple meter numbers with one mobile number in TNEB?
Consumers if they have multiple service connection numbers, they can use one single number to register to all of them. The updates of all this connection may sent to one number. This always make it easy to track the status and bill date to pay to Tamil Nadu Electricity Board.