Register NPS Online and Use e-NPS account to contribute to National Pension Scheme via UPI or other online payment modes, Register your subscription online and complete the esign registration form to start your NPS application…
The world is changing with advent of the UPI application where you can pay for services and utilities right from your mobile phone, and the same way, the Government of India has made sure you can access the same features for the National Pension Scheme as well.
In this context they have released the eNPS application and online service which can help you not only create your pension account but you can start paying via the same app as well, let's check how to create a NPS account online
NPS Account Online Registration
1. Open your browser and Go to the NPS official website to register NPS account online at enps.nsdl.com/eNPS/OnlineSubscriberRegistration.html?appType=main
You need the three basic details when considering to open your National pension account (NPS account) i.e. Registered mobile number, Email address, Active Online Bank Account, and PAN Number (This is only applicable when you want to open individual pension account and it is necessary to complete the KYC process along with PAN)
2. Enter your PAN Number (Provide exact customer Income Tax PAN)
3. Select your Online Bank (For Deposit and for Remittance)
4. Click Continue
5. Fill all the Personal Details that you need to continue filling all mandatory information (Name as per PAN Card, Date of Birth, Mobile Number, email id, Family Details and Proof of Identity)
6. Click Continue (Immediately a POP up shows you on the screen with Acknowledgement number and the same sent to you on your registered mobile number)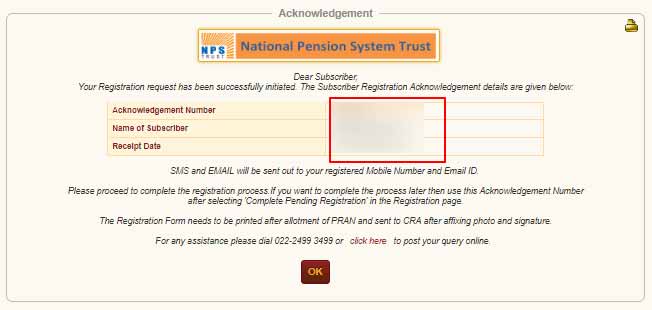 7. Enter your Present and Permanent Address Contact details, Bank Details, Nomination, Photo and Signature
8. Scan your Aadhaar ID proof and signature for verification purpose (Once that is done you have to make an online payment of a minimum of Rupees 500 into your newly created pension account)
9. Click Save & Proceed (To complete the registration process)
10. Generate PRAN (Permanent Retirement Account Number), where this is the unique number for every pensioner for life time
11. Finally, click on the eSign Submit button which will complete your successful registration of online NPS account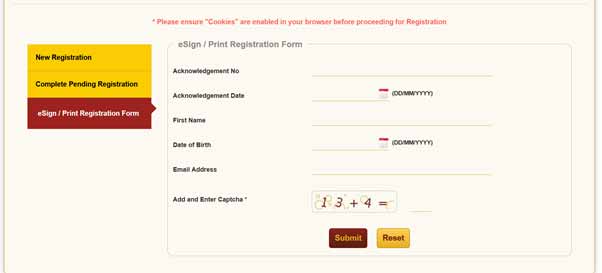 With the above step by step process, now your may know how to register NPS account online to provide the monthly pension for post retirement to create a corpus fund after superannuation, so just register with your online application for National Pension Scheme with your PAN and Aadhaar.