Landlords or Landowners in Andhra Pradesh can search land records online at Meebhoomi web portal. Just login meebhoomi.ap.gov.in/Home.aspx to search Adangal (గ్రామ అడంగల్), ROR IB, Passbook and for Aadhaar Link…
What is Meebhoomi AP
The Government of Andhra Pradesh has created an online digital platform with the name meebhoomi that represents a digital repository of all the lands available in the state of Andhra Pradesh, and in this way, the citizens all across the state of Andhra Pradesh will be able to access land records for different lands through this online platform in Quicktime.
Service
Details
Web Portal Address
meebhoomi.ap.gov.in/Home.aspx
Applicable for
Andhra Pradesh State only
Helpdesk
meebhoomi-ap@gov.in for technical help,
For others contact concerned Tahsildar
Provided Services
Adangal (అడంగల్), 1-B (1-బి), Aaadhaar Linking, Mobile Link, Grievances, Electronic Passbook and more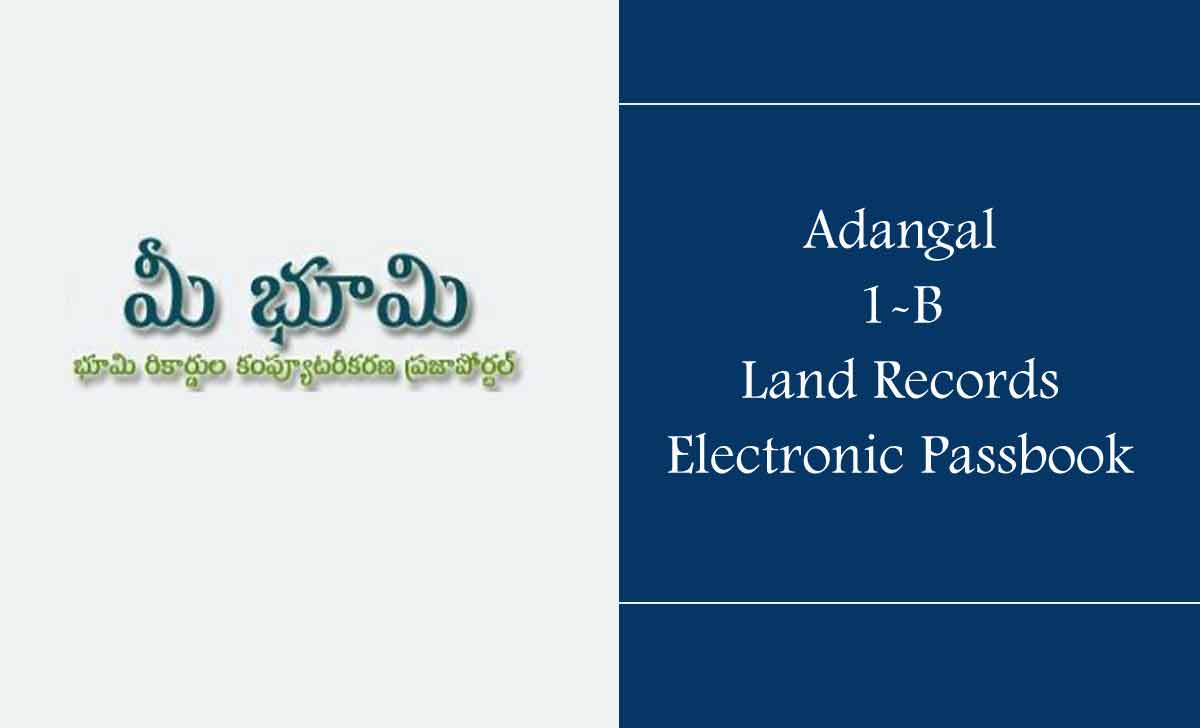 If you are looking to find a land with different details then you can make use of this platform. One might amazed to understand this platform not only provides your own land details but also has a repository list of all the lands available in the state along with the landowners.
While it can also provide different land details such as the owner of the land, the area, assessment of the land along with water soil and the type of possession by the current owner.
So in this article, we are going to help you understand more about why Meebhoomi platform launched. How it can help someone like you to find out land details that you need to fetch.
The meebhoomi portal launched in the year 2015 with coordination between the department of revenue and the Government of Andhra Pradesh with an aim to provide land records to the public with ease of access that will help the general public to make important decisions regarding whether to buy a land or not by considering all the land detail factors available on the platform.
There are a lot of services provided under this platform and we have listed them below.
Meebhoomi Aadhaar Link
In the above, we have learned that a citizen is able to search using Aadhar card number to find the land record details but in order to do this the land should be linked with Aadhaar card number first, and in order for you to do that you will have to verify your Aadhaar card with your meebhoomi account number, So get your Aadhar card number and follow the below instructions to link your Aadhaar Card directly.
Open the Mee Bhoomi official webportal at https://meebhoomi.ap.gov.in/Home.aspx
Click on Aadhaar / other identities option from the top menu section and from the dropdown
Select the Aadhaar Linking

Fill out all the details
District name,
Zone name,
Village name
Enter your account number
Provide captcha code from the image

Press on click button, and your Aadhaar card number will now directly associated and linked with your Mee Bhoomi account number.
Once completed your mee Bhoomi Aadhaar Card linking, you may check whether the request accepted or not and in order to do so.
How to Check Meebhoomi Aadhaar Link
Go to the Mee Bhoomi official website
Click on Aadhaar / other identities under which you need to click on the other request status tab.
Get to view your Aadhaar card linking status
Enter the details
check the status
Meebhoomi online portal provides the electronic passbook. One of its features allow every citizen who is a landlord to use passbook to find all details about their land. In the below steps, 99employee guides you on how you can get access to your Mee Bhoomi passbook online easily.
Meebhoomi Passbook
Meebhoomi AP portal provides very simple electronic passbook, but it is essential because it keeps track of all your land details and records allowing you to understand more about your old lands.
Visit meebhoomi.ap.gov.in/Home.aspx
Click Electronic Passbook
Select Aadhaar Number or Account Number
Provide Area Details from drop down
Enter Aadhaar Number or Account Number
Verify all the details before submit button
OTP will be sent to your registered mobile number which you have to enter on the next page and once this is verified you will be provided access to your electronic passbook online and you can also download this as a pdf for better viewing
How to check land conversion details on mee bhoomi
Andhra Pradesh well known one of the agricultural states in India. Most of the land used for cultivating crops and agriculture. In this context it is very important for someone to understand more about the land that they want to buy. In order to know all the basic information about your agricultural land and the qualities it possesses you will have to look at the land conversion details. Through the below steps you can learn how to do it.
Go to the Mee bhoomi official website https://meebhoomi.ap.gov.in and then from the top menu section click on land conversion details
Next you may redirected to their land conversion details page you need to enter all the below as information
First select the district name.
Select the zone name along with the village name
Enter your land survey number
Finally click on the submit button and then you will be able to view your land conversion details
What is Meebhoomi 1B Records and how to search for it?
Every land record maintained by the state's revenue department as an information document that provides more details. This may consider as the tahsildar record for the property. This allows to use to verify the details of the owners. It can also use to apply for loans and more.
Previously in order to fetch any such information one would have to follow with the gram panchayats or the respective land division organization of the state which was a tiresome and lengthy process at the very least, but now everyone can find individual land details or else they can also look up the details of lands available in a village or area along with 1B details easily.
In order to check your land 1-B record details you can visit this page from here https://meebhoomi.ap.gov.in/SearchROR.aspx and then enter the require details, and once the details filled, then press on the click button and your land record 1-B details may shown on screen.
Can Meebhomi portal differs from district to district in Andhra Pradesh
Meebhoomi is an online web platform for the entire state of Andhra Pradesh and it provides a list of lands available all across the state with different details as per survey numbers that would help someone to make a decision to buy or sell a land depending on the present value of the land by taking into account different land details factors.
Whether మీ భూమి 1బి treats as an official document downloaded in online
The document downloaded from the government portal meebhoomi.ap.gov.in treats as a genuine document and can submit at anywhere for verification of land records.
How to change mobile number in Meebhomi AP
Open Meebhoomi AP portal > Click on Aadhaar / Other entities and choose mobile number to change the registered mobile number.
How to check land details in Meebhoomi
The portal provides passbook option for agricultural lands, so login to AP mee bhoomi portal and click on the electrionic passbook option to check the land details, and for non agricultural lands, just check as per survey number by selecting district, mandal and area.
Can we get electronic passbook without mobile number
At present, the Government allows the landlords to get the electronic passbook only if mobile number linked through meeseva, so just complete your mobile number linking at mee seva centers at any time.