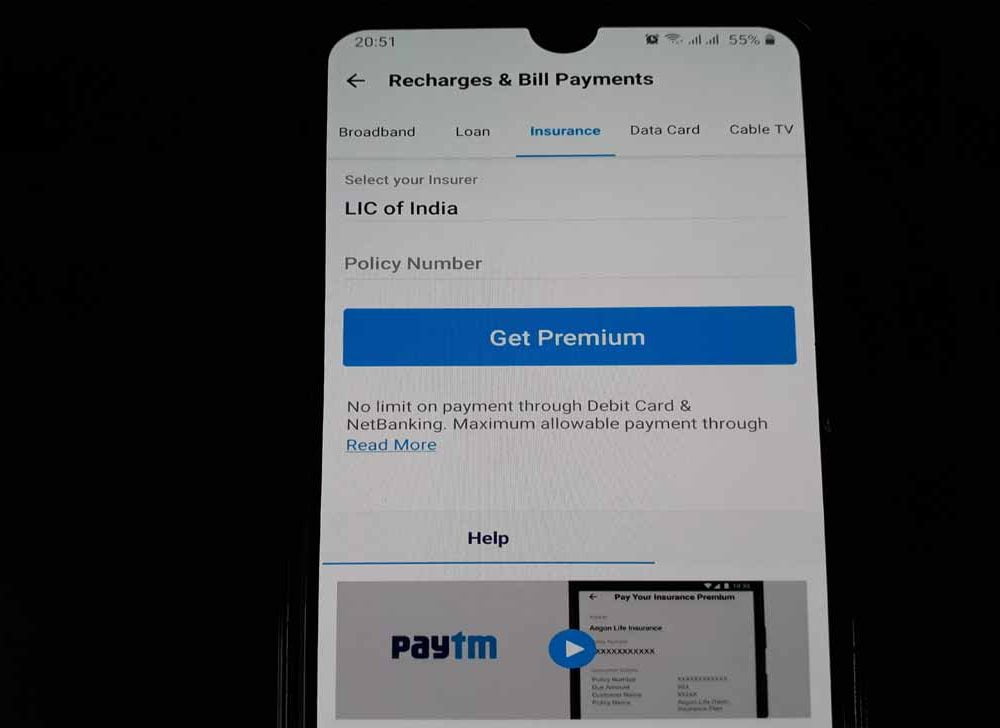 Pay your LIC policy insurance premium payment in online through PayTM App which make you much easier to pay using Debit card, Credit card or by Net Banking and PAYTM wallet without any extra charges, but however you may check the maximum limit allowed to pay with credit card mode for payment of LIC premium…
LIC Premium Online Payment have come a long way and with the advancement in payment ways like PayTM, the payment ways have become much easier, and along with features and the benefits that a policy offers from Life Insurance Corporation of India, however it is also now important that the premium payment should not be a tedious task for the customer, and now to add to the currently available options of premium payment, one can also pay the premium amount through PayTM.
Apart from the fast mode of payment, paytm is also as secured and easy mode of payment for the user, and once a customer pays the premium amount through the PAYTM, customer doesn't have to worry about remembering the premium payment date, and PAYTM will send a reminder to the customer about the approaching premium payment date for insurance policy.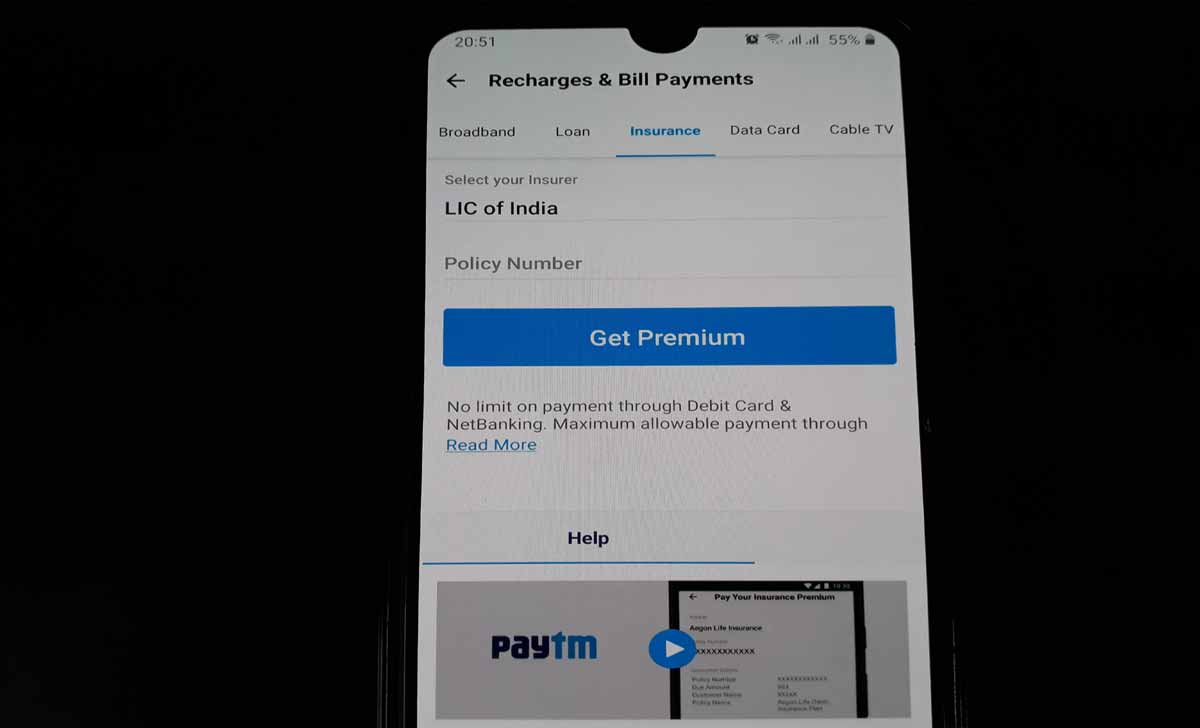 Let us look at the detailed process for premium payment process through PAYTM and also check what to do if LIC premium payment failed after the process completed
Steps to Pay Life Insurance Premium using PayTM App
In order to use the paytm option for premium payment, the user needs to first install the paytm app on his mobile through google play store or apple play store based on the operating system the person has.
Open PayTM App (If not installed, Just install from play store or Apple store based on your mobile operating system)
See various utilities and find Insurance / LIC Premium
Enter LIC Policy Number (One needs to carefully provide the policy number here as all the other details will be fetched through the policy number)
Click Get Premium
Enter Mobile Number if required to change
Click Proceed
Enter OTP Received on your submitted mobile number (OTP reads automatically if SIM available in same mobile)
Click Confirm
The next screen will automatically show the policy details of the person such as

LIC Policy Number
Name of the Insured
Due date of the policy
Number of installments pending
Premium Amount

Cross check all the details present on the screen before going ahead with premium payment.
Click on the Proceed button at the bottom of the page.
Choose Payment Mode (PAYTM Wallet, Debit / Credit card or Net Banking)
Provide the requisite details and then click on Pay Now button.
The payment of LIC premium is complete and a message of successful payment will appear on the screen, the user can take the screenshot of the same for future reference, and the person will also receive a confirmation message of payment on his registered e-mail ID and mobile number.
Can I get Cashback for Paying LIC Premium through PayTM?

Most of the time, you do not have to get any discounts, coupons or cashback when you pay for your LIC premium through PayTM. But sometime sooner or later, PayTM will bring in new offers for these, but until then we cannot be certain.

How much amount allowed to pay through PAYTM?

There is no limit on payment towards LIC premium through Debit card or Net Banking, but how ever a maximum allowable payment through credit card is Rs.1 Lakh only.

How can I get LIC Receipt from PayTM?

Even if you have made the payment from PayTM, you will only see a transaction history on the payment service provider but not the receipt itself. But this does not mean you cannot find your payment receipt for the LIC premium, you can check it from the LIC official website under your payments.

How can I pay my LIC Premium by PayTM Bank?

Once you are on the PayTM portal for the payment of the LIC premium, then instead of selecting the debit card, credit card or net banking. Click on PayTM bank as payment and proceed to pay with it while making sure that your account has sufficient balance.

How to check LIC Policy status from PayTM?

So, even after making payments sometimes the status might not change from pending to paid. And in that you can go to the official website of LIC india and use the policy number you have with you to check the status. Please note that only payments can be made through PayTM but status cannot be checked through it.

PayTM Promo code for LIC Premium Payment?

Understand that LIC premium payments are highly important, so PayTM ensures that there are no disturbances during the payment and the promo codes are not made available for such a reason as well.

Is the payment updated with LIC immediately?

Life Insurance Corporation of India will take 2 days to reflect the premium payment through PAYTM.