Presenting the latest guide about the new login user id registration for KVB Net Banking to activate all internet banking facilities at a glance, Find what are the requirements to complete the activation for Karur Vysya Bank netbanking login process and what to do if forgot user id…
KVB Net Banking
Karur Vysya Bank which is commonly known as KVB is a bank with more than 100 years of legacy in India and has more than tens of thousands of customers all across the world including India, and In this article, we will go over the online banking or Net banking registration process for then Karur Vysya Bank (KVB).
After that you will learn how easy it is to access the KVB Net banking platform by following the login process, and at the same time, at last we will discuss a simple way to help you retrieve your account password in no time.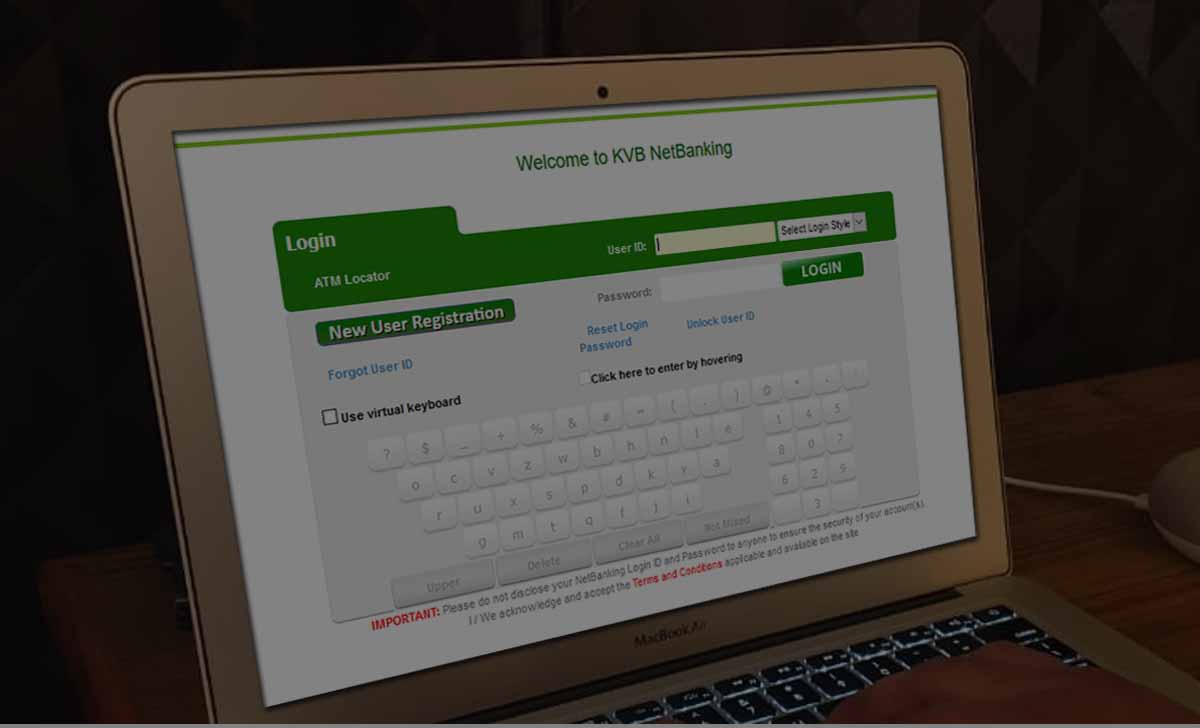 KVB NetBanking New Registration
If you are a new user who wants to create an account or someone who already has an account at KVB and wants to apply for the Internet banking, then you can go over the instructions below.
First open your browser and click on on this link or else follow this KVB Official website link https://www.kvb.co.in
After that from the top menu section, click on the Login option
Under the drop down menu, select and click on Internet Banking option from the top of the list shown
On the next page you have to click on the Continue to login option under Safe & Secure Banking page
This will redirect you to a new page, where you have to simply click on New User Registration option
And then this will load a Terms and Conditions popup page, on which you have to click on I agree option to continue
On the next page you will see the Registration of Internet Banking option and on this page you have to make the below changes
Select Type of Registration: You can select from either Customer ID or Savings Account Number to move ahead with
Registered Mobile Number: It is always advised to use your bank sync mobile number to register for the Internet banking service as well
ATM/Debit Card Number: Since this is an online way of registration, you have to simply enter either your credit card, debit card details along with the PIN and Expiry number to continue
Once the details are filled in, click on Submit button and now you have registered your KVB Net banking account successfully, but make sure to click on confirm registration link from your email address where you will receive a link to reset your default password to a new one as well.
KVB Net Banking Login
Once you have created your account for Karur Vysya Bank Internet banking then the next step is to check all the features and make your transactions through their platform. But in order to do so you have to first learn the login process for KVB bank from below.
Go to the KVB official website from here or follow this link https://www.kvb.co.in from your browser
Then click on Login option and then click on Internet Banking to continue to the next page
On the next page click on continue to login button and after that you will be redirected to their login portal https://www.kvb.co.in/ilogin
Under the User ID you have to enter your KVB Net banking user ID and then below it you have to enter your account password
Once done, click on the login button and this will give you access to the internet banking facility
How to retrieve User ID for KVB net banking?
If you have forgotten your User ID in order to login to the KVB net banking platform then you can either check your email address for the User ID check in the first confirmation email from the bank directly and retrieve the User ID from there.
How to unlock KVB net banking User ID?
If you make 3 invalid attempts to log in with your User ID with a wrong password then your account will be locked and you will either have to wait for a few days for the account to be unlocked, but if the account does not unlock after 3 days, then you have to email activateuser@kvbmail.com from your registered email address and the bank customer support team will help you through the User ID unlock process.
Can i reset my KVB login password at any time?
As a registered customer of KVB netbanking services, you can reset KVB login password at any time online without any charges or without any intervention of the bank.
Did not receive my KVB Net banking User ID or Login ID?
If you did not receive your User ID or the Login ID for the KVB net banking then simply email the support team at activateuser@kvbmail.com from your KVB bank registered email address explaining your issue and you will receive a resolution from their support team.