Now the individual or corporate account holder of IOB can make their self registration for Indian Overseas Bank net banking facility. To make use of online banking facility offered online, check each step by step involved in self registration of IOB internet banking facility to complete the activation…
Indian Overseas Bank is a major public sector bank in India. The bank provides a great netbanking experience to the IOB customer. Indian Overseas bank net banking helps in providing the banking solution to the account holders from the comfort of home through internet or IOB SMS banking.
IOB Net Banking
One should use the IOB net banking facility very carefully. Customer should not share the user ID and password with anyone else. Customer can also reset IOB internet banking password online with few steps. Also the bank allows removal of IP restriction for IOB through online banking only.
In present days, the most required is IOB account Aadhaar EKYC link, the bank made this also in online. So, let's check all with net banking guide as below.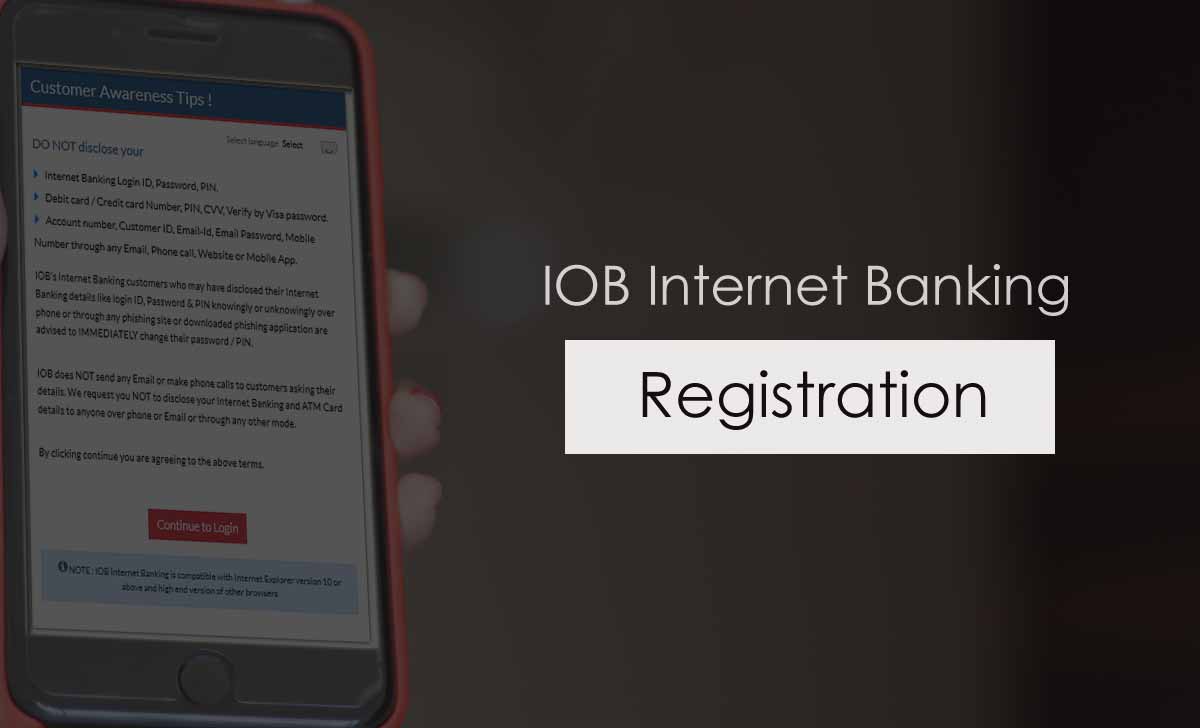 IOB Net Banking Registration
Indian Overseas Banking net banking now made very simple for registration and login for Retail and corporate customers, just activate with your credentials and login as follows
IOB Personal Login Registration
Go to IOB web portal using https://www.iobnet.co.in
Click on Continue to Internet Banking Home Page
Press Register under Personal Login
Enter 15 Digit Account Number
Provide Email ID
Select Country
Provide Registered Mobile Number
Enter Login ID > Password > Confirm Password
Type the Captcha Code shown
Read the Declaration
Click Submit
Follow the Onscreen Instruction and provide the Required
Tap on Confirm and Submit
IOB Corporate Login Registration
The following are the simple steps to complete the IOB corporate login registration to access online iOB net banking corporate services for customers.
Open the IOB net banking corporate page https://www.iobnet.co.in/ibanking/html/index1.html
Click on Register under Corporate Login
Fill Desired Login ID and Password Particulars
Provide Personal Particulars (Salutation of account holder, First/middle/last name of the account holder)
Enter Contact Particulars (Resident status, Country, Mobile number, email of the customer)
Provide IOB Account Particulars (15 A/C number, Customer ID and Nick Name)
Submit Captcha code shown
Read the Declaration
Click Submit and Follow Onscreen Instruction to complete the IOB Coporate Login registration.
Steps to keep in mind for IOB net banking registration
Create the IOB netbanking login ID will have unique ID for login to Indian overseas bank net banking.
The user ID should be an alphanumeric password which is strong as well as easy to remember.
The customer requires to create a strong password for the net banking.
Password should be strong and should made in such a way that it is not easy to guess for anyone.
Once the user clicks on the submit button, the form will submit for activation
The user needs to take a printout of the application form along with him, required to submit to branch.
After submission, the bank official will activate the internet banking. It would take some time to activate the internet banking for the person.
After the internet banking facility activates by the bank official, the customer ensures to change the password for it secure.
Once the process to IOB Netbanking registration completed at the Indian Overseas Bank online portal, the corporate or individual customers can use their credentials to access the portal and login to their personal or corporate net banking services.
IOB Net Banking Login
Visit Indian Overseas Bank official net banking using the link with iobnet.co.in/ibanking/login.do for secure login
Click on Personal Banking
Enter your Login ID followed by password
Select first page to display
Film the security code
Click on Login button to access the banking page

The IOB login page will check your login credentials and confirms to access the customer page.

This page is all for individual and corporate customers to start using the banking services provided.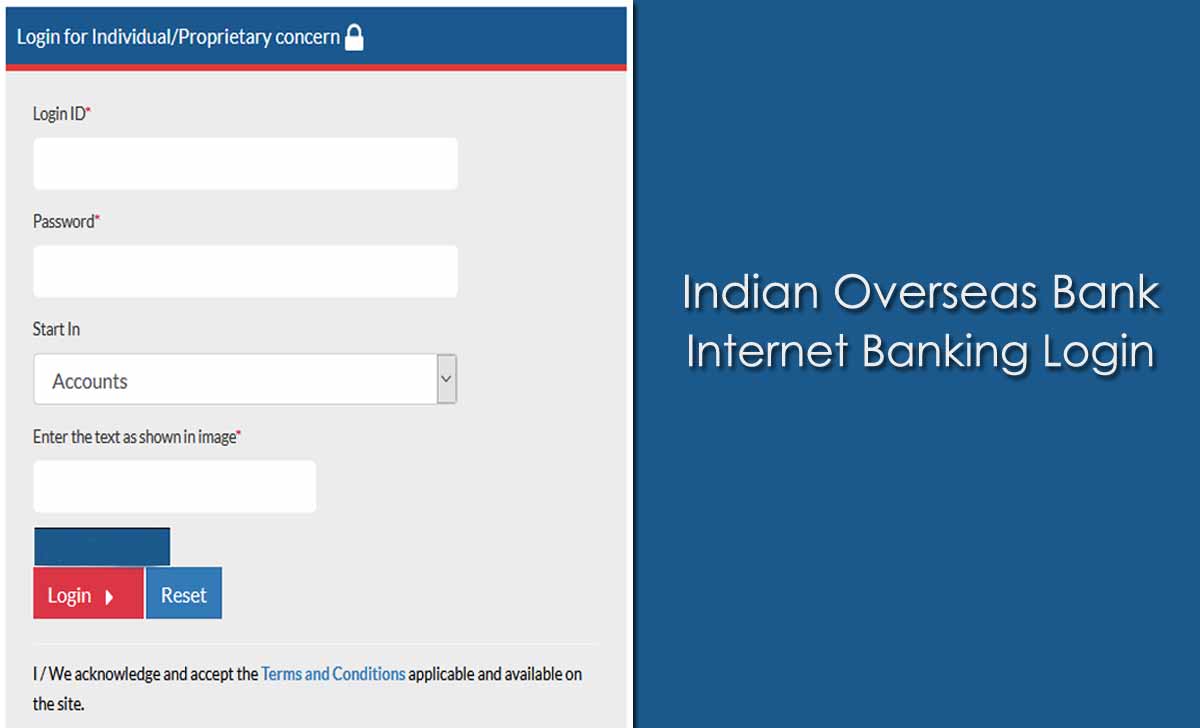 IOB Net Banking Corporate
Open the iOB webpage https://www.iobnet.co.in/ibanking/corplogin.do for corporate login
Enter Login ID
Provide User ID (Registered)
Enter Password
Select Start Mode (Accounts / Profile / Taa Payments / Fund Transfer / BBPS / Utility Payments)
Enter the security code shown
Click Login to access IOB net banking corporate login page.
How to Report if IOB Net banking login isn't activated yet?
If you have provided your application form to Indian Overseas Bank Branch and the account is still not activated, then you can directly mail to eseeadm@iobnet.co.in or call to 044-28519460 with your Application number to directly note the status of net banking.
Change Debit Card PIN from IOB Net Banking Login?
Yes the PIN of the card can be changed using the Indian Overseas Bank Net Banking service online, and customers need to login with their credentials and go to the edit profile to select card services and then select to change the PIN, where new PIN will be updated and can be used further.
Can I add multiple beneficiaries in a single day for IOB net banking?
The beneficiary addition is a service given to customers to add their regular contacts to transfer money instantly, and thus customers can use this option any number of times and get their beneficiary added.