A government led program called Digital Gujarat aims to encourage the use of technology for the benefit of Gujarat's residents in India.
The project was started with the intention of offering Gujarati citizens e-governance services such as online public services, citizen participation portals, and digital infrastructure.
The initiative also seeks to promote digital entrepreneurship and innovation in order to boost the state's embrace of technology. The main objective of Digital Gujarat is to improve the inhabitants' quality of life by improving the effectiveness and accessibility of government services.
In this article about Digital Gujarat login you will learn about the different services offered by this initiative first. Then learn about the process through which you can apply and avail these services through the portal.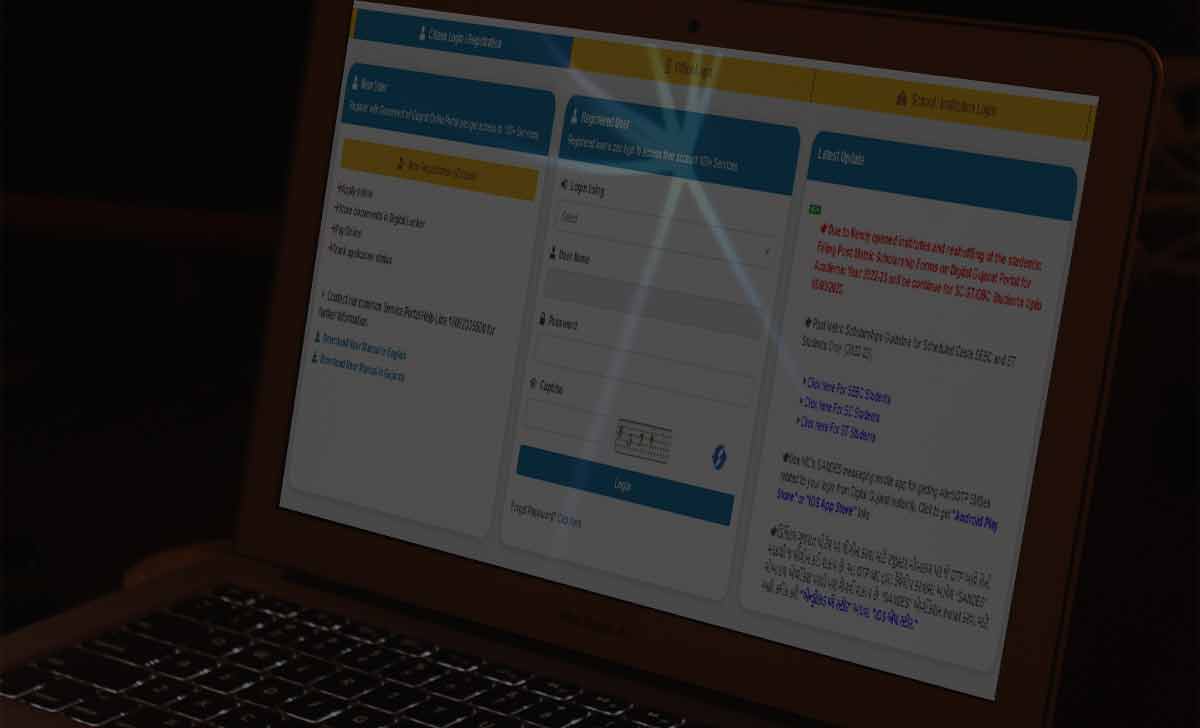 Finally dive into the Digital Gujarat application tracking process to get confirmation of your application and learn how to proceed further.
Digital Gujarat
Citizens and businesses in the state can take advantage of a number of services offered by Digital Gujarat. Here are the listed services which one can avail from Digital Gujarat Login.
Online services with Digital Gujarat citizen login offered, including those for bill payment, property tax and other government payments, application and form filing, etc.
E-Government: Digital Gujarat offers a platform so that people may interact with the government and access a variety of government services through a single interface.
IT training: To improve their skills, the platform offers training in the newest IT technology to both citizens and students.
E-Learning: The platform gives students and citizens access to online courses and instructional materials, opening up options for high-quality education.
E-Health: The platform offers the public resources and services for health and wellbeing, such as telemedicine capabilities and online appointment scheduling.
E-agriculture: The website provides agricultural services such as crop information, marketing, and insurance.
E-commerce: Digital Gujarat gives small and medium-sized enterprises a platform to interact with customers and widen their market.
Digital Gujarat Registration
Here are the processes to use Digital Gujarat portal services in online. Make sure you have a good internet connection to view the options by using the below process.
Visit Digital Gujarat's official website https://www.digitalgujarat.gov.in/
By entering your contact and personal information, create an account.
You can log in to the website and use the services once your account has been created.
Choose the service you want, and then adhere to the directions.
Complete the required fields, and then submit the application.
Digital Gujarat Login
Registered users of Digital Gujarat portal can avail 100+ services on Digital Gujarat login, Just check the simplied steps as below
Open digitalgujarat.gov.in and Click on Login at Menu bar
Select Mobile / Email from dropdown
Enter the email ID / mobile number as per selection
Provide password
Enter Captcha
Click login
Fill your profile by fetching Ration card if available and Aadhaar
Click Verify Profile
Enter OTP received on RMN
Click Submit
>>> SSA Gujarat
How to Apply for New Service in Digital Gujarat Portal Login
Login to the portal digital gujarat gov.in
Click on Request New Service
Tap on that service
Fill all the details in that application
Click on continue to service
Tap Continue on the popup shown with a request ID
Select your details by fetching from your profile
Fill the information and Click Next and Submit
Go to Services
Click on Show services
Click on Make Payment option shown at the right side of particular service request
Tap Pay Application Fee and Click Pay
Select your payment mode and complete the payment
>>> AnyRoR
How to Track Status of My Application in Digital Gujarat login
One can apply in the Digital Gujarat login for the services provided and use the steps below to apply your application in Digital Gujarat.
Visit the Digital Gujarat webpage at https://digitalgujarat.gov.in/
On the home page, select the "Services" tab
Choose the service category, such as education, health, etc., that you requested
Click on the "Track Application Status" link after selecting the particular service you applied for
Enter your application number as well as any other necessary information, such as your name and birth dates
The status of your application will be shown on the screen when you click "Submit"
In your Digital Gujarat account's "My Applications" area, you may also check the status of your application.
>>> IFMS Gujarat
Digital Gujarat Scholarship Login
How can I avail the services provided by Digital Gujarat?
Services provided by Digital Gujarat login can be availed through the official website, mobile app, or by visiting the nearest Common Service Centre.
Is it possible to apply for government schemes through Digital Gujarat?
Yes, you can apply to different government schemes through Digital Gujarat but you will need to ensure the proper application form is filled and processed through it for you to receive confirmation on the government schemes you have applied for.
Is Digital Gujarat free to use?
Yes, the app and the service provided by Digital Gujarat are free to use.
How secure is my personal information under Digital Gujarat?
The Government of India and State Government of Gujarat launched Digital Gujarat with the aim of providing customers with different digital services with full security to their personal information.