Process to check Telangana Dharani Application Status for e Challan identified. Find the steps to get dharani portal application status to know exactly…
The revenue department of Telangana State has brought the Dharani portal for easy land registration and land details search.
All information about the land in Telangana state available in Dharani portal and most of the services from the Registration office processed through this portal. Paying the echallan amount for applying for any service in the Dharani portal is entirely online.
Citizens can make use of these services and apply for them online, as well their Dharani application status for e Challan will be available online. These do save time and bring hassle-free processes for land related options with different services of Dharani Portal.
Dharani Application Status
Individuals who have their application number applied through Dharani Portal can check for Dharani Portal application status quickly by following the below given process.
Launch the Dharani Portal using link dharani.telangana.gov.in
Click on Home button to display the option of the web portal
Tap on e-challan application status
Click on Click here to continue and wait for Application Status page
Select the Application type from drop down options provided
Enter the Application number or Transaction ID in next column
Now enter Captcha code and click on fetch details to search
That's it, the information with respect to Application number or transaction ID provides and displayed on the same screen. One can view the dharani e challan status of the application instantly from Dharani portal and may know where exactly it is.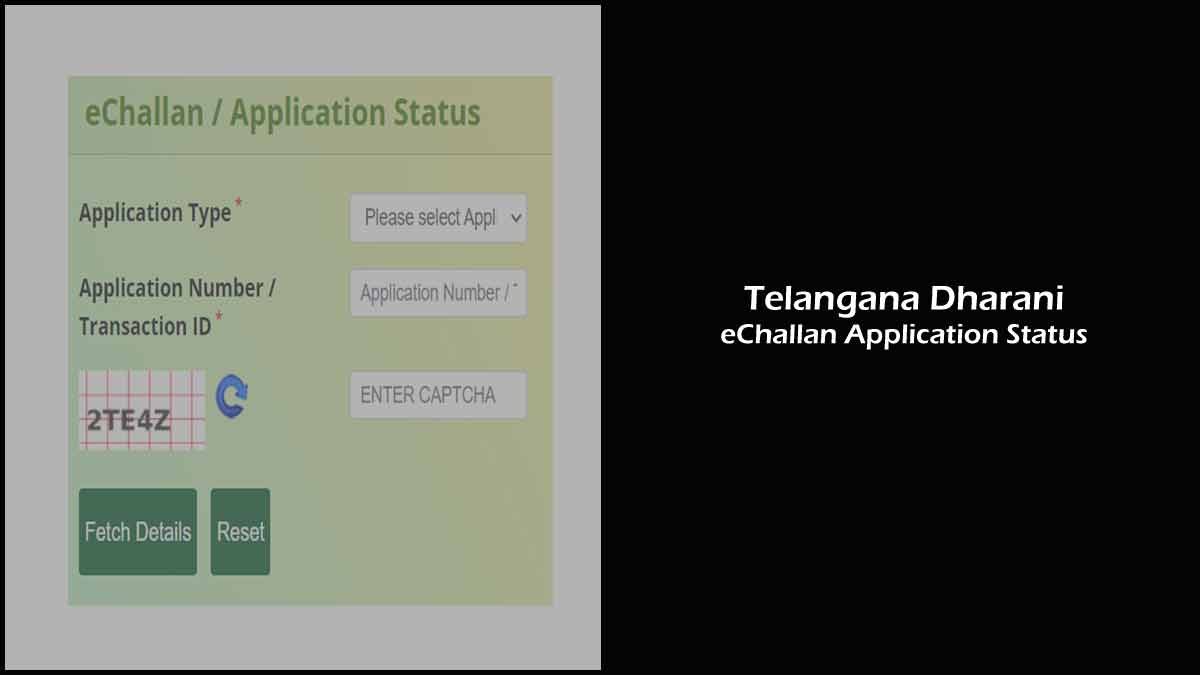 Can I withdraw stamp duty fees from Dharani Portal?
The Stamp duty paid during the registration of the property, if the land registration not processed.
The applicant has to visit Registration office with the transaction ID and get stamp duty refund or dharani slot cancellation refund by following guidelines of cancellation.
How can I find the exact market value of land?
The Telangana State Government has updated the Dharani portal with all details of the land.
The Land Market Value is a must while paying the stamp duty on the day of registration. Thus citizens of Telangana state can visit the Dharani portal and get to know about the exact value for stamp duty.
Will mutation Charges include in eChallan of Registration?
The eChallan for Registration and for the processing of mutation is very different.
The process fee and stamp duty charges paid during the registration of the land, while the mutation charges has to pay after the registration to update the government records.