Apply UPBOCW online to complete Labour registration and Renewal to avail the scheme benefits from Government…
UPBOCW is Uttar Pradesh Building and Other Construction Worker Welfare Board is an online portal initiates by State Government of Uttar Pradesh. The facilities and schemes to support the construction workers brought alive through official portal.
The Uttar Pradesh labour registration along with other services of labour by State Government may processed with this portal. Every beneficiary who register with UPBOCW may given a Shramik card through this scheme.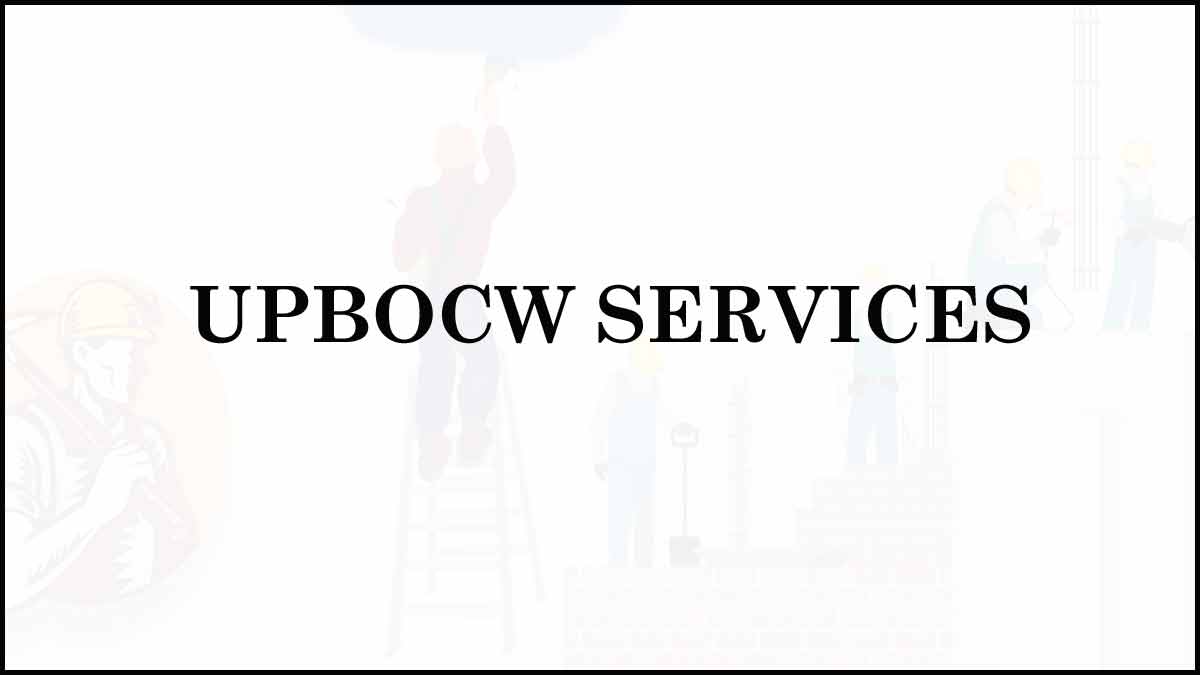 The Shramik registration card is provided by the UP Government to avail the benefits of the labour scheme. The portal does make the process of providing the schemes easy to everyone by giving them quick access and directly providing them benefits.
| | |
| --- | --- |
| Name of the Service | UPBOCW (Uttar Pradesh Building and Other Construction Worker Welfare Board) |
| Objective of the Scheme | Provides financial aid for registered construction workers / labour under such conditions who need |
| Web page | upbocw.in |
| Toll Free Helpline | 1800 180 5412 |
UPBOCW Eligibility
Here is the eligibility that may given to the labour who registers through UPBOCW portal. Make sure you have this ability to avail the labour benefits.
Have Update Registration with UPBOCW portal
Delivery, Abortion, Sternutation in Government hospital
Online Birth Certificate issued
Statutory Tattoo
Aadhar card, Bank Passbook and Photocopy of Family Register
Benefit of UPBOCW
Here is a list of benefits that will be provided to the worker along with their child or wife in case of emergency to help them by providing sufficient aid. The benefit of child scheme and maternity to be provided for first two children as follows
Maternity benefit payable only in case of female delivery
Benefit of Balika Madad Yojana Benefit is payable if girl is first child
Excess benefit if second child is also a girl or even adopted girl child
Rs 6,000 lump sum payable to male worker on maternity benefit
3 months' salary along with Rs 1,000 bonus for female worker
In case of abortion, 6 weeks salary has to pay to the worker
If child being a son, Rs 20,000 to be payable
In case of child being a daughter, Rs 25,000 to be payable
Rs 5,00,000 in case of death due to accident at workplace
In case of permanent disability due to workplace Rs 3,00,000 may paid
In case of partial disability, Rs 2,00,000 has to pay to worker
Unregistered worker gets Rs 50,000 in case of accidental death
How to Register with UPBOCW Online
If you're in labour working in the state of Uttar Pradesh , they can access the online registration portal online and get the registration for further processing.
Visit the official website of UPBOCW in your browser
Click on Labour Registration Application form the home page to load uplmis.in
Enter your Aadhaar number or the registration number with labour
Choose your circle, district, and enter your mobile number
That's it, The registration processed, and the details sent for verification. You will get your labour registration number to your mobile number after successfully updating the details.
UPBOCW Login
If you have completed your UPBOCW registration for your account then you can use your login details to access your account
Open www.upbocw.in
Scroll to the plan application process
Click on it to continue to your account
How to Renew your Labour Registration
It is quite necessary to renew the labour registration varieties there are changes, to keep the registration updated. As without updated information, the benefits will not be provided to individuals.
Go to the UPBOCW offline online portal https://www.upbocw.in/
Now tap on labour renewal application and wait for page to load
Provide your registration number and click on search button
Once your details are provided, edit them as necessary
As updated, click on to confirm and update the details in portal
That's it, the UPBOCW may update with your renew details and then it will save for further proof. The details may valid and if require they must change to keep the details on track.
Documents required for BOCW Registration
As a worker in the Uttar Pradesh state, Here is the list of documents that must kept during registration process.
Aadhar card
Ration Card
Bhamashah Card
Voter ID card
Bank Details
Mobile number
Passport size photograph
Identity Card with all family picture
How to Get Shramik Card in UPBOCW
To avail the benefits under the UPBOCW scheme, it is necessary to get the Shramik card. Here are steps to apply for a card with your registered details.
Visit upbocw.in and click on worker registration card
Now fill your details and click on apply button to proceed
Verify by enter the OTP received to your mobile number
Now Shramik card form may load to fill your details
Fill your details and upload the documents as required
Click on payment and then proceed to choose your payment option
Make the payment and get the acknowledgement receipt for confirmation
That's it, UPBOCW Shramik Card registered and workers will get the card as early as possible.
What is UPBOCW full form?
UPBOCW stands for Uttar Pradesh building and other construction workers welfare board which provides 16 schemes to all the working class who are eligible to apply for registration. Through this portal working class who have registered will be able to avail a lot of benefits under these schemes for health, education and other purposes.
How many schemes provide through UPBOCW.in?
UPBOCW provides 16 schemes or yojana which any registered and approved person from UP can apply and avail. These 16 Yojanas defined by Government of Uttar Pradesh to provide their working class citizens in the labor field to get more benefits.
How to Renew UPBOCW Scheme?
If you applied for your UPBOCW scheme renewal, You can check if the scheme renewed for you or not. In order to do so go to the official website of UPBOCW and then click on the labor menu and under this click on Renewal application and status. Then simply enter your registration number and click on the search button.
What is UPBOCW helpline number?
If you are new to this and are facing any issues regarding the renewal or registration process of any scheme then you can reach out to the UPBOCW contact number at 1800-180-5412.
Is there any UPBOCW app to Download and Install?
UP BOCW have launched their official android application with the same name UPBOCW through which any of the scheme applicants can easily search for their application status, registration details and much more from their mobile phones.
How to Check UPBOCW Status for Registration?
You can check the scheme application status for any of the UPBOCW schemes that you have applied for by going to their official website then click on schemes. Under this click on Scheme application status, then enter the scheme application number and the registration number. Next click on the submit button and you can get the application status.