Umang App is an initiative by the Indian Government to provide all the citizens of India access to this app which provides them numerous services previously launched by the Government, all at one stop. In this way citizens of India can easily apply for different services, applications all at once without worrying about multiple logins or apps to use.
As an example, you can use this app to apply for Aadhaar or else even make changes to your Aadhaar. But this app is not just limited to one service but has multiple services such as Pension, Taxes, Finance, Education, Health, Agriculture, Employee and Billing service that you can use for free.
Services of Umang App
There several government services are accessible through the Umang app and can be easily applied at your fingertips. Below is a list of Umang app services.
Aadhaar services: Services linked to Aadhaar cards, including updates, downloads, and mobile number linkage
Pension Services: Services for retirees that include information about pensions and pension payments
Tax Services: Tax-related services including managing PAN card and filing income tax reports
Financial Services: Services provided by banks and other financial institutions, like checking your bank balance and reading account information
Education: Services relating to education, such as student loans and scholarships
Health Services: connected to health, such as examining health records and medical insurance coverage
Agriculture: Agri services include management of soil health cards and crop insurance, among other services related to agriculture
Employee Services: EPF Services offered by the Employees' Provident Fund Organization (EPFO), such as withdrawing funds and checking your PF balance.
Billing Service: Services pertaining to utility bills, such as paying electricity and water bills, are referred to as utility services
Umang App Download & Registration
This app is free to use but if you're registering for the first time, then follow the instructions from below to learn how to register with the Umang app.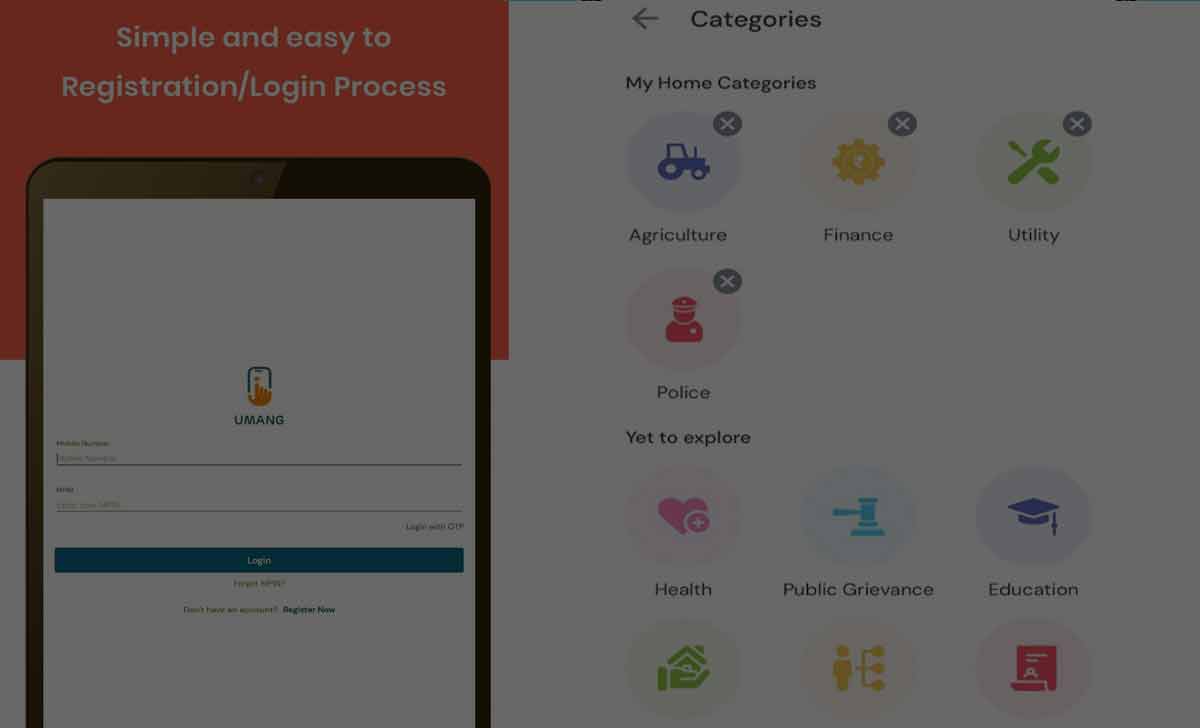 From the Apple App Store or Google Play Store, get the Umang app
Open the app, and then select "New User" from the menu
After entering your cell phone number, select "Get OTP"
You will receive an OTP on your mobile device
After entering the OTP, press the "Verify" button
Now set an password and contact information, including name, email address, and birthdates
Umang App Login in Regional Languages
If you want to select services or use the services provided under Umang App, then you can follow these steps to access the regional language versions of the Umang app.
Get the Umang app from the Google Play Store or the App Store.
Launch the application and log in using your credentials.
Tap the menu icon in the top left corner of the home screen.
'Settings' should be selected in the dropdown menu.
To access the 'Language' option in the options, scroll down.
Select your preferred regional language by tapping the 'Language' tab.
The chosen language will be instantly translated into the app.
The Umang app is now available in your favorite regional tongue.
How to Make Payments in Umang
Umange App allows you to make payments for your Bills and transfer the amount from their unique and private gateway platform. Here are the steps for using the app's payment system on its official website.
Firstly get to activate the Umang app on your Smartphone
Now Use your username and password to log in
Here Select "Payments" from the tabs
Then Select utility bills, insurance premiums, credit card bills, etc.
Enter the invoice amount and select the mode of payment as debit card, credit card, UPI
Enter your payment information to move forward
Click the "Pay" button after you have checked the payment information
Is the Umang app available for both Android and iOS platforms?

Yes, the Umang app is available for both Android and iOS platforms. You can download it from the Google Play Store or Apple App Store.

Do I need to have an Aadhaar number to use the Umang App?

Yes, you need to have an Aadhaar number to use Umang App, as it is linked with your Aadhaar number to verify the individual identity.

How secure is the information I provide in the Umang App?

The Government of India takes data privacy and security seriously, and Umang App is built with the latest security features. Your personal and financial information is securely stored and protected.