Participate in Telangana T20 Traffic Test in online to win a cup and Improve your awareness about the Traffic rules…
Telangana Government always known to bring some innovative ideas for their citizens. Thus this time Telangana State Government has brought the T20 Traffic test program with the collaboration of Traffic police.
To Bring awareness and importance of the traffic rules, these tests being prepare for the citizens. On completing the test by pressing 20 questions, any individual who has secured full marks in the test may select for the T20 traffic test cup.
These will be online exams which may given anytime and also this may attempted multiple times to check your knowledge on Traffic rules. The importance of traffic rules seen as a top priority while driving in India, as one should always aware of traffic signs that installed on roads.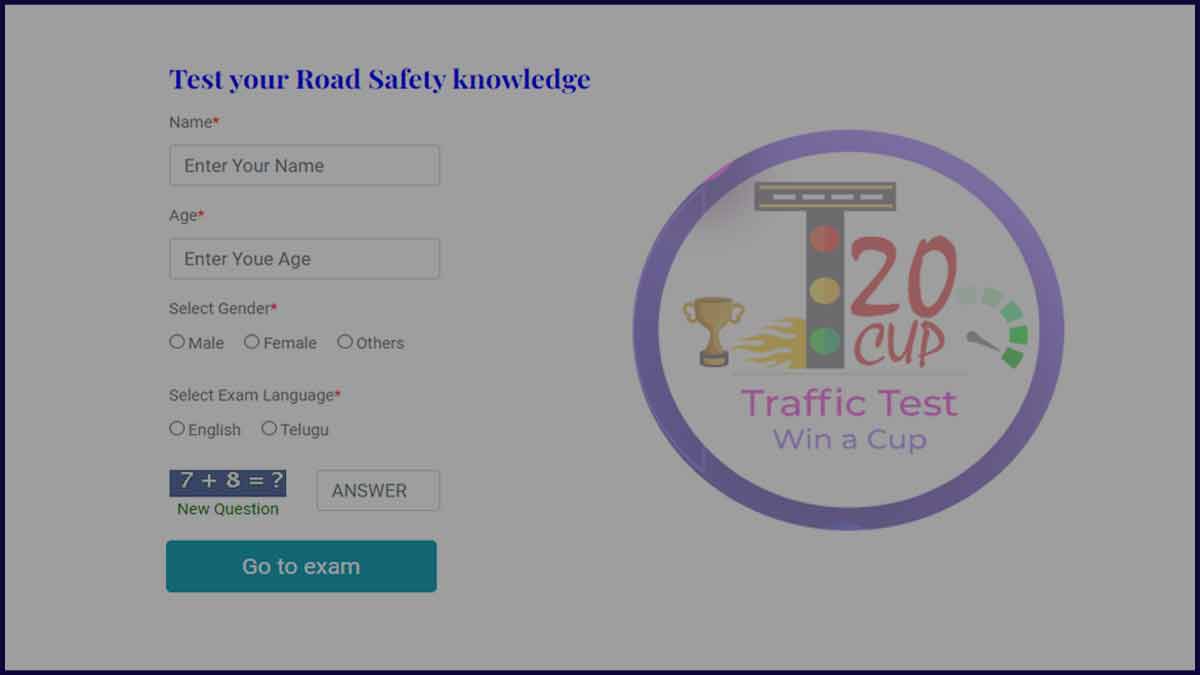 The test through Telangana Traffic police is to bring awareness to the citizens about the traffic rules followed while driving. Here are the steps that you can follow and appear for the T20 Traffic test.
How to Participate in Telangana T20 Traffic Test
Go to the official website of TS e challan form your browser using echallan.tspolice.gov.in
Scroll down and click on participate T20 traffic test to load a new page
Tap on T20 Traffic Test and then fill your name along with Age
Filth details and click on Go to Exam button start your traffic Test
Complete the 20 provided test question within 60 seconds provided
Once test completed, click on submit button to complete your test
That's it, The results displayed on screen with the details of the questions and marks secured in the exam. Based on the results your name may selected by the T20 Traffic test T20 Telangana for T20 Cup.
Is there any age restriction for the T20 Traffic test of Telangana?
One who is above the age of 18 can appear for the T20 Traffic Test of Telangana. As the driving in India is only for those who crosses 18 years of age allowed to appear for the traffic test conducted by Telangana Traffic Police.
Will there be a real cup from Telangana Traffic Police for the T20 Test?
If an individual appeared for T20 Traffic Test, they may awarded with an T20 Traffic Test cup. Their names listed in the top winner of the cup, to show everyone about the cup you won by answering all traffic rules questions correctly.
Do the T20 Traffic test and real test form traffic police in Telangana?
The T20 Traffic test, an online test brought by traffic police of Telangana state. This is not an actual test to prove you're driving. It is just an awareness program to show everyone about actual importance of traffic rules. By appearing on the test, it makes you clear about the easier traffic signs to use on roads which a priority known.