Do you know how to reset Odisha GPF account password and unblock your online account if blocked, just check here to reset and unblock your account, where this is applicable if you're an existing working employee of Odisha and have availed features to check your General Provident Fund using the online portal.
Using the below process in case you have forgotten your password or have lost it, you can download Odisha GPF pay slip on resetting the account in online
How to Reset Odisha GPF Account Password
Visit ODISHA accountant general website

Go to Odisha Accountant General website using its official website link agodisha.gov.in

Click on GPF statement

Tap on Get your GPF Statement from the right side of the page

Select forgot password

Tap on Forgot Password and let the page to load

Select YES/NO

Press Yes If you are an Odisha DDO User, otherwise for other users press No.

Fill in DDO user's details

If you are DDO User then, enter your DDO code and select communication mode, and provide an Email address/Mobile number as per the above selection.


Fill the details as per given below if not a user of DDO

you can do the following
Enter Your GPF Account Number, Date of Birth, and tick on the communication mode
Type your Mobile number or email address used while registration

Enter Captcha and click on sumbit button

Fill the Captcha Code and tap on Submit option to verify your details

Enter verification code

A verification code is sent to your Mobile Number or Email Address and Enter the code

Set a new password and login to ODISHA GPF ACCOUNT

your new password sent, which can thus to use to login to the Odisha GPF account page

Reset the GPF ACCOUNT default password

Change the GPF account default password issued on reset instructions on login to Odisha online web portal for security reasons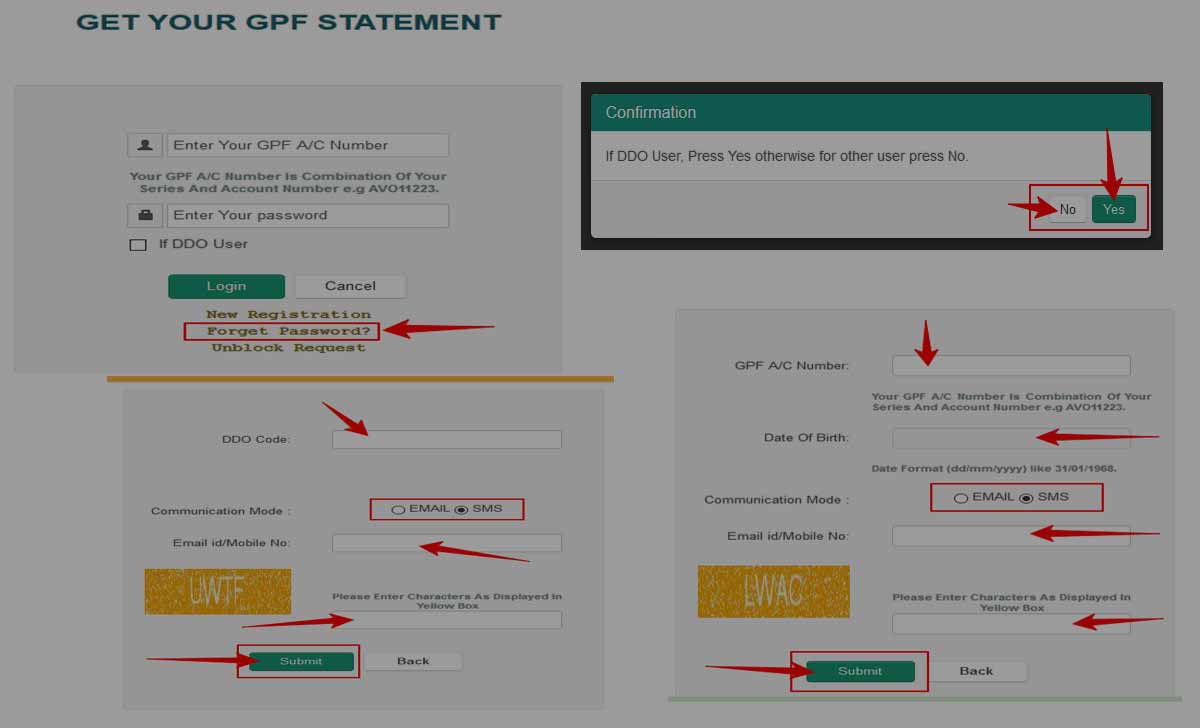 Apart from the above password reset instructions, Odisha GPF login portal users may also face blocked account, so just check why it happens and how to unlock the same as mentioned below.
If you have used your wrong password and attempts to login to Odisha GPF multiple times, then your account may block and needs an authentication to unblock again. This is to prevent unknown users from accessing your details with your account number.
How to Unblock your General Provident Account
Firstly, visit the Odisha Accountant General Website agodisha.gov.in
Click on Get your GPF Statement and wait for page to get loaded
Click on Unblock request from the bottom of page
Enter your GPF account number, Date of birth in shown columns
Click on Submit button after entering the Captcha Code
That's it, Your account will unblock, and you can follow how to login to Odisha GPF to get your GPF details.