Employee as well as Pensioner can use HRMS Central Bank of India online portal to manage Employee Self Services…
Central Bank of India is national bank in India. It has thousands of employees working all way to provide banking services to customers. Human Resource Management System integration by Central Bank of India helps staff in regular tracking and other basic employee services.
The Salary Structure, Pay Slip Generation, Salary Distribution, Recruitment Process, Leaves and other such basic services of an employee managed through Software.
In present days every organization seen using HRMS services to enhance their service by providing quick support to their staff. Central Bank of India HRMS portal also referred to as India Cent Swa Darpan HRMS Login. It's the name set for the Staff of the Central Bank of India.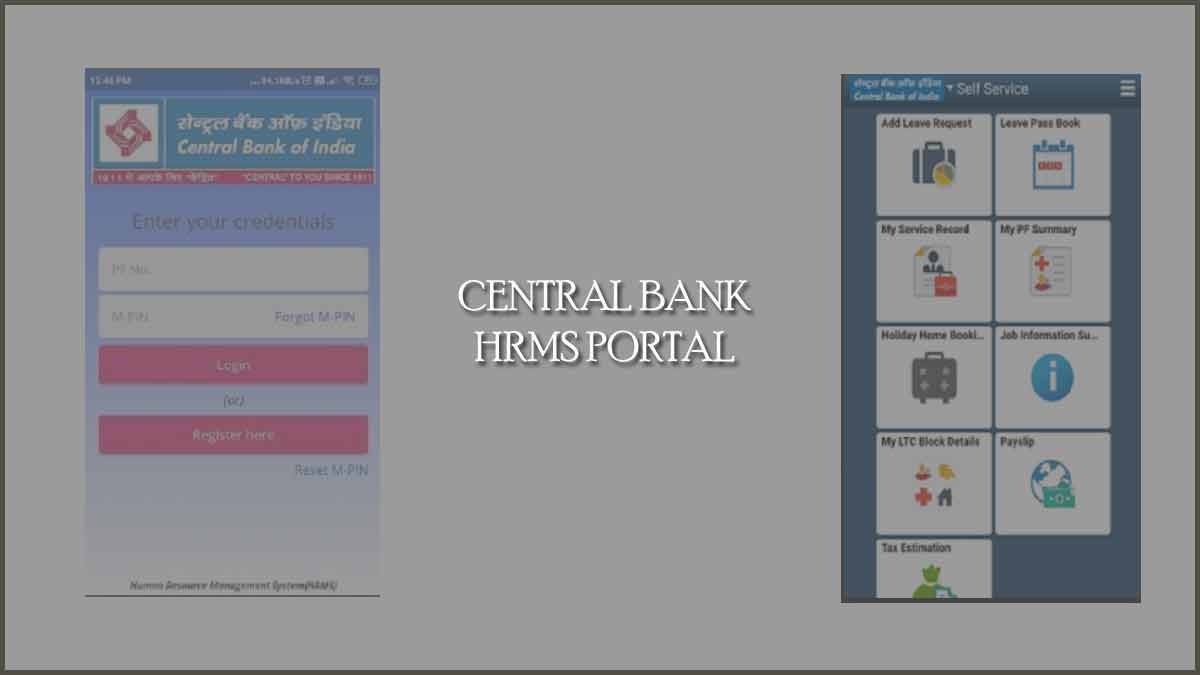 HRMS Central Bank of India Cent Swa Darpan Features
Let us have a look at some services going to offer through HRMS Central Bank of India portal to their staff.
Service Record Details
Employee details along with service record will be available in CBI HRMS portal. Their previous designation along with office work updated here.
Leave Passbook
Every employee does get a few sick leaves, casual leaves and personal leaves in their service period. All the details of leaves for an employee available in this section of Central Bank HRMS.
PF Summary
Staff can anytime check their individual PF information by accessing the Central Bank HRMS portal. One click and you will get information about PF along with premium paid and total amount accumulated.
Holiday Booking
The Indian Cent Swa Darpan HRMS Portal gives a separate link for Holiday booking for staff of Central Bank of India. This is exclusively meant to book rooms and other services during holiday trip.
Job information Summary
The information of present designation along with grade and other basic information seen by Central Bank of India, may update here for quick view.
Pay Slip History
The Salary Slip is an important part of an employee and thus by end of every month the pay of an employee calculated based on leaves taken and updated in CBI HRMS portal. The pay slip generated with all details and kept available for your view.
Tax Estimation Details
The employee salary listed with a sum of taxation on their total earnings. Here details of taxation along with any exemption if you opted and uploaded here.
Leave Request & Approval
Staff can apply for their leaves directly online, and applied leaves approved or rejected by manager in same portal on same day. There will be quick processing and updates which will ease your work during salary generation.
HRMS Central Bank of India Login
Here we will discuss the login process of the CBI HRMS portal. Let us go through processes once received your Login ID and Password during joining to the Central Bank of India.
Visit the official website of Central Bank Of India HRMS Portal form your browser https://hrms.centralbankofindia.co.in/
Now click on Login option and then enter your User ID which is your employee ID
Next enter the password and then click on Sign in button to continue
That's it, Once login credentials verified, you may allow to access CBI HRMS employee page. This does have all your information along with direct quick links to employee services.
Cent Swa Darpan HRMS Mobile App
CBI HRMS portal has a mobile application to give employee hands free experience by using HRMS employee services in mobile devices.
Get the Cent Swa Darpan HRMS Mobile application from the play store
Install the mobile App and launch it from your menu icon
Click on Register here, if you're an new employee to CBI
Provide your PF number along with mobile number & PAN number
Click on register button and then verify with OTP sent to your number
In next screen, create MPIN to login with this code in the App
That's it, Once MPIN generated, you are able to access HRMS Central Bank of India mobile application using MPIN. All services of HRMS will be available here and employees will have quick access to each option.
How to Reset Cent Swa Darpan Mobile App MPIN
Employees can anytime get their MPIN change in case they have forgotten or lost PIN to access CBI HRMS mobile application.
Launch the mobile application and then click on reset m PIN from home screen
Enter your PF number, Previous MPIN number along with new M PIN number
Verify the PIN number again and click on submit button to reset the PIN
That's it, HRMS Central Bank of India Mobile App updated with new MPIN number. This may used very next time to access employee services on mobile.
Can I update my record in the Central Bank of India HRMS portal?
Yes, employees are free to update or change their details in the Central Bank of India HRMS portal anytime. Any details that are mandatory may sent for manager approval, and only after that, the details in HRMS portal updated.
Can I raise a grievance in the Cent Swa Darpan HRMS portal?
In the home page, at the end you will have contact details. You can raise your query or use component link to report any grievance with Central Bank of India HRMS portal.
Can I revert my applied leaves from the CBI HRMS portal?
Yes, before the pay cycle date, employees have an option to revert leaves if they don't wish to take or not taken. This may done before the salary slip generation, else the salary may paid based on the leaves taken.