Govt employee of Himachal Pradesh can directly download the HP GPF statement online to find the present balances and previous withdrawals if any, do check the simple steps involved in download the HP GPF statement…
Himachal Pradesh Accountant General Office has been working hard to bring better service to every employee working in government under different departments.
As per the rules and regulations, the GPF account for every single employee managed by Himachal Pradesh state government. Under this GPF scheme, every employee benefits with a savings account for the long term, which can only open for withdrawal after reaching retirement period.
If you're using a browser, then you can check your HP GPF balance online. Here is steps that will let you know how to get your updated GPF account statement online.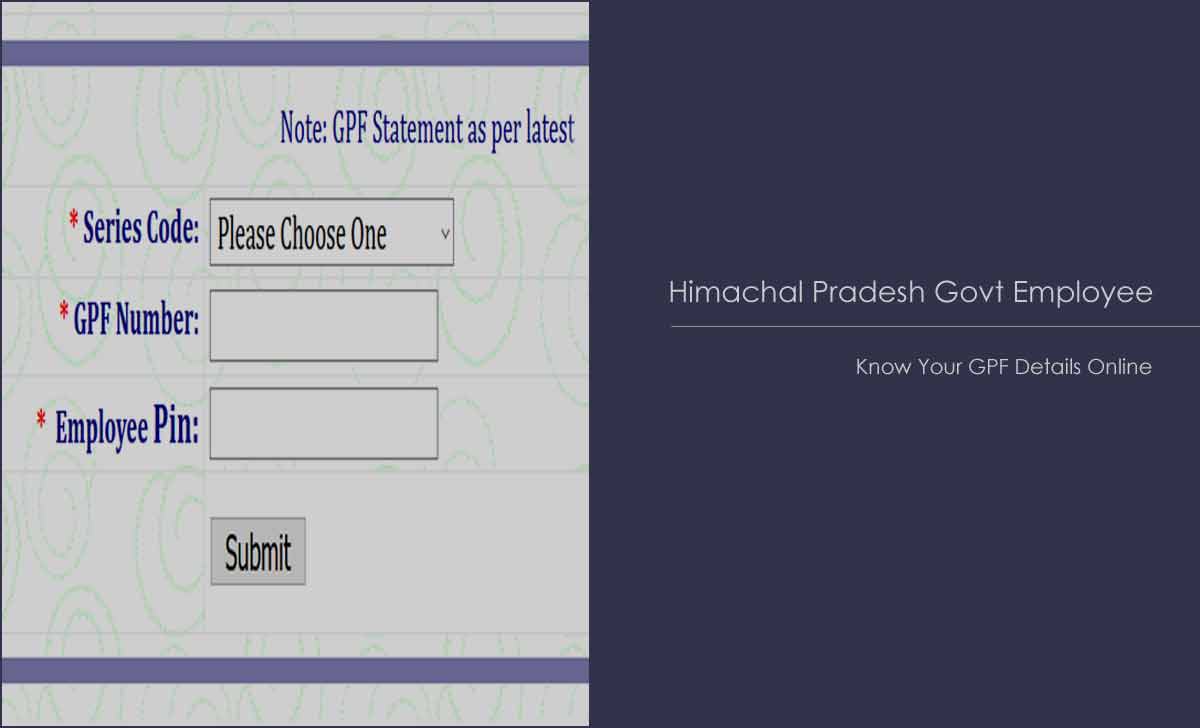 Check HP GPF Balance Statement Online
Go to the Accountant General Himachal Pradesh GPF Online website using admis.hp.nic.in to launch AG portal
Select your Series code from the down which is your department code
Enter your GPF account number > Provide PIN number
Click on the Submit button to fetch details
The home page of Himachal Pradesh GPF account will on screen
Select View GPF statement
Select the Month to View
Click on Generate Report and wait for details to load on the screen
That's it, Employees can select an option to download the report. Also view other GPF details form the Himachal Pradesh GPF accounts page.
Also Check: Login myGPF for HP GPF Balance or Statement on Mobile
GPF Interest Rates Himachal Pradesh
| From Period | To Period | GPF Rate of Interest % |
| --- | --- | --- |
| 01.04.2023 | 30.09.2023 | 7.1 |
| 01.04.2022 | 31.03.2023 | 7.1 |
Ref: https://himachal.nic.in/
Can I withdraw the full amount from my Himachal Pradesh GPF Account?
No, as per the regulation of the general provident fund the amount is not meant for withdrawal. In case employee got their child marriage, education, or implant discussion in life, and they can wish to withdraw the amount which will two-third of their total amount, as the total Himachal Pradesh GPF amount may withdrawn from your account.
Does Himachal Pradesh GPF require Nominees to be added?
Yes, as the total amount of the Himachal Pradesh GPF for an employee meant for their retirement. They asked to provide their nominee in case of any emergency. Thus at the employment time, an employee filing their nominee name as per their family bonds, and this is a must, as the amount sent to the nominee account in case of employee dimes.
Himachal Pradesh GPF Statement wrongly added money?
In case you find that the amount in your Himachal Pradesh GPF account adds wrongly. Then you need a complaint through an online portal within the three months of the slip generation, then the corresponding team will work on your request and try to fix it as soon as possible.