Register your SBI complaint online related to any product of State Bank of India and Find SBI complaint status in online whenever you seek as per the new process…
State Bank of India banking face has a serious change with the incoming of ATM, Swipe Card and SBI Net banking, and thus brought their services fully online including accepting SBI Complaint regarding any Bank issue.
Anyone who is an existing customer of State Bank of India also a Prepaid customer without having an account in SBI can use this facility to complain, and the campaign registration online will be taken in quick time as per the time schedule and update status of SBI grievance will be sent to your registered mobile number.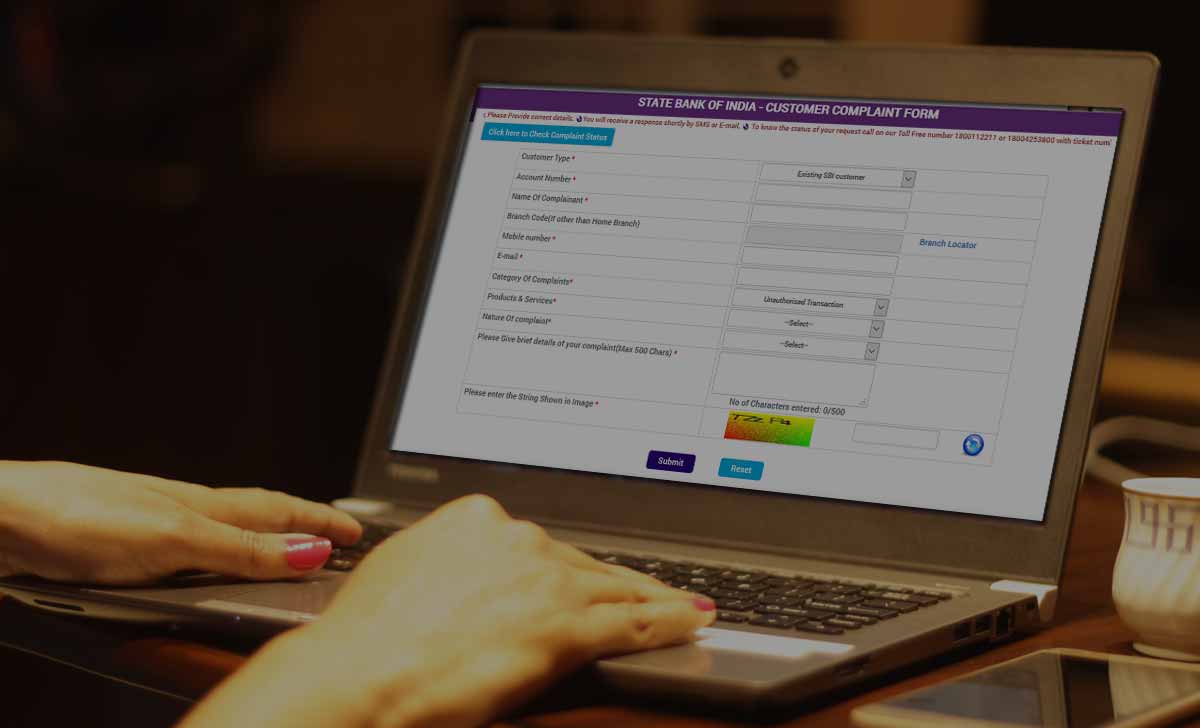 To provide better service to customers there are also toll free numbers which you all know, that can be accessed to book the complaint as well, but you have to wait in queue if many customers and has to answer for many queries, but here in online, just raise your grievance without any queue to reach concerned.
SBI Complaint
Category of Complaint
Product & Service
SBI ATM Related
ATM Maintenance, Payment Gateway, PoS Related
Advances (Loans)
Agricultural Loans, Home Loan, Personal Loans, Educational Loans, Recovery Agents etc..
BHIM SBI Pay (UPI)
Enable/Disable, UPI PIN, UPI Mobile number and Others
Demat
Demat Account Related
Deposits
Deceased Accounts, Fixed Deposit, Opening, Transfer
General Banking
Cash, Charges, Cheque Book, LPG Subsidy, Passbook, Statement & Other
Government Schemes
NPS, PPF, Pension Account, Senior Citizent Schemes
NRI Services
NRI ATM, NRI Account related, NRI Internet Banking, NRI SMS Alerts
Remittances
DD, NEFT, RTGS
Internet Banking
Online Banking, Transfer, Demat, IPO, Virtual Card and more
Prepaid Cards
Metro Bus Card, Prepaid card
Yono Lite SBI
Bill Payment, Transfer
Unauthorised Transaction
Unauthorised Transaction on your accoun
Note: If complaints with this, you account gets blocked tempororily
SBI Complaint Online Category List
If you have any query or want to get a complaint with State Bank of India, then you can get this below process noted, and this lets you book an online grievance to SBI to generate a request number for further enquiry purposes, where this works if your having an account with State Bank of India in any branch
SBI Online Complaint
Use cms.onlinesbi.com/cms official link to land to SBI online complaint page of the bank
Select Customer Type
Enter your 11 digit account number
Provide Name of the Complainant as per Bank records
Enter Branch code or search and select from branch locator
Provide Mobile Number and Email Number
Select Category of Complaints (Must Select the exact appropriate to reach to concerned)
Product of Services
Nature of Complaint
Provide a brief description about the compliant without any special characters
Enter captcha code or String shown on image
Click Submit
Note the reference number for further correspondence
With the above process, the online SBI complaint will be initiated through the online customer service of State Bank of India and will be processed to the respective branch for verification to work, but make sure to note the complaint Ticket Number generated after successfully submitting the complaint to verify the status.
If you have already lodged a complaint in SBI online and wanted to check the status, then 99employee.com mentioned the simple process as below to find the present status which you directly use the online page to get updated information or status on your SBI complaint.
SBI Complaint Status
Visit the Customer Complaint Status Form of State Bank of India at https://cms.onlinesbi.com/CMS/Status.jsp
Enter your Complaint Ticket Number
Provide registered mobile number
Enter the Code as shown in image
Click on Submit button
A new page will be loaded with the status of your complaint raised
Based on your SBI complaint status from this page, you can approach the bank or wait as per the update.

How soon an SBI complaint online may taken up?
The State Bank of India works in business days only, thus the online complaint may resolve within 48 hours of business timings. Thus anyone who raise an SBI complaint online can check their status after 2 business days to see an update from the bank.
Lost my Complaint Ticket Number of SBI complaint online?
If you have lost the ticket number generates after submission of SBI Grievance, then you can get it through calling the SBI Toll free number. It is by using the mobile number while registration which can share to get the complaint number and status as well.
Is there any charge to pay on or after the complaint?
There is no kind of charges to raise a complaint for SBI online or offline, and if any charges found in your statement must report to the concerned branch immediately.
SBI Complaint form not submiting in online, getting error, what to do?
Just remove all the special characters if any in the brief text which already submit. Also don't take too much time to submit the complaint, because the session closes after 1 minute.
Can we get the SBI complaint status without login?
After resolving, the complaint status of SBI will automatically reach on your mobile number through SMS and through your registered email.