Antyodaya Saral Haryana Portal citizen services comes online | Register for Saral Harayana and avail citizen services or track status online…
The Haryana government provides over 500+ services and schemes to its citizens which previously passed on through papers as time-consuming and a waste of modern digitization as well.
Also in order to make sure that they take part in the Indian vision of digital Indian, Haryana government has initiated this online platform with the name Antyodaya Saral Portal which ensures to provide complete services, scheme from registration to their end point through digital points such as phone, email, sms only.
In this way, all your schemes and services communicated through one big portal and allows you to track all of them in one place as well.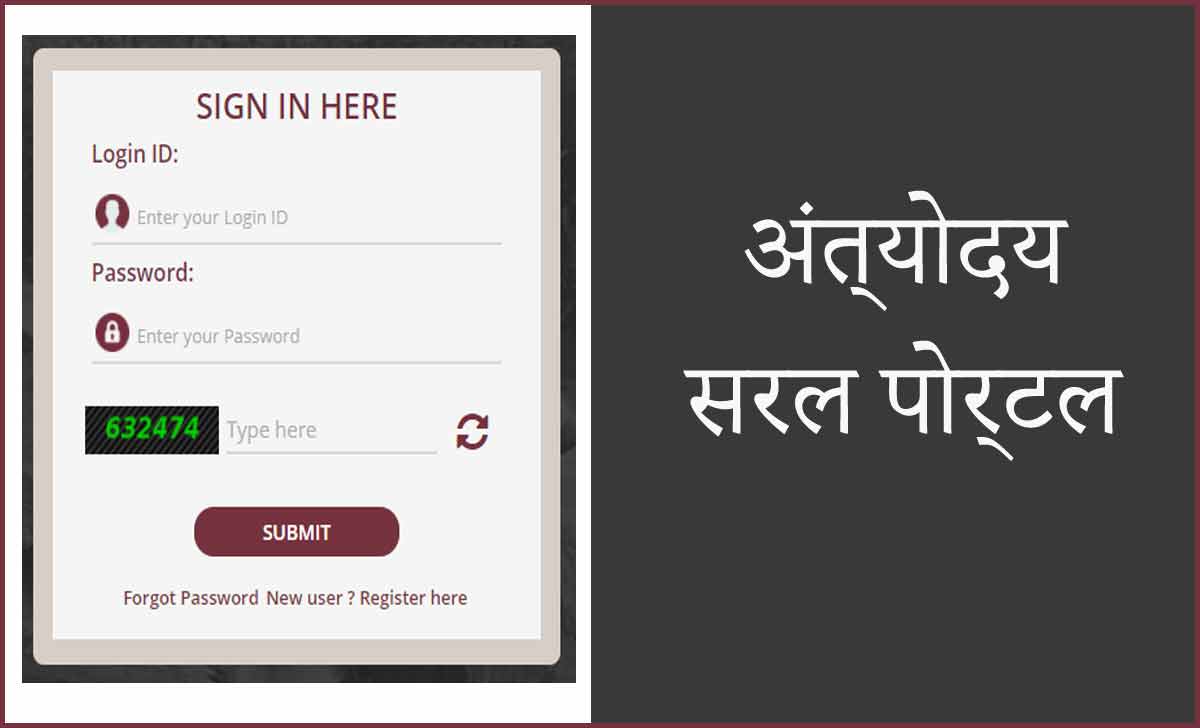 Saral Haryana
Saral Portal is Haryana's cashless and paperless initiative to provide digital resources for 500+ schemes and services they provide to their citizens.
| | |
| --- | --- |
| Name | Antyodaya Saral Portal (अंत्योदय सरल पोर्टल) |
| State | Haryana, India |
| Service for | All citizens in the state |
| Motto | Digitized Transforming Service Delivery in Haryana through online portal |
| SARAL Helpline | 0172 3968400 from 8:00 AM – 8:00 PM (Monday to Saturday) |
| email helpdesk | saral.haryana@gov.in |
| official web portal | saralharyana.gov.in |
Saral Portal
Developed and initiated to ensure all citizens to find their service requirement from one single platform.
This allows citizens to apply for any scheme or service from the saral portal at any time.
Once you apply for such services or schemes then you will be able to easily track the application status or the ticket tissue as well.
Since all applications submitted from an online digital front, ensures that proper timely approvals and confirmation on these are provided.
All the schemes and services that the citizens can avail in Haryana digitized.
So if you want to fasten your delivery of paperworks from different schemes and services then you can create your Saral portal for Haryana from below.
How to create Saral Haryana account
Open saral portal webpage from saralharyana.gov.in
Under Sign In Here option, click on New User Register Here
It will open your Antyodaya Haryana Saral account sign up in a new popup window
Enter Full Name, Email Address, Mobile number
Provide Password
State: Under this drop down you have to select the state as Haryana
Enter the captcha code shown in the image
Click submit and receive an OTP on your registered mobile number
Enter OTP, Click Submit to confirm.
Now that your Haryana saral portal account has been created you can simply go through the instructions below to learn the login process as well.
Haryana Saral Portal Login
First you have to open the Saral portal and then browse to the Sign In Here option
Next you need to enter your enter your login id and then the password
After that enter the captcha code shown in the image and click on the submit button that will now help to login your account.
If you would like to track your scheme application or for the services you have applied for recently then you can use their application track as shown below.
How to track application in Saral Haryana Portal
Go to Saral Haryana page saralharyana.gov.in
click on Track Application Online
On the page, you need to select department, service and then enter your application reference number
Click on the check status option and this will show the status of your application.
So the Saral haryana portal allows the citizens to raise tickets to their issues and they can also track such ticket status from the process shown below.
Track Tickets Online
Open the Saral Haryana website and then click on the Track Ticket Online option
Next under Track ticket by you need to select either by ticket number or phone number
Then enter the ticket number or phone number in search text and enter the captcha image shown
Finally click on the search option and this will show any available ticket status
Track through SMS
Now that we have seen how we can track the application and ticket through online. But we also have a method to check the same through SMS which we have shown below.
In the SMS you need to type "SARAL" "Application ID/Ticket Number"
Then send the SMS to "7738299899" number
Once you send the SMS you will receive a reply with an update on your application id or ticket number.
| Particulars | Status Tracking Keyword | SMS Send to |
| --- | --- | --- |
| SMS from Registered Mobile Number | SARAL | 9954699899 |
| SMS from Any Number | SARAL<space> <Applciation ID/Ticket No> | 9954699899 |
SARAL Status SMS Tracking
Haryana Saral Portal Forgot Password Reset Process
This might happen sometimes that you can forget your password for Saral portal. This may fixed by following the steps below that will help you to reset your forgotten password.
Open the Haryana saral portal from here saralharyana.gov.in and then under Sign In Here option click on "Forgot Password"
On forgot password page, enter your login id and enter the captcha code from the image
Next click on the submit button and enter the OTP received on your registered mobile number
Then you can enter a new password and click on the submit button
What is the Haryana Saral dashboard?
Haryana Saral portal has a dashboard feature created for departments and their employees to access services and scheme applications online. They are able to view the applications and department performance state and district-wise.
How to apply for schemes and services in Haryana Saral Portal?
Once you have logged into your account from the Haryana Saral portal, click on schemes/services. On this page, you will find the schemes department-wise. You can select and click on it to continue to further apply.
What is Haryana RTS Act?
Haryana RTS act means Haryana Right to service act of 2014. According to this any eligible person i.e, an eligible citizen can apply with proper documentation for their selected scheme and service.
What is Saral student portal?
In case of students who want to know what my saral student did need to register your account first with their official email address either personal or provided by the school. Then you can use the Saral portal login page from the homepage to access your account as well.
What is Saral Haryana pass?
During the wake of the Pandemic, Haryana Government allows the new passes to avail from the Saral Haryana Portal. This can use by the respective citizen who can travel across Haryana.
What are the Saral Haryana Schemes and Services?
There are over 500+ schemes and services which the Haryana Saral portal provides. The list can access from status.saralharyana.nic.in/Reports/Statusofschemesandservices.aspx.