Just retrieve your Bank of Baroda User ID if locked or forgotten. Check the simple process to recover the BOB User ID for your disabled BOB net banking account. Find what to do if error occurs when retrieving, and also find the chance if any to change Bank of Baroda user id login…
There are several reasons to get recover the forgotten BoBiBanking username, In case if you ever forget your BOB User ID, then you don't have to worry, because you can always retrieve it easily with your existing credentials from the following steps.
Bank of Baroda User ID Reset Process
Open Bank of Baroda net banking login at feba.bobibanking.com
Click Retailer User
Move to Forgot User? Click Here
A new page will open
Enter the 14 digits account number in first box
In the second box you have to enter Mobile number with your country code
In the last box enter your registered email address
Click on Continue button
If all the three details are valid, then you will receive an email from Bank of Baroda with your user name but it will not have your password.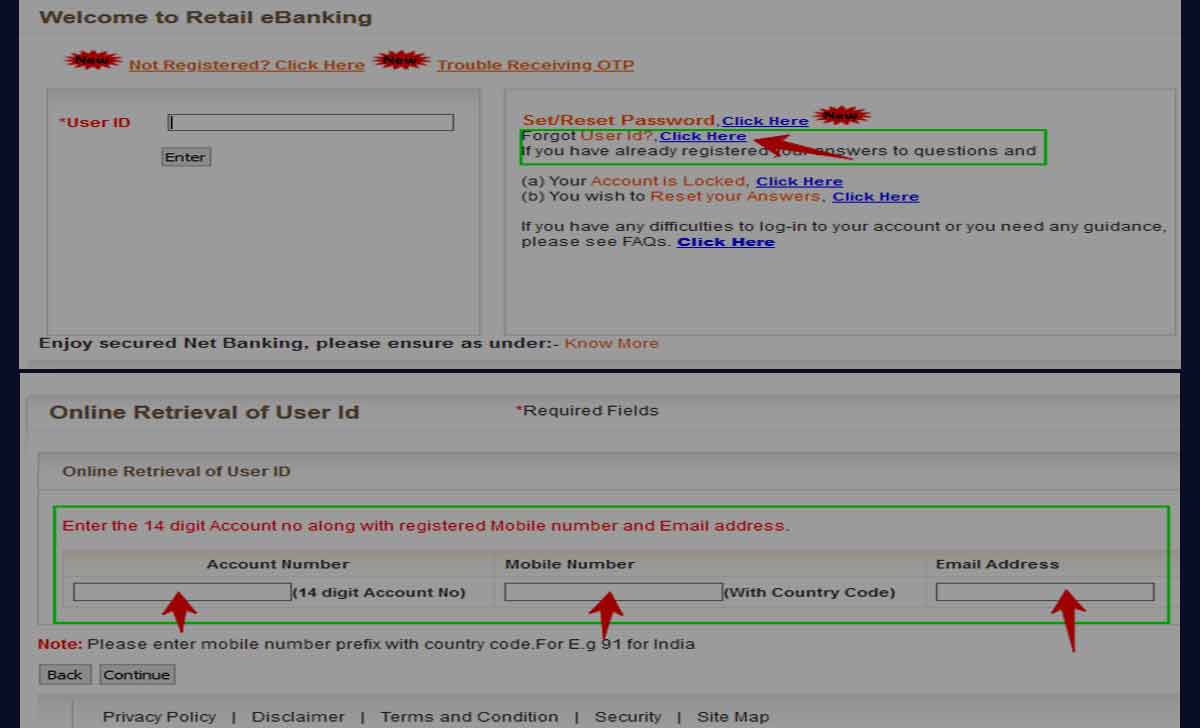 The user may check the following frequently asked questions to get the solution for errors on BOB User ID
I have not received Bank of Baroda User ID, What to do?
Many times customers forget their Internet banking detail papers which the bank provides them, but it does not mean that you have not received a BOB user id, and in this case, you have to simply retrieve the password which is associated with your registered mobile number by following the above steps.
Getting Error "DETAILS NOT MATCHED" while following BOB User ID retrieve guide, What to do?
There are cases when this error "DETAILS NOT MATCHED" shows up but the problem might be that you have entered wrong details in the asked section, and If you are sure that you have entered the correct details and the error still appears then you can call the customer care directly to solve the issue at 1800223344, 18001024455.
What is User ID in Bank of Baroda with example?
Even after retrieving the user id, you may not be sure or sometimes you may have written the Bank of Baroda net banking user id somewhere but you might want to confirm if the format is correct.

Common User ID contains your suggested name with a combination of Alphabets and numbers so no one else can guess it. At the same time, the maximum character limit is 32. Add Image
What to do when I receive "Invalid Login ID or Password"?
In this case it is simple to understand that either the User id which is login id, is wrong or the password is wrong. You should cross verify the user id and check, if the error still remains then the error is with the password.
How to change Bank of Baroda User ID?
User ID is something which is synced with your account and you may not be able to change the user id which is allotted through online and can only be changed via bank, but also know that changing the user id is different from retrieving the existing user id.