Do your want to reset the forgot password of LIC Login portal, then just reset LIC password in online by submitting your credentials with the said new process (format & example) and also you can change the password when ever required for your convenience…
LIC is a leading brand of insurance provider and they have their service providing 24*7, and LIC provides their availability to policyholders, Agents, Stakeholders at very simple steps, and thus, LIC has their online portal which allows their policyholder access to their Policy details and other benefit, whenever one who is having a policy in LIC is liable to access online facility.
To know the status of policy, payment dates and other important information can be accessed through in the online portal, and every policyholder does have LIC login unique User ID and Password, which allows them to have a sharp look without any interference.
How to Reset LIC Login Forgot Password
Login to https://ebiz.licindia.in/D2CPM/#Login
Click on the Forgot User ID / Password link present in the center of the window.
Next page opens, Select Password
Enter your registered User ID
Provide your registered Date of Birth
Enter the Captcha code to verify
Click Submit
OTP will sent to your registered mobile number within 15minutes of request.
Next window opens for reset by asking you to enter the new OTP and password
Enter your valid OTP received
Enter new password and confirm the same password with minimum of 6 character and maximum of 16 by presenting a strong password
Click Submit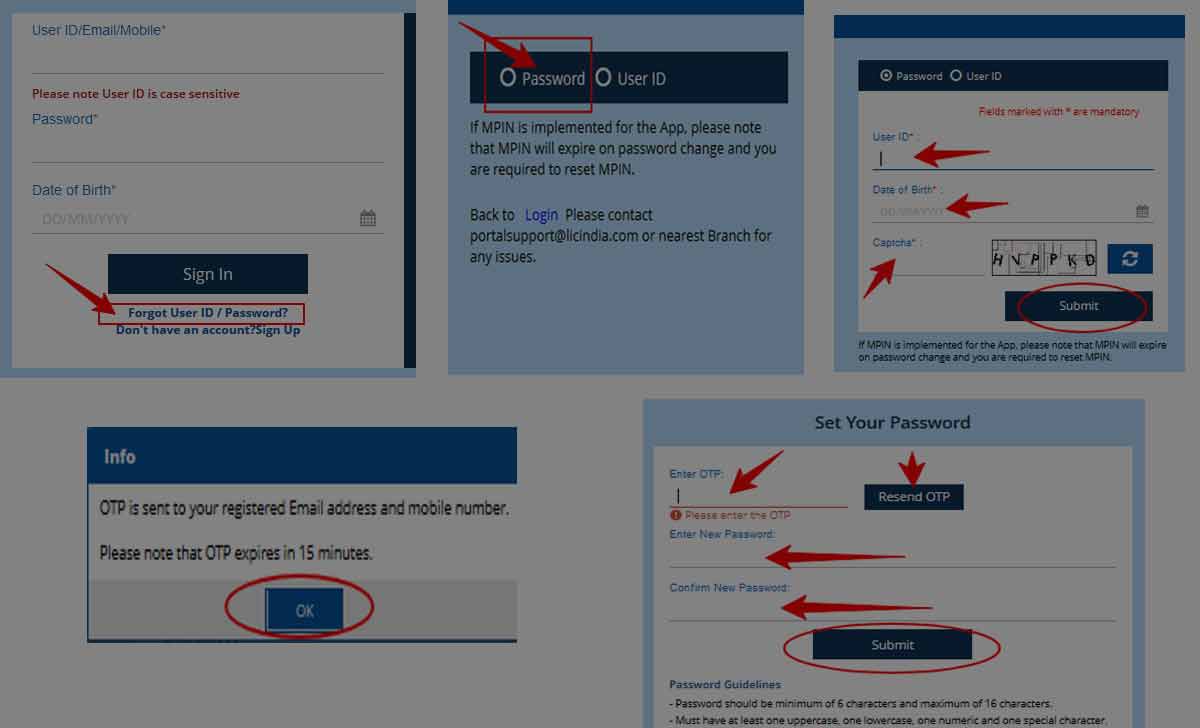 Benefits of LIC Online Portal
Option to visit the LIC office for any formal updates or documentation is more required, Get your KYC verified from online itself and make sure you enjoy the benefits provided. Get direct link of LIC services for Online Loan, Customer Portal, Pay Premium Online, Pension and Group Schemes, Merchant Portal, Agents Enquiry, Officer Enquiry, Bill Pay Enquiry, SSS PA Portal and Corporate Portal, SO if any user forgots their username, then you will be blocked to use the online, so just use the below simple process tp reset the same.
What is a User ID in LIC Portal?
Just raise a docket by writing an email to portalsupport@licindia.com by providing user id , date of birth and policy number details.
Can I remove my LIC Portal login user id?
A user or policy holder doesn't have authority to delete their account from LIC portal, and they should drop an email to the customer service with proper details required to deactivate their LIC user in the portal.
What to do if error occurs when tries to reset the LIC password?
Just raise a docket by writing an email to portalsupport@licindia.com by providing user id , date of birth and policy number details.
Can i reset the LIC password without mobile number?
At present, registered mobile number is mandatory for registration and to reset the password for LIC login, so you must have to submit valid cell number at LIC branch office or Change LIC policy mobile number in online if required.
Can I Add my Child policy in my LIC user id?
Yes, you have an option to login to LIC portal through online and add your Child Policies, and select from Spouse Policies or Child Policies from the options once you have logged into using your user id and password, so get your Child Date of Birth, Name, Policy Number to get your child policy added in your LIC.
Why do you require a LIC Policy?
At Present life, no one knows what is going to happen at which time. So, having a secure LIC policy will make the future of you dependent. Your hospital bills and other similar stuff can be easily tackled without disturbing your budget, and a policy always makes you secure from any sudden unknown activity.