Wondering about how to Apply for BSNL VRS? If yes, then I am going to help you out, you will be able to apply for BSNL VRS 2019 through the ERP / ESS portal, and you will find all the instructions / guidelines on the application by going to ERP portal link .
Anyway, let me just talk about the step by step process over here to apply for VRS
How to Apply for BSNL Voluntary Retirement Scheme 2019 in ERP Portal?
First of all, login to BSNL ERP / ESS Portal links by going to this internet link at http://eportal.erp.bsnl.co.in/irj/portal or at http://sp05rpx1.erp.bsnl.co.in/irj/portal
After login, you will find a tab named "VRS 2019", click on it.
If you are an eligible employee, then you can see the next page and will be able to see the indicative calculation of the benefits of the scheme to apply.
If you are not eligible, it shows an error (Sorry you are not eligible to opt for retirement under the BSNL Voluntary Retirement Scheme 2019)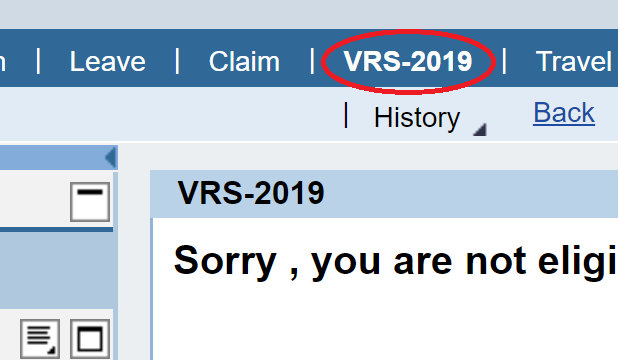 Also, you will find the calculation with an approximate estimate of the benefits on the screen. However, the actual benefits may vary subject to verification of service particulars from service book, etc.
Lastly, hit the submit button.
In case if you are BSNL employee and not sure to opt for VRS 2019, then click on it "I wish to DECIDER LATER" and exit from the ESS portal without any submission.
Any employee of BSNL who are eligible for Voluntary Retirement Scheme and applied through ERP portal can have a chance to cancel the application before the last date 03.12.2019.
Latest Update on BSNL VRS 2019
18 Nov 2019 – 1495 Employees applied for VRS 2019 through BSNL ERP Portal and the count reached to 79658 and MTNL employees count also reached to 13315 from the total list of 16363 employees in Mumbai and Delhi metro circles.
17 Nov 2019 – BSNL VRS count reached to 78163
12 Nov 2019 – Nearly 1,04,000+ employees of Bharat Sanchar Nigam Limited are eligible for BSNL VRS 2019, and 70000+ employees has already applied for Voluntary Retirement as on 11.11.2019, the competent authority of the company is expecting to reach the figure of 90000+ will opt for VRS and can apply through ERP before the due date.