Aiskyashree now open | Meritorius Students of West Bengal can now apply Aikyashree Scholarship (এক্যশ্রী স্কলারশিপ) online | Find eligibility and how to renew scholarship…
Aikyashree (এক্যশ্রী) is a scholarship scheme from the West Bengal Minority Development and Finance Corporation to benefit the minority community. Aikyashree(এক্যশ্রী) introduced to bring financial assistance to the students who deserve to pursue their higher education but cannot go ahead due to lack of financial support.
Various educational opportunities and socio-economic benefits are being provided to deserving candidates through this Aikyashree scholarship.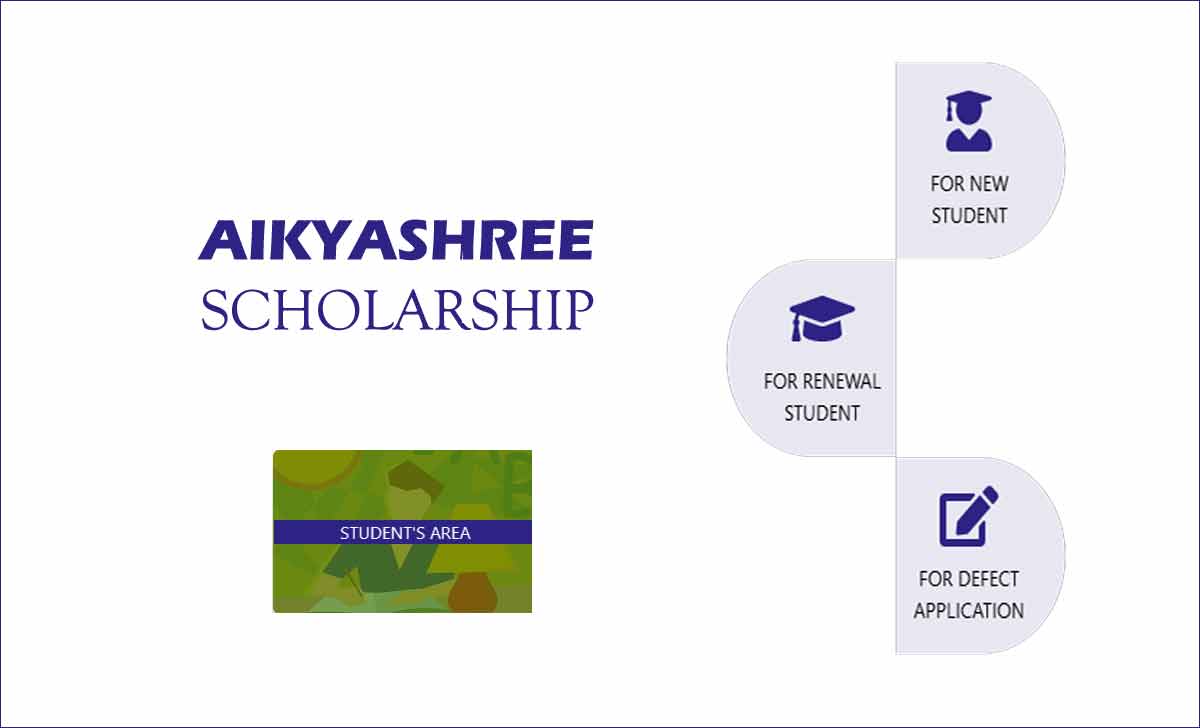 This scheme is for the students studying between class 1 to PhD covering various educations in this stream. In this article we will bring you a brief description about the scholarship and the various benefits that the minority community does get through this scheme.
| | |
| --- | --- |
| Name of the Scheme | Aikyashree Scholarship (এক্যশ্রী স্কলারশিপ) |
| State | West Bengal, India |
| Objective of the Scheme | Provide Scholarship to Meritorius Minority Students |
| Dedicated Whatsapp Number | 8017071714 |
| Toll Free Number | 18001202130 |
| Official Website | wbmdfcscholarship.org |
| Email | scholarship.wbmdfc@gmail.com |
Benefits of Aikyashree scholarship
Have a look at the benefits that are going to be provided to the students through the Aikyashree scholarship scheme (ऐक्यश्री छात्रवृत्ति योजना)
The candidates given yearly scholarship for their education
Yearly maintenance directly deposited to candidates
Day scholar Candidates will get excess benefits as applicable
Get education loan option for pushing professional courses
Increases the literacy rate in the west Bengal state
Aikyashree Scholarship Beneficiaries
The below-mentioned candidates allowed to pay through these Aikyashree schemes (ऐक्यश्री योजनाएं).
Students belonging to Muslim, Christian, Sikh, Buddhists, Parsi and Jain Community.
The Students family income must be below Rs 200000 per annum
The candidate must be an domicile of West Bengal State only
List of Aikyashree Scholarship
As per the category of the students the Aikyashree scholarship scheme (ऐक्यश्री छात्रवृत्ति योजना) has brought different scholarships in the west Bengal state. Thus people need to choose the program as per their current educational status.
Pre-Matric Aikyashree scholarship is a program that is provided through the Backward class welfare department for all SC and ST students, minority students who are studying for Class 1 to Class 10. Under this scheme an Annual Rs 1000 which brings Rs 150, and Rs 750 individual month may given to every student. Ad Hoc reward will be provided to students with good academics.
Post Matric Aikyashree scholarship program is for the students who are pursuing their education from Class 11, Class 12 and till PhD including any professional courses. This program is provided through the Backward Class Welfare Department of State. Students given Rs 160 and Rs 1200 monthly directly to their account to meet the financial requirements.
Hindi Aikyashree scholarship scheme is provided through the Department of Higher education, Science, and technology & Biotechnology of State for all minority category students who are pursuing their higher education. This is only for non-Hindi speaking students by providing Rs 300 and Rs 1000 per month to their account.
Swami Vivekananda Merit Cum Means scholarship scheme is from the government of west Bengal provided to all minority students who meet the eligibility criteria. An incentive of Rs 8000 will be provided to the students who are studying from Class 11 to PhD level. This amount created every month to students to meet their financial requirements.
Bigyani Kanya Medha Britti Aikyashree scholarship is provided through Jagadish Bose National Science Talent Search Kolkata to the minority students to ease their education process. Under this scheme Rs 3000 per month and yearly bonus of Rs 2000 will be provided to the students eligible under this program.
Aikyashree Scholarship Schedule and Eligibility
The schemes are provided by the department of West Bengal state between a stipulated time. Here is the regular months during which the Aikyashree scholarship schemes set to open for new applications and renewals.
Swami Vivekananda Merit cum Means Scholarship will be open between July to September. The student must secure at least 75 percent in their past education with having their family income below 2.5 Lakhs per annum.
West Bengal pre–Matric Scholarship will open between September to November for applying. The annual income of the family must be below 2 Lakhs and should secure 50 percent in their academics.
West Bengal Post Matric Scholarship will open between September to November for applications. The annual income of OBC candidate families must be below Rs 100000 and Rs 200000 for SC & ST category.
Bigyani Kanya Medha Britti Scholarship will be open from May to July month for new or renewal applications. This scholarship will be provided to students who passed their examination, and this scheme is only for female candidates.
Hindi Scholarship scheme will be open from October to December for applications. This scheme is only for students belonging to non-Hindi speaking states and must have passed their examination with an aggregate of 60 percent.
Document required for Aikyashree
Candidates who are eligible for the Aikyashree scholarship program must have to get the below mentioned documents ready, as these are must while applying for new scholarship.
Aadhar card of Candidate
Income certificate of candidate
Account Details of Candidate
Fee Receipt for Current Year
Marksheet of previous exam passed
Photograph
Residential certificate
Minority Certificate
Aikyashree Scholarship Online Application
The Aikyashree scholarship application new process for the eligible candidates is provided below which does help the candidate to easily apply for the selected scholarship in West Bengal state.
Open wbmdfcscholarship.org of West Bengal State
Select and Tap on Student's Area
Click on Fresh Registration link provided at top
Select the District to load the student registration form
Enter Student Information
Provide Captcha code and click Submit
Complete Scheme Eligibility Details
Complete the details for Registration Succesful
Login with your details and complete application submission
Aikyashree Scholarship Renewal
The application process for Aikyashree scholarship renewal is for the students who have already applied for the scholarship in this past year. Thus here is the process which they need to follow to re-apply for the same Aikyashree scholarship scheme for future studies.
Open official website at wbmdfcscholarship.org and click on Student Login
Enter Your Application ID and Date of birth by selecting District
Verify your student details which will populated in website
Click on renew scholarship and proceed to edit details
Fill details as per new academic year and upload the document
Click on submit button after confirming the details in application
Once you submit the details, your scholarship application sent for renewal to the concerned department which thus goes for further verification of uploaded documents.
Is the Aikyashree scholarship scheme for every student in the state?
The aim of the Aikyashree scholarship (এক্যশ্রী স্কলারশিপ) is to increase literacy in the state which halted due to lack of funds with minority students. Thus Aikyashree scholarship does encourage minority category students to pursue their education by providing sufficient education.
Can I withdraw my Aikyashree scholarship Application?
The students who have applied to Aikyashree (ऐक्यश्री) scholarship program can login with their student credentials to withdraw the application. They have to withdraw the application before the final submission date arrived to not get their names add in the scholarship program.
Are all minority students eligible for Aikyashree scholarship?
The Aikyashree scholarship scheme (ऐक्यश्री छात्रवृत्ति योजना) is for minority students who have secured aggregate marks as per the scholarship program. Based on the attendance and marks secured in the academics the minority students will be eligible for scholarship. Minority students with failed academics not allowed to avail the scholarship.
Can I change my mobile number for the Aikyashree scholarship?
Yes, you can use the student login link to login with your application ID and the password sent to your registered mail address. In the student login page, you can use the update mobile number option to update your new mobile number.