Make your standard chartered credit card payment in a convenient way using UPI or net banking online, Complete the SCB credit card payment online within the due date to avoid the delay time by checking the simple steps shown…
Standard Chartered Bank is one of the popular banks in India, which provides various services to the customer, and they provide banking facilities and as well credit facilities as per the customer's financial transactions, and every customer is allocated a credit card within a specific limit, which can be used during the day and must be paid within 45 days of their usage.
Having a good truncation with a credit card will always keep your credit score high and will always give you huge options for better financial offers, and there are various platforms that allow you to make payment for the Standard Chartered Bank Card payment.
It is always advised to make the payment for outstanding due before one week or at least 3 days earlier which ensures you don't miss the due date anytime.
Standard Chartered Bank Card Payment Online
Do you want to make your Standard Chartered Bank Credit Card payment, then just follow these below-given steps and get your outstanding dues cleared in a quick time?
Search for Standard Chartered Credit Card Payment in your browser
Click on bill desk from SC bank and wait for Card Net Bill desk to launch https://pgi.billdesk.com/pgidsk/pgmerc/standardchartered/scb_card.jsp
Select the Type of your Card and then enter the card number
Provide your Email ID or Mobile number to receive the payment notification
Enter the outstanding due
Select the payment option from the list
Choose any other Bank or SCB bank to make your payment for the card
Click on Pay Now and wait for the payment page to launch
That's it, once you have processed your Standard Chartered credit card payment will be processed, and it will be automatically loaded by clearing the outstanding amount paid.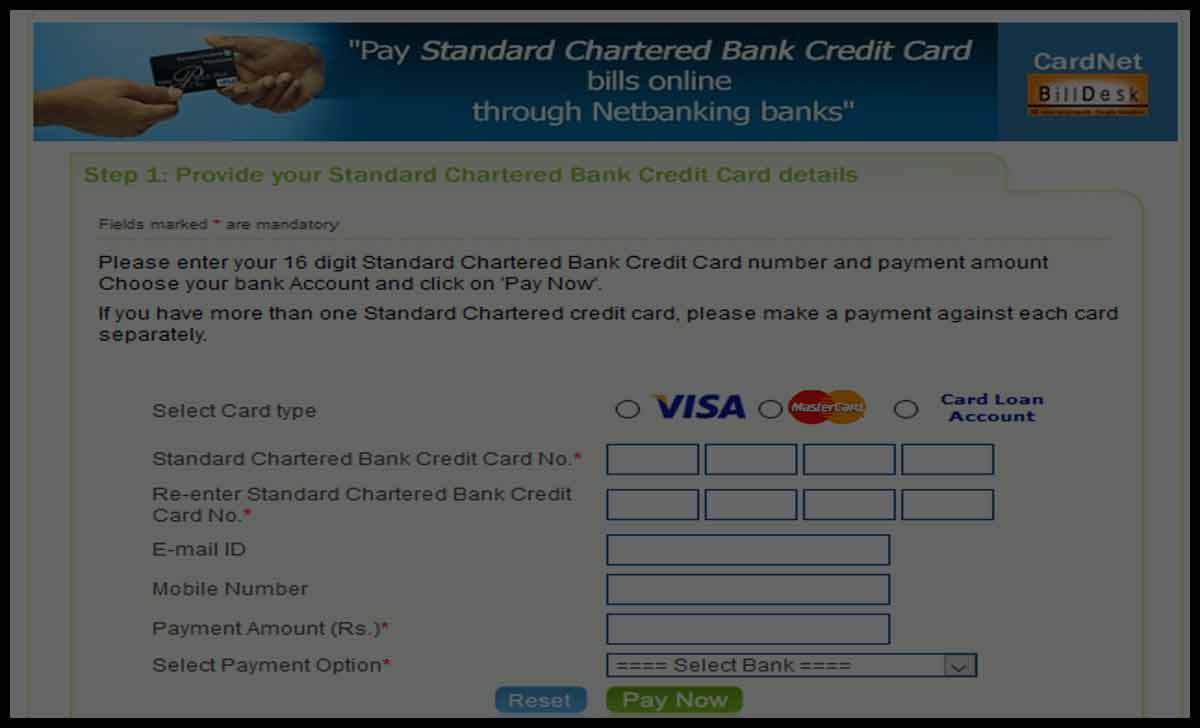 SCB Credit Card Payment through Net Banking
If you're a customer of Standard Chartered Bank, then you can make your credit card payment directly from the online banking page. Here is the process that you can follow to make your dues cleared for SCB cards.
Visit the official website of SCB bank and click on the Net banking option
Log in with your secure login by providing your credentials
On the net banking page, click on Cards from the menu option to open
Select Credit Card payment and wait for your card details to display
Verify the outstanding due and click on the Pay button to make payment
Confirm the payment through OTP and wait for a few second
That's it! The Standard Chartered Bank credit card will be instantly loaded with the cleared outstanding dues and it will be available to reuse once the date of billing has been reviewed.
Standard Chartered Credit Card Payment with PayTM
PayTM does provide an option to make your credit card payment for SCB bank cards using your wallet money. Here are steps that will guide you to clear your outstanding dues for SCB cards.
Launch the Paytm App and login with your credentials
Now click on Services and tap on Credit Card payment
Enter your card number along with the date of expiry
Enter the CVV code along with the outstanding amount to pay
Click on the Pay button and wait for the payment page to launch
Choose Wallet or account to make the payment from
That's it, and upon confirmation of payment, your respective Standard Chartered Bank Card will be loaded with the amount. These will be done instantly if an SCB bank account is used or it will take time as per bank regulations.
How many days does it take for a other than SCB bank account payment for a Credit Card?
In case, the customer has used other than a Standard Chartered Bank account, and then as per the regulation of the bank, the credit card will be loaded with the due amount only after 24 hours to 72 hours of time. as the payment transfer form bank to credit card will almost take specific time to load into the credit card.
What happens if we miss Standard Chartered Bank Card Payment?
Standard Chartered Bank asks their customers to make payment of their credit card on time to avoid any service charges for delay payment and as well to have their credit score in good points. Delay in credit card payment will directly affect your credit card score and add extra tax on your total payment amount.
Is Standard Chartered Bank card free of charges?
No credit card is provided free of cost by the SCB bank, thus every customer must make a service charge payment once a year, and if a customer has utilized the credit card beyond the limits, then there are options to exclude the charges for being a dedicated customer.