Process for PICME login and for PICME Pre Registration along with download acknowledgment and forgot password reset is live, Get the steps on demand…
PICME
PICME full form is Pregnancy and Infant Cohort Monitoring and Evaluation Scheme which is aiming to help all the pregnant women across the state of TamilNadu.
This is an initiative by the Government of Tamilnadu through which they want to provide financial assistance and healthcare aid to pregnant women and the children with PICME login.
The government has understood that in case of pregnant women more care and better healthcare facilities, services are to be provided for proper care of newborn and in this article we will learn more about the PICME TN.
| | |
| --- | --- |
| Name of the scheme | PICME (Pregnancy and Infant Cohort Monitoring and Evaluation) |
| State | Tamil Nadu |
| Address | Directorate of Public Health and Preventive Medicine, 359, Anna Salai, DMS Complex, Teynampet, Chennai 600006. |
| call center | 102 |
| email helpdesk | `picmehelpdesk@gmail.com |
PICME Public Pre Registration
In Tamilnadu, the pregnant women and women with children who have the certificate will be able to receive different healthcare and financial benefits from the government of TamilNadu which is why Pre registration is important.
Go to the official website picme.tn.gov.in login
Click on Pre Registration by Public
Fill all the required details (pregnant mother name and address, address
Select your Village and then Village Health Nurse slot
Enter your mobile number, email id
Click on generate OTP
Enter the OTP
Enter the captcha code and click on the submit button which will complete your PICME Pre Registration and you will receive acknowledgement by email and sms.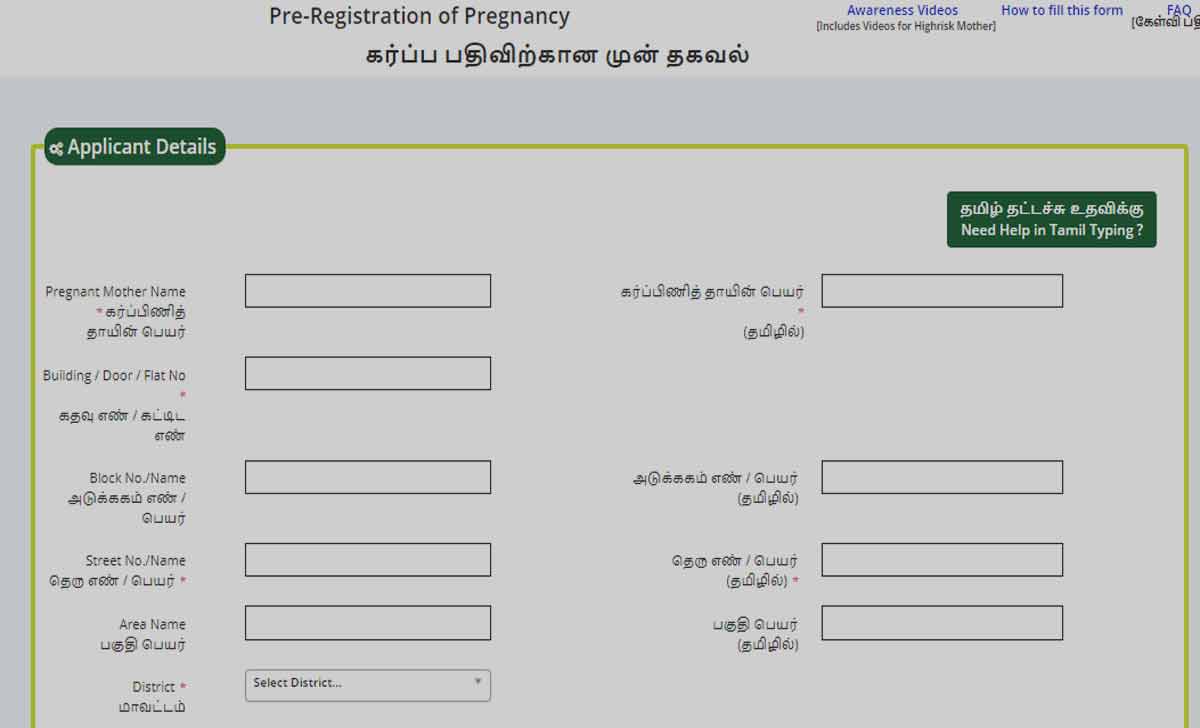 So if you have already created your account then you can follow the steps mentioned below to login to account.
What is PICME User ID
Once, if you have completed your PICME registration, then an RCH ID which is a combination of unique numbers provided which will be your PCIME User ID.
What is Pre Registration for PICME
Public Pre registration for Pregnancy on PICME website may done by going to portal and click on pre registration link. Next fill in all your details and complete OTP verification to complete your registration.
PICME Login
Go to the portal at picme.tn.gov.in
Enter User ID, Password and the Captcha code
Click on the submit button and you will get access to the PICME Login by allowing different options
Sometimes you might even forget your account password which can resolve by resetting the password by following the below steps.
PICME Forgot Password Reset
Open PICME login portal and then under the login section click on Forgot Password
You will be redirected to Verify User page where you have to enter User ID
Click on Generate OTP
Next you will receive the OTP on your registered mobile number and once you enter it then click on the Submit button
After that you will be able to reset your password to a new one.
It is important to have PICME acknowledgment application when visiting the Village Health Nurse in your slot or any other hospitals where necessary documents to share.
Is there any PICME App to download
As of now the Government of TamilNadu has not yet released any app for Android or iOS devices for PICME Login services. So, please only use the PICME online portal instead of any third party PICME app.
How to download PICME Pdf form
In case if you want to complete PICME registration offline then you can download the form pdf from https://picme.tn.gov.in/picme_public/Pre-Registration_Public.pdf.
How to Download PICME Acknowledgement
Open acknowledgement application checking page from picme.tn.gov.in/picme_public/index.php
Eter your application number
Click on Get Details to get acknowledment
Tap on download or print directly.
How to check PICME Number Registration
Once you complete your registration for PICME you can check if your mobile number authenticated by visiting mobile number authentication page from picme.tn.gov.in/picme_public/index.php/Authentication? and then enter your mobile number to check the details.
How to do PICME Complaint
In case if you have any issue or want to file a complaint then you can email at picmehelpdesk@gmail.com or call at helpline number 102.
PICME Mobile Number Authentication
It is very important to autneticate the mobile number on registration or after, because this is the way to reach the status of PICME which is most important for registrant
Open PICME login page picme.tn.gov.in/picme_public/index.php/Authentication
Enter registered RCH ID of PICME
Enter Mobile Number
Click Generate OTP
Enter OTP and Authenticate
Click Save to complete the PICME Login mobile number authentication