Providing the Joy Maternity Claim form online as Pdf and email link from Care Health Insurance, just check the details and download the Joy claim form for reimbursement of Pre/Post hospitalization expenses towards maternity…
Maternity is a huge aspect and changing point of life that no human would want to go through without proper financial support, and Religare keeping those aspects in mind created this Care Joy Maternity Insurance Product which aims at providing complete healthcare support to the Insurer.
One of the key points, why they are good, is because they provide 30 days pre-hospitalization and 60 days post-hospitalization support.
Going over the list of benefits that this Maternity Insurance policy has is quite numerous and is really going to help people who have to go through medication and hospitalization before the time.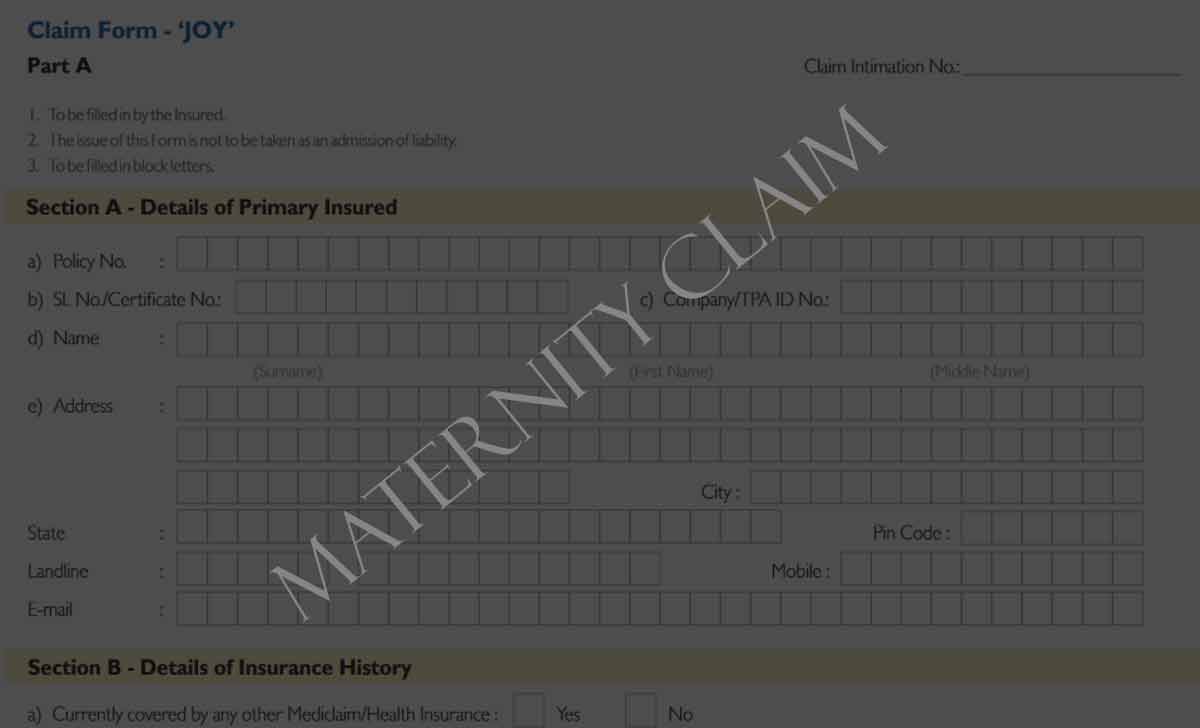 It would be great if you have already taken this insurance because then you would get all these benefits, and in case if you have gone through your Joy Maternity Insurance sometime now then you can go over our article which will discuss more the Joy Maternity Insurance claim form submissions process to help you further.
Fill Joy Claim Form
Print the Joy Maternity claim form first of all and then as per the given below instructions you need to fill the form while attaching all the required documents, details and information from the Insurer and the Hospital for easing the claim process.
Part A: This part has sections which are to be mostly filled by the Insurer
Section A: Insurer Details
Section B: Insurance History
Section C: Hospitalization Person Details
Section D: Hospitalization Details
Section E: Claim Details
Section F: Claim Documents Details
Section G: Insurer Account Details
Section H: Insured Declaration
Part B: This part has to be filled by the hospital
Section A: Hospital Details
Section B: Admitted Patient Details
Section C: Alignment Diagnosed Details
Section D: Claim Documents Details
Section E: Non-Network Hospital Details
Section F: Declaration by the Hospital
we 99employee.com will provide the downloadable link for a claim form, and once all these details are filled then you can either submit it online or else by submitting the claim documents to their offline office.