Do check about the Insurance Institute of India and the connection with insurance education, Find the association with I.I.I and the placement assistance provided by Insurance Institute of India and also eLearning available with study materials offered at free of cost…
iii
Insurance Institute of India also known as III which is established in 1955 in the name of the Federation of Insurance Institutes to promote insurance education and training within India, where the Insurance Institute of India is closing connected with most of the leading training providers, educational institutes to provide a better view for insurance education.
The Insurance Regulatory Development Authority of India (IRDAI) Private and Public sector Life Insurance & General Insurance companies are also associated with I.I.I., Have a look at this institute, how it has led to spread across different corners of the world and let their alumni be confident in different fields of insurance.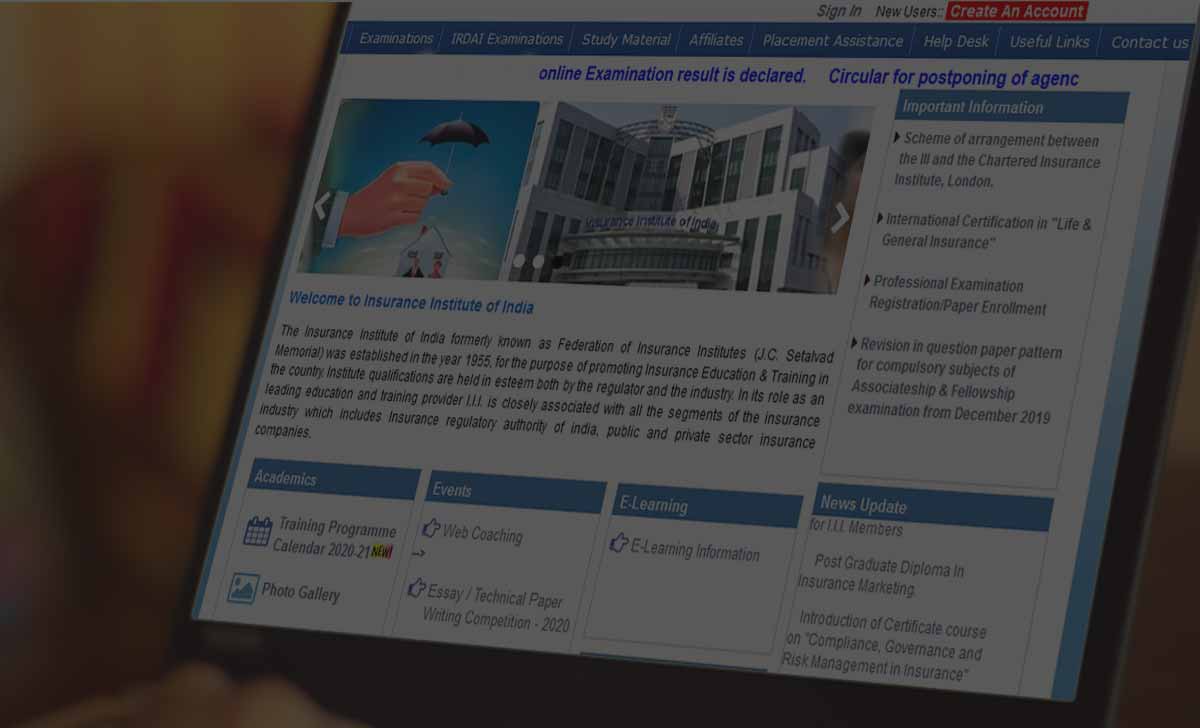 Insurance Institute of India
The process to register under Insurance Institute of India is quite simple and would require your basic information at first, once the registration is done and an account has been created, students or corporate are advised to fill their details and other through using a profile option.
The registration for Candidates and Corporate is different and this can be segregated as per the option you select, where the corporate Users must fill their Company details to create a Company Profile and thus once the profile is successfully created, the company will be eligible to post vacancy in the institute website, and this will help candidates to view your company vacant post and thus apply as per their eligibility.
Insurance Institute of India Placement
Insurance Institute of India brings an effective way for candidates who want to get begun their future with the insurance industry, and the company who are registered with iii, does place their vacancy and thus the registered candidates can apply to them.
The placement opportunity for insurance education students is wider through Placement Services of Insurance Institute of India. Candidates who have submitted their academic details and uploaded them can go for placements.
Here is a quick guide for candidates who want to apply for companies through iii, So kindly follow these steps to avail benefits from placement cell and activate the profile.
Go to Insurance Institute official web portal insuranceinstituteofindia.com from your browser
Select Placement Service option from the main menu listed before Help Desk
Go to Login button and login using your credentials provided
Read out the rules and once agreed, click on Accept button to proceed
An Application form page will be loaded now with columns to be filled
Fill all the required details correctly and as per the proof available
Once the form is filled, click submit to activity profile for placements
Anytime a candidate can wish to deactivate their profile as well which is not restricted and thus the below guide will help you in this, and make sure you have your login credentials secure, so that you can access the Payment page.
Deactivate Candidate Profile for Placements
Open Insurance Institute official website insuranceinstituteofindia.com
Click on Placement Service and login with Login Name and Password
Once your inside Placement Services, Go to Activate or Deactivate Candidate Profile
This will be only available if you have activated profile earlier
Now click on Deactivate Button to stop your profile appearing in placement
Thus, by this option, your respective profile will be stopped displaying for companies and thus no vacant post insurance company will contact you further.
III Study Material
Candidates who are being prepared for Insurance education, should not worry about their education stuff, as the material for the respective course and detail is available in the Study Material corner through eBook. There are options to get an e-book and its questions in the same link along with applying for a Hard Copy.
Candidates need to login using their Login Name and Password to avail this facility from Institute, and there is also an open option for e-learning which lets you come across the e-learning platform of Insurance Institute of India. Thus, by opting this option, you will be asked to enter all your details and course of insurance you want to pursue.
The total cost will be displayed at the end of the page, thus candidates when ready can use this and start having their e-learning class from Insurance Institute of India, and the price might differ based on Language and Country you're going to take the classes.
Can I Apply for an Institute Exam?
Yes, anyone who has completed their School Secondary Education or any equivalent examination with having crossed 18 Years of Age, can apply for the Institute Exam.
How frequent are the Examination Conducted by the Institute?
The examinations which are termed offline are conducted twice a year in April and October respectively and the online termed examinations are conducted on a quarterly basis.
Does Diploma provided by iii is eligible for the insurance industry?
Yes, the Insurance Institute of India is a recognized institute in terms of providing quality of education and alumni for insurance, and the iii and across different countries does recognize Insurance Institute of India Diploma as a verified degree.
What is the minimum Passing Percentage?
Candidates should secure 60% in their objective paper which is to be the minimum mark and a minimum percentage of 50% should be secured in terms of descriptive paper to pass in institute exam.