Online booking of holiday home for Central Govt Employees now allowed with eSampada Login as per the new system introduced at eSampada portal.
Using this eSampada holiday home booking login, you can find the eligibility of employee and retired before booking of eSampada holiday homes on demand at anywhere in India.
Employee who has got eligibility may avail the feature of Holiday Homes online booking from Central Government by following the process of e Sampada login in simple steps.
The process made easy and the payment for booking of eSampada guest house can made through Internet Banking, Debit card, Credit Card or using UPI mode.
The online website eSampada shows you the Central Government Holiday Homes new list available for employee to serve throughout the calendar year days.
eSampada Login Holiday Home Online Booking
Presenting the easy guide for online booking of holiday home for Central Government employees at required place, check simple steps for easy booking of eSampada guest house
Open eSampada Portal esampada.mohua.gov.in/signin/
Tap on Login button
Enter your registered mobile number or email address > Click Get OTP
Submit OTP received on mobile
Enter Security Captcha and Click Sign In
Complete profile if not completed
Click on Holiday Homes / Guest House Booking on left side panel and Click Ok
Tap on Book Now
Select Visit Type
Select Personal Visit / Guest Visit or Official Tour and Upload ID card details
Select Category for employee service, Holiday Home Location, Check In and Check Out Dates
Select Room Type and Room Number, Click Make Payment and OK
Check the details and Confirm to complete the payment
Once payment has been completed, SMS will be sent to registered mobile number
Receive the booking details on your registered email and mobile number.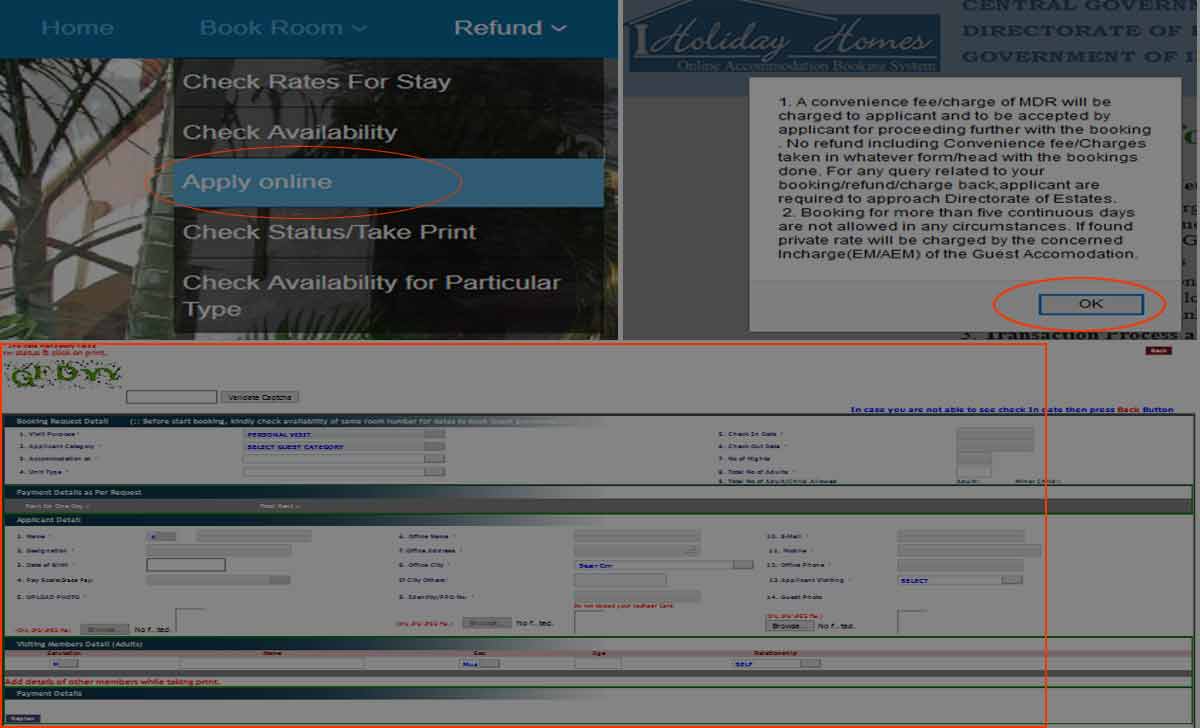 This generated holiday home online booking slip will act as your proof of booking. The same online booking slip should submit to confirm Guest House while check in at e sampada holiday homes.
Also any payment made during e Sampada holiday home booking may refund as per the existing conditions mentioned in the login.
eSampada Login Account Registration
To book any Central Goverment holiday home, user must have registered for eSampada login. So, you may just have to follow the below steps for registration
Open your browser with https://esampada.mohua.gov.in/signin/
Click login
Tap on Register here
Enter Full Name as per your Employee Records
Select Date of Birth > Employee Category > City of Posted / Living
Enter PAN Number
Provide valid email address
Provide Valid mobile number
Click Verify and Click Get OTP
Enter Email OTP along with Mobile OTP received
Click Sign In to complete the regisration of eSampada Login
Using this eSampada Login, you may check the list of eSampada holiday homes in India. Book your holiday home accommodation at eSampada login in online with VIP suit room or Double / Four bed room in required guest house.
Any employee / officer who are working or retired may follow the above process for holiday homes online booking through eSampada login which allows to book Guest House for your vacation.