BMO Careers is the career website for the Bank of Montreal. The bank is a prominent multinational banking and financial services corporation based in Canada. BMO Careers pertains to the diverse employment and job opportunities offered within the Bank of Montreal organization.
BMO Careers typically encompass a broad spectrum of positions in fields such as banking, finance, customer service, technology, human resources, marketing, and others.
These positions may be available at various levels, ranging from entry-level roles to executive positions, and may be situated in different locations where BMO operates.
To access the most up-to-date and specific information regarding BMO Careers, including available job positions, prerequisites, and application procedures, visit the official BMO careers page at jobs.bmo.com/ca/en.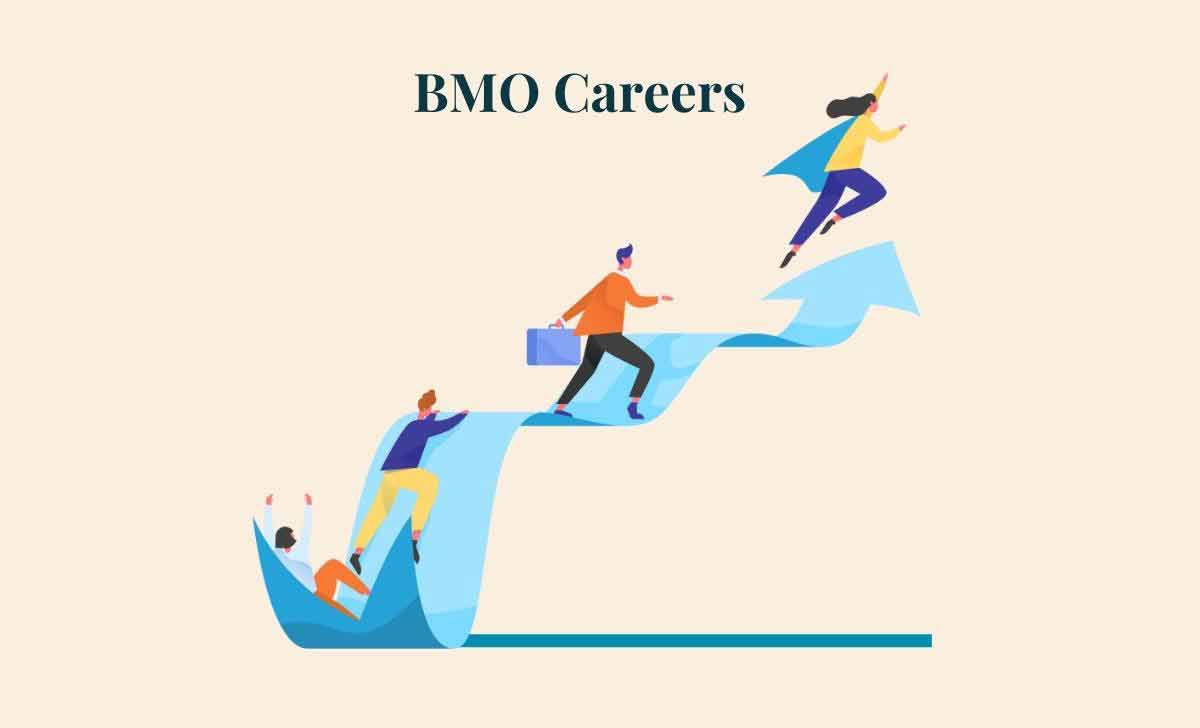 How to Discover BMO Hiring Areas
Navigating the diverse and dynamic landscape of job opportunities at BMO (Bank of Montreal) can be both exciting and challenging.
Also Read>>> Canada Highest Paid CEOs
Understanding how to explore BMO's hiring areas effectively is essential for aspiring candidates. Here, we will delve into the strategic approaches and resources available for discovering BMO hiring.
Visit the BMO Careers Website: Head to BMO's official careers website at https://jobs.bmo.com/ca/en/discover-our-hiring-areas Refine your search by location, job type, and relevant categories to find suitable positions.
Utilize Job Search Engines: Use popular job search platforms such as Indeed, Glassdoor, or Monster to discover available job openings at BMO.
LinkedIn: Stay updated on BMO's job openings by following their official LinkedIn page: https://www.linkedin.com/company/bmo-us/life
Contact BMO Directly: Reach out to BMO's HR department if you have a specific role or department in mind for information on current or upcoming job openings.
How to Get Updates on BMO Careers
The BMO Talent Community serves as a hub for individuals keen on working with BMO, providing them with essential updates on job openings and company developments.
By joining this community, members receive timely notifications regarding new job listings and other pertinent details related to careers at BMO.
To get updates, individuals can upload resumes at https://jobs.bmo.com/ca/en/jointalentcommunity?applyType=JTC
To join the BMO Talent Community:
Visit the website https://jobs.bmo.com/ca/en/jointalentcommunity?applyType=JTC
Either upload your resume to auto-fill your details OR fill in the details displayed on the screen manually.
Submit the form to subscribe to the BMO Community to receive updates regarding new jobs.
Also Read>>> Retirement Age in Canada
How to Create an Account for BMO Jobs
Setting up an account on BMO Jobs enables you to discover job openings aligned with your skills and interests. It also allows you to stay informed about fresh job listings and be a part of an inclusive and diverse work environment.
To create an account for BMO Jobs, adhere to these steps:
Visit the BMO Career website https://bmo.wd3.myworkdayjobs.com/External
Click on the Sign In option in the top right corner.
On the next page, click on Create Account.
Fill in the details like your name, email address and password.
Select the Create Account button to finalize your registration.
How to Sign In for BMO Jobs
After successfully creating your account, you can sign in by following the below procedure:
Navigate to the official BMO Careers webpage at https://bmo.wd3.myworkdayjobs.com/External
Click on the Sign In option located in the upper right corner of the website.
Provide your designated email address and password.
Click on the Sign In button to access your account.
How to Check New Graduate Opportunities
BMO Financial Group provides opportunities for recent graduates to kickstart their careers.
To Check New Graduate Opportunities, create an account or profile on BMO's careers portal. This account can help you receive personalized job alerts and notifications about new graduate opportunities.
Visit the website https://jobs.bmo.com/ca/en/students.
Search for New Graduate Opportunities.
Click on Explore opportunities.
Select the job category and click on Find Jobs.
Individuals have the option to narrow down their search results by specifying preferences in the Refine Your Search section.
Apart from the company's official website, regularly check popular job boards like Indeed, Glassdoor, and LinkedIn Jobs. These platforms aggregate job listings from various companies, including entry-level and graduate positions.
Be sure to customize your resume and cover letter for every application, highlighting the skills and experiences pertinent to the specific job you are applying for.
For any queries regarding recruitment, you can contact BMO at campus.recruiting@bmo.com
What is the work culture like at BMO?
BMO fosters an inclusive, collaborative work environment that values diversity and encourages professional growth. They emphasize work-life balance, innovation, community engagement, and corporate responsibility.
Is it possible to apply for multiple positions simultaneously at BMO?
Yes, it is possible to apply for multiple positions simultaneously at BMO.
Is BMO open to international student applicants?
Yes, candidates must have a valid work permit and social insurance number. BMO currently does not offer sponsorship for non-residents of Canada.