Login Jeevan Pramaan and Submit Digital life certificate every year online | Download Pramaan Patra online from https //jeevanpramaan.gov.in/ppo user/login to keep for reference as submitted DLC…
Jeevan Pramaan
Digital enabled biometric life certificate for pensioners calls as Jeevan Pramaan and this certificate can generate and shared with Pension disbursing Agencies. The employees of the Central Government, state government, and other repayments of government can avail this facility after their retirement.
As it is difficult for most senior citizens to walk to the bank every year to submit their life certificate in pension. Thus for such a pensioner, the Government of India has come forward with an option of digital certificates.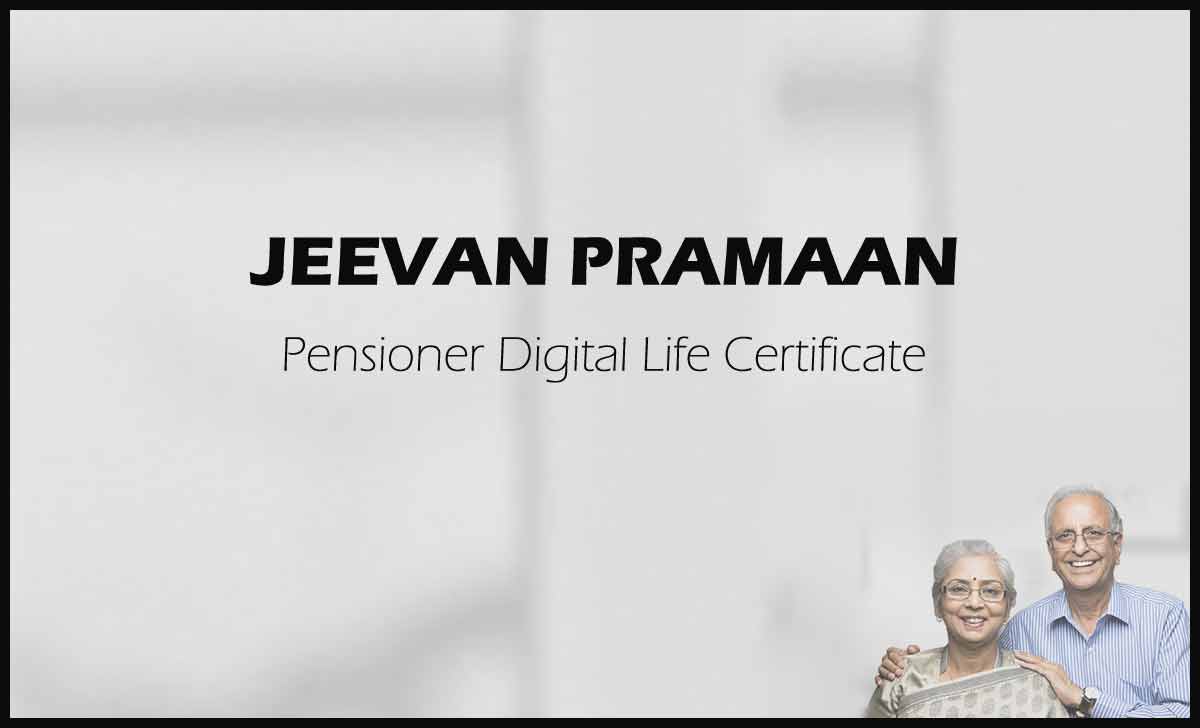 This certification may process through Aadhar based biometric and even with face app authenticationby visiting the Jeevan Pramaan portal. Even Jeevan Pramaan App is available to support the pensioner for their digital life certificate.
| | |
| --- | --- |
| Name of the Service for Pensioners | Jeevan Pramaan |
| Applicable for | Only Pensioners on registration |
| Modes of application | Online Portal, Mobile App |
| Customer Care on Phone | 1800111555 |
| Email | jeevanpramaan@gov.in |
| Pramaan Center Location on SMS | Send JPL <Pin Code> to 7738299899 |
Jeevan Pramaan Digital Life Certificate
An individual who is seeking a pension option needs to be present at a pension disbursing agency every year to mark their account as active. Thus getting a life certificate by visiting the pension office is always difficult for aged people.
By considering this option, the government of India has brought the Jeevan Pramaan digital life certificate option for every pensioner, and this is a process to obtain a life certificate online and submit the same to the pension disbursing authority office through an online process.
Pensioners need not walk to an offline office, as their all renewal process of pension processed through online only.
Jeevan Pramaan Certificate Eligibility
In straight words, any person who is an employee of the government and meets below criteria can avail the facilities of Jeevan Pramaan.
Should be a pensioner
Must be a retired government employee
Have an Aadhar card with biometric enabled or Face App
They should have Aadhar card linked mobile number with active Pension account
Benefits of Jeevan Pramaan
If you're not sure why exactly the Pramaan taken up by the Government of India, then here is some points through which you can make use of this useful website for your pension-related stuff.
It is a full online platform to support pensioner to generate their digital life certificate
Verification of pensioners may done through Aadhar Biometric authentication which does avoid any malfunction with the certificate generation.
A regular notification sent to pensioner if any changes happen in their Pramaan account
Jeevan Pramaan Digital Life Certificate will only generate if it does have approval of the Pensioner
The submission of a digital certificate will allow a pensioner to get pension for the next one year
Jeevan Pramaan Certificate
The digital life certificate services can avail by visiting the Jeevan Pramaan version 4.0 X, and here is the process in detail to support you in getting the Jeevan Pramaan Certificate generation and download even for multiple PPO in quick steps.
Jeevan Pramaan Registration
The registration process for the online portal and Jeevan Pramaan App is similar, Here is the detailed steps
Step1: Jeevan Pramman App Registration
Visit jeevanpramaan.gov.in web page online
Click on download
Enter Email address > Captcha code shown > I Agree to download
Provide OTP received on your email address
Tap on Submit
Click on the link for Windows OS or Mobile App as per your device > OK
Open your Email and click on the link to download and install JeevanPramaanInstaller_4.0.0_Live.exe including RD Service Installation with packages as per your device require (Follow onscreen instructions carefully for successful installation)
First
Step2: Jeevan Pramaan Operator Authentication
After installation, operator authentication is mandatory, which is one time process where any person like Pensioner (Self) or other also acts as Jeevan Pramman DLC operator with below
Open Jeevan Pramaan on your device
Enter Operator Aadhaar Number > Mobile Number > Email Address
Click Generate OTP
Enter OTP received on Mobile / Email > Click OK
Enter Operator Name > Select Authentication
Connect your Biometric Device to the Gadget
Click Biometric Scan
After successful IRIS / Finger Scan, a message will get as Operator Authentication Successful.
Just follow the below Step 3 for Pensioner Authentication or DLC Submission.
Jeevan Pramaan Pensioner Digital Life Certificate Submission / Authentication
Operator / Pensioner can submit or authenticate any pensioner or self to submit Jeevan Pramaan Digital life certificate online with simple steps
Open Jeevan Pramaan Application on your device
Enter Pensioner Aadhaar Number
Provide Aadhaar-based registered mobile number
Enter Email Address as optional
Click Generate OTP > Provide OTP > Click OK
Enter Pensioner Details (Name > Account Number > PPO Number), You can select the pensioner from dropdown if already submitted from this operator
Select if you are Remarried or not
Select your present employment status
Click Next > Verify all the submitted details carefully (If found any incorrect, then Go back and correct)
Tick two types of Declarations
Tap on Submit > Click Yes
Select the Consent > Tap Biometric Scan
Once Successful, Jeevan Pramaan Digital Life Certificate will generate a Jeevan Pramaan ID against your PPO number.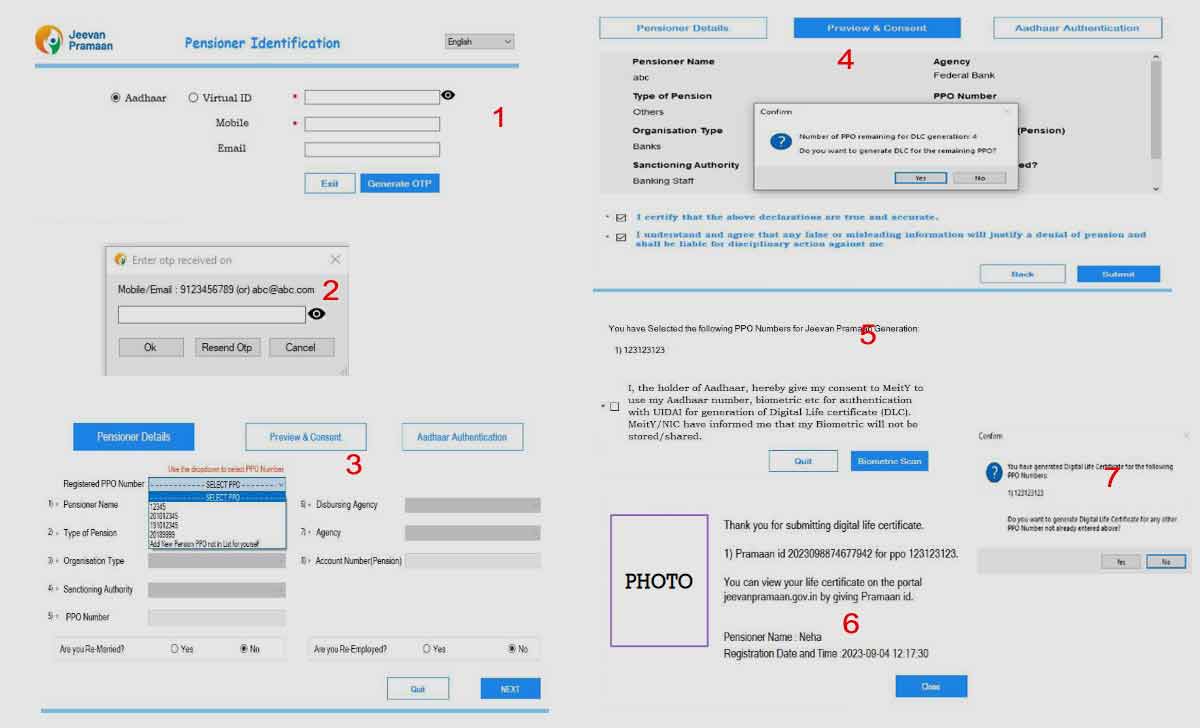 Jeevan Pramaan Login
The generation of life certificate may done through Jeevan Pramaan login with website or mobile app with your credentials if already registered. Use these steps and get your Digital Life Certificate (DLC) against your pension ID.
Open the web page jeevanpramaan.gov.in
Click on Pensioner login to open the page jeevanpramaan.gov.in/ppouser/login
Enter your Pramaan ID
Provide Confirmation code shown
Click on Generate OTP
Enter the same received to verify yourself
Next, attach your biometric scanner and scan your fingerprint or even Authenticate through Face APP allowed
Once your data with Aadhar has been verified, your authentication will be successful.
View the Digital Life certificate submitted
Click on Download the get Digital Life Certificate
PDA Process for Jeevan Pramaan Certificate
The certificate will get a digital life certificate to generate and stored in the life certificate repository. A pensioner can anytime download the certificate through the Mobile App or by visiting their official portal.
The PDA(Pension Disbursing Authority) will download the life certificate repository of a pensioner which they verify that the pensioner is still alive, and the service can continue on them.
The certificate will only come into the repository after the successful biometric of the pensioner processed.
Once they have got the Pramaan Certificate verified by the pensioner, then they will process the same and will make the bank continue all pension service to the prisoner for the next one-year term.
Without the verification of the digital life certificate with Jeevan Pramaan, it will not be visible to PDAs, which means they will not process your account for further pensions.
Upon verification and downloading the certificate, the account of Pensioner may set to active for further service.
Jeevan Pramaan Certificate Download
Here we will guide you how to download Jeevan Pramaan Digital Life certificate or patra through the process to generate on your registered pensioner details. Make sure you have registered and provided all your details before going to follow the below steps.
Visit https://jeevanpramaan.gov.in/ppouser/login with a registered account
Provide Pramaan ID to fetch details
Enter Captcha code and Generate OTP
Provide OTP and login to your Jeevan Pramaan account
Click on Digital Life Certificate already submitted
Verify the details
Download the Jeevan Pramaan Digital Life Certificate.
Jeevan Pramaan Centre Near Me
If you're not sure about the pramaan digital certificate form online, then it is very good to visit the nearest Jeevan Pramaan center for your clarification. Here is how we locate the center in your zone.
Go to the Mobile App jeevanpramaan or open official website at https://jeevanpramaan.gov.in
Click on Locate a Center
Select Location Type
Select State
Select District
Provide your details as location or through pin code to search
Once fetched, you can view the nearest Jeevan Pramaan center
Make note of this center and visit the very nearest one to process the certificate online and get your digital life certificate through the center.
What if you don't have Aadhaar linked with a Pension Account?
In such cases, pensioners need to visit the pension office and get their Aadhar card link with their account.
The Jeevan Pramaan patra will only issued to the pensioners who have authenticated them with the Jeevan Pramaan portal using their Aadhar card number. Only such pensioners may allow to avail the services online.
Is a digital certificate mandatory for the Pensioner?
No, the digital life certificate of a pensioner is only for the one who has issues walking to the office.
Any pensioner who feels fit and can visit the pensioner advisory office, they will not require to get a digital life certificate. Jeevan Pramaan launched to service the pensioner with better service without going out anywhere.
What should I do if my digital life certificate rejected?
The digital life certificate may rejected if you have failed Aadhar authentication or you have any details that are not matching with your Aadhar number and your Pension ID.
One should verify all their details and check the reason for getting the reason for digital life certificate rejection and to investigate further.
Should I manually submit my digital life certificate to the Bank?
No, there is no need to submit your digital life certificate generated from Jeevan Pramaan to the bank.
The pensioner needs to allow the certificate access to the PDAs through online portal and with the access, the bank will verify your details online and upon reading your certificate your service with pension may resumed.
Can anyone apply for a Jeevan Pramaan certificate?
An employee related with the Government of India or State Governments in Indian States or their respite government office allows to access Pramaan and get themselves to register for an online digital life certificate.
This service is only for retired government employees of India without adding any other pensioner from private stations.
Can I find Jeevan Pramaan center by SMS?
Yes, you can send an SMS as JPL PINCODE to 7738299899 to get the details of your nearest Jeevan Pramaan center. Upon receiving this SMS, a return message may sent with all details of your nearest center of Jeevan Pramaan.
Will an executive come home for Jeevan Pramaan biometric?
The individual who has created their account in Pramaan has to get their own biometric scanner to attach with their device.
Pensioners allows to do biometric done online with their Pramaan ID to complete digital life certificate. In this whole process, no executive will come home for any type of verification.
What is the PPO number in Jeevan Pramaan?
The PPO number is a 12-digit unique number aligns to every pensioner through which they get the pension.
This is one of the important numbers of pensioners which is provided to them after their retirement and helps to maintain their pension account records. Each pension account has one 12-digit number aligned to them.