Aaple Sarkar Portal for Citizen services online | महाराष्ट्र की अधिसूचित नागरिक सेवाओं के लिए ऑनलाइन आवेदन करने के लिए आपले सरकार पोर्टल के साथ अपना प्रोफाइल बनाएं…
Maharashtra Government has brought an invitation for its citizens by bringing all their services under one portal. Aaple Sarkar portal is one such type which is a host of all different government schemes and portals being run by individuals.
To provide a single platform to every individual, Aaple Sarkar portal introduced to citizens of the state of Maharashtra.
They bring multiple features and services at one place. Making it easier for everyone to understand the schemes available in Maharashtra state and make use of them in one go.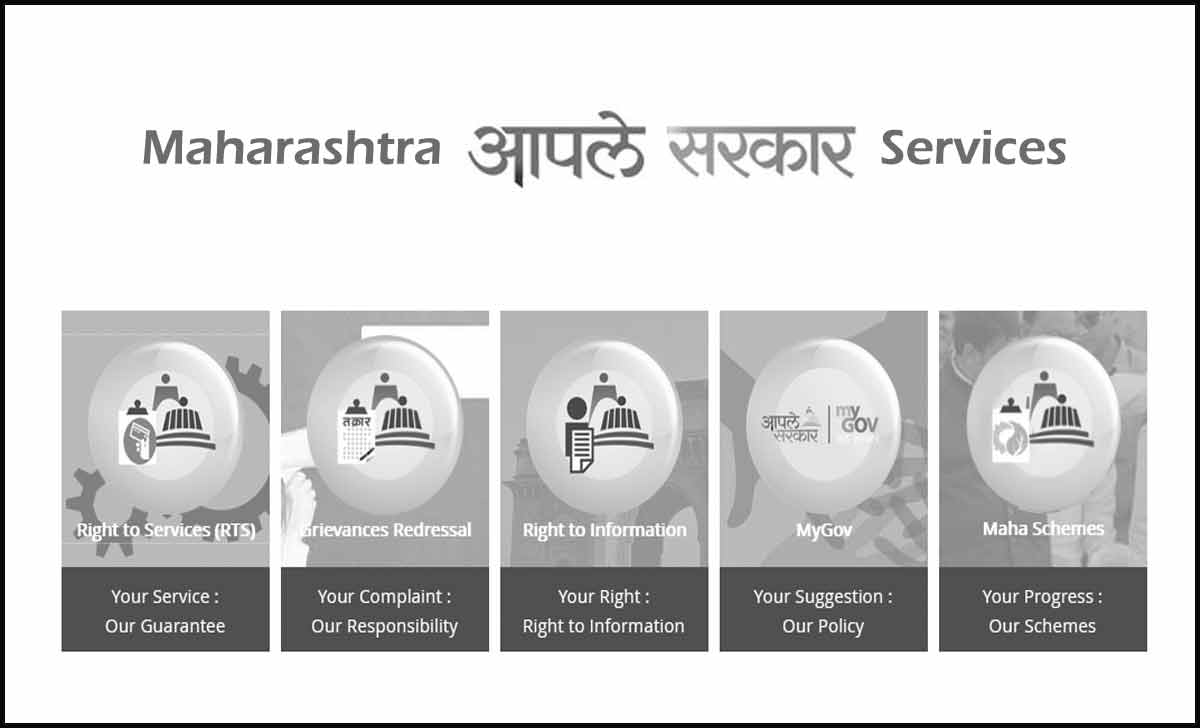 The main aim of the Sarkar portal is to develop the state, citizen services and manage the workflow with a proper content management platform through various schemes.
Aaple Sarkar Portal Services
Here is a list of service portals that can directly affect Aaple Sarkar and can make use of these certificate services from one host.
Renault Department
Industries Department
Rural Development
Panchayat Raj
Labour Department
Forest Department
Skill Development
Entrepreneurship
Home Department
Municipal corporation
Urban Development
Nagpur Municipal and more.
Purpose of Aaple Sarkar
As citizens of Maharashtra state do need their revenue certificate, birth certificate or any as per their requirement. Thus here in this Aaple Sarkar portal one can find a direct link to apply for that service certificate.
It becomes easier for everyone to apply and track the status of their application from one portal. Individuals can register with the portal and get regular updates on the services through Aaple Sarkar to registered contact details.
Features of Aaple Sarkar
Before we go to apply for any service under Aaple Sarkar DBT portal, let us have a look at a few features on which you will get exact information of what is being done through DBT website.
Citizens can track, verify their application for any department through track application ID
Citizens can submit any type of application related to government service form anywhere
Get regular SMS and Email notification of your application at every stage it crosses
Know where your application stuck to avoid delay in your processing
Sanction process becomes easy, as everything done through one portal and online
Government brings transparency to citizens by bring all their services under on portal
How to Apply for Aaple Sarkar Services
Let us now move forward to apply for a service through Sarkar portal. Make sure you have a good internet connection while accessing the portal for registration.
Go to the official portal at aaplesarkar.mahaonline.gov.in/en
Log in with your credentials and view the list of the services available on the screen
Select the one which you want and apply to it through the online process
Fill in all details and attach all required documents by uploading in the application form
Submit the application and note down the acknowledged number
That's it, you have applied for Maharashtra government service through Maharashtra Sarkar. You will get regular updates to your mobile number based on your application process.
If you regularly visit the Maharashtra Sarkar portal, then it is better to have the registration done through your details. These will make sure you have to quickly access the portal and apply for any future application in quick time.
How to Register with Aaple Sarkar Portal
Visit the Aaple Sarkar portal from aaplesarkar.mahaonline.gov.in/en
Now click on New user-Register here and then wait for page to load
Fill your details as per the government ID proof you have got
Verify your details and click on submit button to process your details
Once verified, set a new password for your account
That's it, your individual ID may create in the portal. You can use your set login credentials to access the portal as and when required.
How to Track Aaple Sarkar Application
It is obviously important to know the status of your Aaple Sarkar application. Here are the steps that you need to follow to get to know about your applied application.
Go to the official website aaplesarkar.mahaonline.gov.in/en and cancel the pop-up window
Track Your Application and enter your acknowledge number here
Click on Track status and wait for your details to fetch in the portal
That's it, the status of your application with all its details loaded on your screen. Based on this status, you can find how to react and upload if anything excess required to process your document.
How to Download Aaple Sarkar Application Certificate
Once after receipt an SMS of your certificate is ready to view, then you can go to portal and download your certificate.
Log in with your credentials portal
Now search for the application through its acknowledgment number
click on certificate and then tap the Download certificate button
That's it, The Appreciation certificate applied for a service downloaded through an online process. These certificates authenticated and can use anywhere as proof of service you applied for.
Why has Aaple Sarkar been initiated?

To serve the citizens of Maharashtra state, the state government has decided to bring one service point for all their requirements. All government services form different departments entitled under the Aaple Sarkar portal.

Is it mandatory to register with Aaple Sarkar Portal to access Services?

Citizens of Maharashtra state government can apply for a service certificate form the Aaple Sarkar portal and if they are using it for once, then it not required to register with the portal. As per the choice of citizens, they can use the services and get benefits in their day-to-day life.

Can I register a complaint through Aaple Sarkar Portal?

Yes, an individual can register a complaint through the Aaple Sarkar for any of the government-provided services. use the contact US option and write down to the Aaple about the delay in service or no response as per your grievance. As well you can use the Nodal officer number available and contact them directly to report your concern.

How long does an Aaple Sarkar scheme issued certificate eligible?

The certificate issued from the Aaple Sarkar portal, will be eligible as per the term mentioned. In most cases the time bond of a certificate is only for one year and behind that citizens asked to renew them with the future updated details. There are few certificates which don't need renewal, as one-time generation will act as permanent certification for your service opted.

Can I apply for a Birth certificate from Aaple Sarkar?

Yes, you can move to the municipal corporation link under the Aaple Sarkar portal and find the application form for your birth certificate. Fill the application with all your details and submit it with attaching the document proof. The process is quick, and you'll update regularly on your application status through portal.

Who is VLE in Aaple Sarkar online Portal?

In a remote village where the individual hardly has information about the online portal. A village-level entrepreneur put up as an access point. Through a VLE one can apply for all services and get their service certificate as required. This is to ease the work of individuals who don't use the internet or smart devices.

Can I Apply for a Labour license from Aaple Sarkar login?

Yes, you have an option to apply for a labor license through the process of registration. You need to provide all your required sets of documents online and submit them by uploading in the application form. The processing will take a few days based on the application and you will given the labor license.